Northwest Draws Closer to Dream Finish
March 16, 2018
By Geoff Kimmerly
Second Half editor
GRAND RAPIDS – Like kids in every community, future Jackson Northwest athletes grow up dreaming of winning championships.
But there's something more to say about the opportunity earned by the Mounties with their 56-47 Class B Semifinal win Friday over Michigan Center.
A championship Saturday would be the first in program history. It would be the second in school history, in any sport – joining the Division 2 girls bowling title won in 2013.
"It would be good for our community, because everybody has brought so much support," Northwest senior Sydney Shafer said. "And the fact that we've never done this makes it better because we're making history.
"We're hanging numbers – that was our thing, kind've – and it's just surreal. Not many people get to experience what we're going through right now."
The Mounties already will hang a few "numbers" – maybe a few 18s on the banners in their gym for winning their first Regional and making their first girls basketball championship game this winter.
They'll get a chance to add one more against Detroit Country Day in Saturday's 6:15 p.m. Class B Final at Van Noord Arena.
Northwest (25-1) has put together a nice run in girls basketball with a combined 79-17 record and three District titles moving between Class B and Class A over the last four seasons.
The Mounties fell four points shy of claiming that first Regional title in Class A in 2016, losing to East Lansing by four points in the Regional Final.
"This has been our goal the last four years. This year, this team is special," senior Ella Bontrager said. "We knew that from the beginning. We've taken one game at a time, worked hard on offensive and defensively, and this team play together more than any team too. We want it, every single game, and we don't want to be done."
Northwest came out Friday draining shots. Bontrager knocked down two 3-pointers during the game's first two minutes, and sophomore sister Jozie Bontrager's 3-pointer two minutes later made the score 13-4.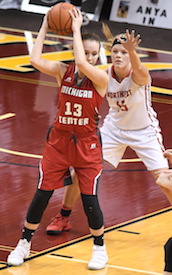 Jozie Bontrager connected on a pair of 2-pointers during the second quarter to keep Northwest's lead at 31-22 by halftime.
But Michigan Center, a Class C runner-up twice last decade, had some shooting bottled up for the second half. Despite trailing by 17 during the first minute of the fourth quarter, the Cardinals cut that deficit to seven over the next two minutes in part on 3-pointers by senior Brianna Wolvin, sophomore Morgan Morris and senior Masyn Shannon.
The comeback wasn't unexpected, as the two schools are 14 miles apart and a number of players know each other from the offseason circuit.
"Every game we've played, we seem to allow those runs," Northwest coach Ryan Carroll said. "I know that's not a strong trait, but we also then respond.
"These guys are fearless. It's just another game for them, just another run. We knew Michigan Center was very capable of knocking down shots."
In the end, Northwest knocked down a few more, especially at the line. The Mounties connected on 13 of 23 free-throw attempts, but Michigan Center was only 7 of 18.
Schafer finished with 21 points, along with 13 rebounds and six steals. Jozie Bontrager had 13 points and 12 rebounds and Ella Bontrager added 11 points. Senior Masyn Shannon had 14 points and seven rebounds to lead Michigan Center (23-3) and was the only senior to see the floor for her team.
The Cardinals finished a combined 43-7 over the last two seasons after going 6-15 in 2015-16. They've most recently been in Class C, but moved into Class B this school year.
"It was such a journey for us," Shannon said. "We were excited every single game. Every game we won in this tournament, we bawled our eyes out because we were so happy. It's something to be excited about, something to be nervous about – a lifetime experience and something me and the rest of the team will never forget."
PHOTOS: (Top) Jackson Northwest players celebrate Friday's Semifinal win over Michigan Center. (Middle) Michigan Center's Morgan Morris works for position in the post with Jozie Bontrager guarding her.