Performance: Midland Dow's Molly Davis
February 8, 2019
Molly Davis
Midland Dow senior – Basketball
The Chargers' 5-foot-7 shooting guard seemingly couldn't miss Friday, making 9 of 11 shots from the floor including 6 of 8 from 3-point range for 29 points as Dow "upset" reigning Class A champion and previously undefeated Saginaw Heritage 52-48 on the Hawks' home floor. Davis also had five rebounds, five assists and two steals in the victory in earning the Michigan Army National Guard "Performance of the Week."
The upset, if any, was slim, as Dow now sits 13-1 and first in the Saginaw Valley League Red coming off Wednesday's one-point win over Bay City John Glenn – which Davis clinched by draining a 30-footer at the buzzer. Those big-game heroics have become Davis' norm over her four-year varsity career. This winter she's averaging 18.9 points, 5.3 rebounds, 3.6 assists and 2.3 steals per game, making 64 percent of her shots from the floor including 42 percent of her 3-point attempts. She's upped her scoring average nearly two points from a season ago, and for her career Davis has scored 1,096 points – good for fifth all-time for an annually strong Chargers program. Dow is 70-14 since she joined the team, with two shared league titles and a District championship.

Davis carries a 3.7 unweighted and 4.0 weighted grade-point average. She has signed to continue her basketball and academic careers at Central Michigan University and is considering studying criminal justice – she'd like to eventually become a police officer. But in the immediate future, Davis is focused on leading the Chargers to another league title and then a Division 1 tournament run, which could include a rematch with Heritage in the Regional. 
Coach Kyle Theisen said: "Molly has been an impact player for our program since she started her first game as a freshman. She will most likely graduate as our all-time leader in games played. Her role though has changed over the years. In her first two years, she was part of star-heavy teams with future college players and she found her role as a defender and scorer when we needed. But after some graduations of key players and injuries to teammates, her junior year was much different. Our team her junior year consisted of Molly and not one other player with a minute of varsity experience. She carried our team and our program with quiet strength. She worked hard every day to put our team in a good spot to win and allowed our young players to grow and develop. That has paid off huge this season with the improvement of the younger players now able to contribute at a higher level. Molly's impact on our program is immeasurable. She has been able to bridge our past success with our future success. Molly is such a deserving candidate for Miss Basketball. She can do things on the court no one else can. She is a complete player that cannot be guarded with one player." 
Performance Point: "We came into that game with a grudge, knowing they ended our season last year," Davis said. "We put in a lot of time and watched a lot of film, knew their tendencies and came out and executed our gameplan. I couldn't be more proud of the team and the way we came out for that game. ... I had a chance to go back and watch the film, and I could just tell that we had a lot more energy, that we kinda wanted that game more. I think we were a little underestimated, and I think we came out with a lot of energy and that really helped us. I don't really call it an upset. I knew coming into that game that we had that ability to win. People are going to say it was an upset, but we don't really look at it like that."
Sharp shooting: "I saw my second shot go in, my third shot go in, and I really got in my rhythm and my teammates did a good job of driving and kicking out to me. All I really had to do was shoot. They set really good screens to get me open. Once I got in my rhythm, I just kept shooting and my teammates kept getting me the ball. A great point guard like Maizie (Taylor) just feeds me the ball, and once I start hitting and getting in my rhythm, I just keep shooting."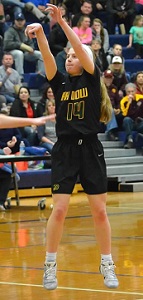 Time to lead: "One big thing (I've improved on) more is my leadership. We have a lot of young kids; I knew I would have to be the one in big situations like that and make sure their heads are always in the game and not focusing on what's going on outside the game. I think my leadership is one of those big things I tend to work on, and just try to become a better teammate. Watching the seniors before me like Ellie (Taylor) and Kaylee (Wasco, both 2017 grads) I just kinda learned from them."
Clutch and competitive: "I try to do whatever it takes to get the win. If it takes me scoring that many points, then I'll try to do that. If another teammate's on fire, I'm going to try to feed her the ball. … I think it's just the competitive nature (of the sport). I've kinda grown up around basketball. I love competing, and I think that's what makes it a lot more fun for me. No matter what it is, maybe even cards, I'll be probably the most competitive person out there."
Dreaming big in Division 1: "There's a lot of great teams on that list, and we're coming off two big wins and I like the way we're playing right now. I think we have a bright future ahead. To hit our shots and execute whatever gameplan Coach has for us – I think that's what we've done in the big situations, and that's what gets us those big wins."
- Geoff Kimmerly, Second Half editor
Every week during the 2018-19 school year, Second Half and the Michigan Army National Guard recognizes a "Performance of the Week" from among the MHSAA's 750 member high schools.
The Michigan Army National Guard provides trained and ready forces in support of the National Military Strategy, and responds as needed to state, local, and regional emergencies to ensure peace, order, and public safety. The Guard adds value to our communities through continuous interaction. National Guard soldiers are part of the local community. Guardsmen typically train one weekend per month and two weeks in the summer. This training maintains readiness when needed, be it either to defend our nation's freedom or protect lives and property of Michigan citizens during a local natural disaster. 
Past 2018-19 honorees
January 31: Chris DeRocher, Alpena basketball - Read
January 24: Imari Blond, Flint Kearsley bowling - Read
January 17: William Dunn, Quincy basketball - Read
November 29: Dequan Finn, Detroit Martin Luther King football - Read
November 22: Paige Briggs, Lake Orion volleyball - Read
November 15: Hunter Nowak, Morrice football - Read
November 8: Jon Dougherty, Detroit Country Day soccer - Read
November 1: Jordan Stump, Camden-Frontier volleyball - Read
October 25: Danielle Staskowski, Pontiac Notre Dame Prep golf - Read
October 18: Adam Bruce, Gladstone cross country - Read
October 11: Ericka VanderLende, Rockford cross country - Read
October 4: Kobe Clark, Schoolcraft football - Read
September 27: Jonathan Kliewer, Grand Rapids Forest Hills Northern soccer - Read
September 20: Kiera Lasky, Bronson volleyball - Read
September 13: Judy Rector, Hanover-Horton cross country - Read
PHOTOS: (Top) Midland Dow's Molly Davis breaks past Saginaw Heritage defenders to get to the basket during Friday's win. (Middle) Davis pulls up for one of her 11 shots in the game; she connected on nine. (Photos courtesy of the Dow girls basketball program.)