Playoff Poise Gives Heritage Final Edge
March 22, 2019
By Geoff Kimmerly
Second Half editor
GRAND RAPIDS – Seniors Moira Joiner, Shine Strickland-Gills and Mallory McCartney have helped Saginaw Heritage to a 93-7 record over their four seasons on varsity.
They earned one more opportunity to take the court together Thursday by tapping into what's made them one the most successful senior classes in Michigan girls basketball history.
After leading Wayne Memorial most of the first three quarters of the day's first Division 1 Semifinal, the Hawks found themselves behind by a basket with 5:47 to play.
But the lessons of nearly 100 wins – and last year's Class A title run – came through at the end as Heritage held on for a 58-55 win to earn the opportunity to repeat as an MHSAA champion.
Wayne also was a semifinalist last season, and provided plenty of trouble with senior Jeanae Terry scoring a game-high 26 points. But Heritage got through some rough patches – like 21 turnovers – and made 4 of 5 shots from the floor and all five free-throw attempts after trailing for 23 seconds during the final period.  
"We always said that even if our shots aren't falling, or we're turning it over, as long as we stick together we'll be fine," McCartney said. "There's no one who can beat us if we all just stick together."
Heritage (24-2) will play for the Division 1 championship against Southfield Arts & Technology at 12:15 p.m. Saturday at Van Noord Arena. The Hawks defeated Southfield A&T by two points in early December, and Southfield A&T hasn't lost again.
Strickland-Gills, one of the stars of last year's Finals weekend at Calvin College, started quickly in her return Thursday, scoring 11 of her team-high 15 points during the first quarter as Heritage jumped out to a 16-8 lead.
Joiner hit stride during the third quarter with six points and three assists as the Hawks carried a 40-37 edge into the fourth. She also had six points over the final five minutes of the game, starting with a 3-pointer at 4:52 that briefly gave Heritage back a three-point lead.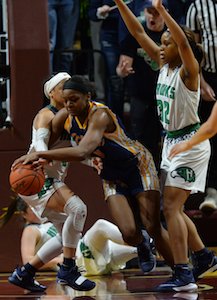 Terry did her best to match, tying things back up with a 3-pointer at 3:58 and sinking another with six seconds to play.
But of those 21 Heritage turnovers, only three came after Wayne took its fourth-quarter lead. The Hawks also outrebounded the Zebras 9-4 during that final stretch.
"Due to our experience, we were like, 'We have to value our possessions, we have to execute, we have to do what needs to be done' – which was keep the ball in our hands and withstand the pressure," Strickland-Gills said. "And we did that. Down the stretch we put in buckets that needed to be put in, and we took care of the ball and didn't turn it over. We hit free throws we were supposed to, and that really secured the game for us."
"This game, you're playing against a very experienced team. If you don't … capitalize when you have your chance, it's going to be a long night for you," Wayne coach Jarvis Mitchell concurred. "That's a championship-caliber team. They answered the call."
Freshman guard Lauren Gunn had four of her nine points and an assist as well during the closing stretch. Joiner – a Miss Basketball Award finalist this winter – finished the game with 14 points, 10 rebounds and 10 assists. McCartney added 10 points and three steals, and Strickland-Gills also grabbed 12 rebounds despite being limited a bit with foul trouble.
"We've been talking about that for four years with Mo, and the versatility and the fact that she plays every position on the floor," Heritage coach Vonnie DeLong said. "She guards the best player, she rebounds, she gets assists. I did not realize she had a triple double, and that's what's neat about it – it's so quiet. She's not flashy, but she's extremely good and very talented and has such a high basketball IQ, it enables her to do everything she does."
Terry connected on five 3-pointers on the way to her game-high scoring total and had five rebounds, three assists and six steals. Senior forward Jayah Hicks added 14 points and seven rebounds, and sophomore forward Alanna Micheaux grabbed eight rebounds.
The Zebras started off cold, making just 3 of 17 shots in the first quarter – but improved their shooting percentage every quarter after that to get back on the verge of the Final.
The Semifinal appearance was the second straight for Wayne, which finished 24-3 after going winless only five seasons ago in Mitchell's first running the program.
"I thought we were really close this year," Mitchell said of taking another step as a championship contender. "The thing is, is basketball, you can't control it. You can't control sometimes the ball falling in. All you can control is how hard you play. And that's always been my goal in talking to the kids and telling them, 'I'm just proud of how hard you're playing.' Some shots are going to go in, turnovers are going to happen, but the most important thing is we play to get better – whether it's the state championship or the first game of the year."
PHOTOS: (Top) Heritage's Keyonie Champion gets up a shot during Friday's first Division 1 Semifinal at Van Noord Arena. (Middle) The Hawks' Shine Strickland-Gills (32) and teammates defend the post.