Plymouth Christian Academy Taking Historic Run to Season's Final Day
EAST LANSING – When the MHSAA Tournament began, Plymouth Christian Academy senior point guard Anna Fernandez had never won a District game in her high school career.
Three weeks later, Fernandez and her teammates will play for the program's first Finals championship.
The Eagles continued their storied postseason run Thursday night with a 50-39 win over Adrian Lenawee Christian in a Division 4 Semifinal at the Breslin Center.
Plymouth Christian will meet Fowler in Saturday's Division 4 Final at 10 a.m.
Fowler turned back a comeback attempt from Baraga to win, 51-45, in the first Semifinal.
"Ever since last year and losing in Districts, I didn't want to lose like that again and get out early," said Fernandez, a four-year varsity player who scored 14 points and grabbed a game-high 12 rebounds.
"The state finals were always in the back of our minds, but we had to play it one game at a time. Our motto has been that we're not guaranteed another game, so we have to play all out each game. We definitely thought we could do this, and getting here was our goal."
The Eagles achieved their goal by beating the Cougars for the second time this season.
Plymouth Christian defeated Lenawee Christian 58-56 late in the regular season on a buzzer-beater from junior Morganne Houk.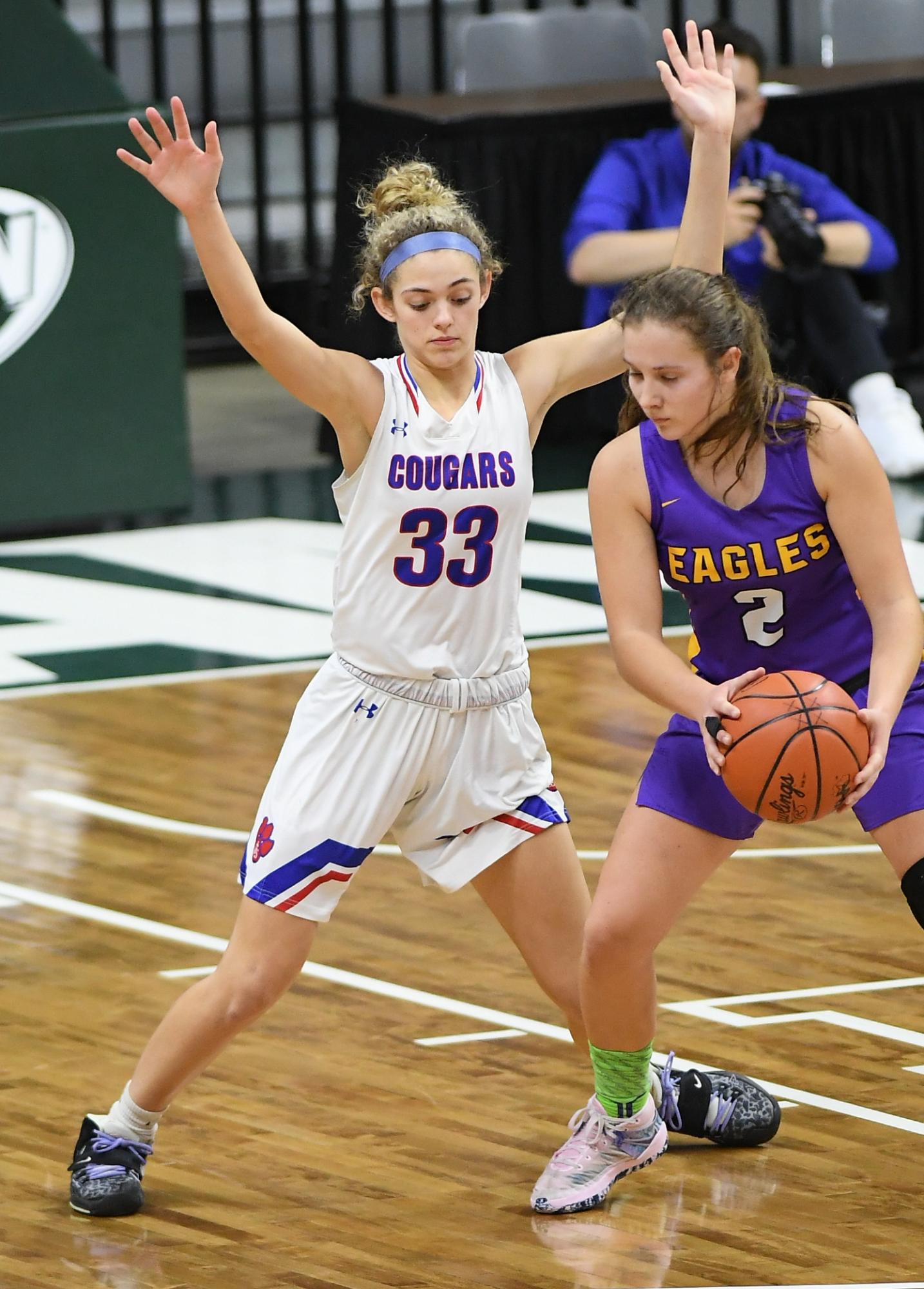 "We had high hopes of coming in here and playing great defense because we had some success in our last game against them defensively," Eagles coach Rod Windle said. "We were excited about the match-ups, and we thought we could contain them and make plays out there. 
"Our offense clicked well in the first half, and then we committed to defense in the second half." 
Houk was a major factor in the rematch as well and finished with a game-high 19 points. She also had eight rebounds and four assists. 
"She's our energizer and gets from free throw line to free throw line in a blink of an eye, and all of a sudden has points on the board," Windle said. "She's the cheerleader on the floor for our players, and her play tonight was inspiring."
The Eagles jumped out to a 19-10 lead by the end of the first quarter, and maintained a 23-18 advantage at the half despite managing only four points during the second period.
Lenawee Christian would get as close as five points (39-34) in the fourth quarter before Houk scored on a jumper and Madison Yeager followed with a 3-pointer to put PCA up double digits.
The Cougars (19-6) shot just 29 percent from the field and were led by Cara Anderson's 12 points. Kylie Summer added 10.
"It was a hard-fought game and I give Plymouth Christian a lot of credit for playing well," Lenawee Christian coach Jamie Salenbien said. "The first quarter was rough, and you can't let good teams jump on you like that, but then we locked down and went into the locker room with some momentum. They were able to hit some big shots in the second half and make some timely free throws."
Lenawee Christian, which won the Division 4 title in 2019, will graduate six seniors.
"It's hard to lose, but I'm very proud of this group and they have cemented their legacy at this school and in the community," Salenbien said. "And it's because of their hard work and commitment as a whole group from day one."
PHOTOS (Top) Plymouth Christian Academy celebrates during Thursday's Division 4 Semifinal win at Breslin Center. (Middle) Lenawee Christian's Isabelle Kirkendall (33) walls off PCA's Morganne Houk. (Click for more from Hockey Weekly Action Photos.)