Riley Sisters, Fowler Shine on Statewide Stage
EAST LANSING — Fowler certainly is a small town.
Located just 30 miles northwest of Lansing, everyone in town knows everyone. And if they didn't already know the Riley sisters' prowess on the basketball court, they sure do now. 
Sisters Mia and Emma Riley combined to score 34 points in leading Fowler to a 54-20 victory over Bellaire on Friday in the Division 4 title game at the Breslin Center. It was Fowler's first MHSAA Finals championship since 1991. 
"I'll constantly have relatives who drive by their house and they'll say, all the time, that they're in their driveway playing one-on-one," Fowler head coach Nathan George said of the sisters. "So it's no coincidence that they're in this spot, that they're this good. All their hard work is paying off."
Emma Riley, a sophomore, scored the first four points of the game and her older sister, Riley, scored her team's first nine points of the second quarter as Fowler overwhelmed Bellaire early on. Fowler led 29-7 at halftime. It shot 48 percent from the field while limiting Bellaire to just three field goals and 12 percent shooting.
"We have confidence that teams will struggle against our speed and aggressiveness," George said. "It hasn't worked every game, but for the most part I think teams have a hard time adjusting to it because we have so many guards we can rotate in. It worked pretty well tonight. 
"When we get those fast starts and the girls get their confidence, it's a pretty special thing to see." 
Bellaire struggled throughout the first half, connecting on just 3 of 25 shots. It was just 1 for 11 in the first quarter and at one point missed 13 straight shots while falling behind 17-3.
"It definitely is upsetting because normally we can bounce back when shots aren't falling in," Bellaire senior Katie Decker said. "We have confidence in each other and hold each other up. Normally they're going in, but I don't know what was happening today. I guess nerves and we never settled in, but we did the best we could."
Fowler's defense played a big part in Bellaire's shooting woes. George's team collected 12 steals and forced 18 turnovers in the game. The Riley sisters accounted for eight of those steals.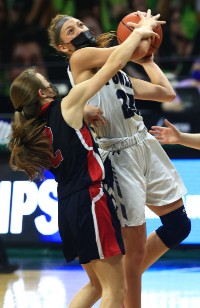 "They can shoot and they can defend," Bellaire head coach Brad Fisher said. "They shot the ball so well and they just play a different level of defense. We knew it was coming, but to simulate it, you can't. I don't know that we could have done too much differently when a team shoots like that and can defend like that."
Mia Riley, a junior, was 6 for 8 shooting in the first half, while Emma was 3 for 5.
"I try to go into the game with a lot of confidence and I know my sister does too," said Mia, a junior. "Coach always tells us, 'Be confident and if you get a shot, it's going up.' So that's kind of our mentality. We just didn't want to hold back this game."
Emma Riley said she didn't let the arena atmosphere get to her.
"(Coach) always says if you get an open look, shoot it. So nothing changed on this court," Emma said. "We kept saying that it was an important game, but it's just like it was back at Fowler. We just tried not to overthink it and shoot with confidence like always."
Mia Riley finished with a game-high 18 points to go along with five rebounds and three steals. Emma Riley had 16 points, seven rebounds and five steals for Fowler (16-4). Junior Emma Halfmann and sophomore Grace Epkey each added six points.
George said he's known how good the Riley sisters are on the basketball court. But after Friday's performance, other people will, too.
"Being from a small town, I don't think people get to appreciate them," George said. "We don't get a lot of media coverage. There aren't a lot of people in our gyms. Their skill level is incredible. I appreciate that we get to this type of stage, where others can appreciate how good they are."
Bellaire finished its season with an 18-4 record. Decker and junior Jacey Somers led the team with six points apiece. 
"Our girls had a pretty darn good season, too," Fisher said. "We've talked about what this team has done and what this team is capable of. We have so many people to thank, the community, the MHSAA has been awesome. 
"I'm just so proud of my girls. This was a fun ride. Eventually the season has to come to an end. And we had a couple special victories along the way. It's obviously not the outcome we wanted, but we still made history."
PHOTOS: (Top) Fowler's Avery Koenigsknecht (3) works to get past Bellaire's Emersyn Koekpe during Friday's Division 4 Final. (Middle) Fowler's Leah Wieber (22) works to get to the basket. (Click for more from Hockey Weekly Action Photos.)