Southfield A&T Aiming for Highest Goal
February 14, 2019
SOUTHFIELD – This is season three since the merger combining Southfield's two former public high schools, Southfield High and Southfield-Lathrup. And the shining star through all of the hubbub, at least athletically, is the girls basketball program.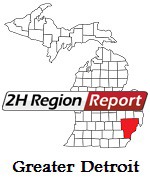 The result of the merger is Southfield High School for the Arts and Technology, commonly known as Southfield A&T. The school is located at the former Southfield High, at the corner of 10 Mile Road and Lahser Road. While the boys track & field and football teams have been competitive since the merger, the success of coach Michele Marshall's girls basketball team has gained statewide attention.
This season the Warriors could have the best team in Southfield history, whether at Southfield High, Southfield-Lathrup or A&T.
No, we're not forgetting the 2005 Southfield-Lathrup team, also coached by Marshall (her name was Michele Jackson then), which won the Class A title. There are similarities between that team and this year's squad, which we will address later.
This season the Warriors are 14-1 and ranked No. 2 in Division 1 in the latest Associated Press poll. Their only loss came in the second game to 2018 Class A champion Saginaw Heritage, 45-43, at Ypsilanti Arbor Prep as part of the Icebreaker Challenge. Southfield A&T is 7-0 in the Oakland Activities Association Red, a half-game ahead of Royal Oak (14-1, 7-1) after the Warriors won 60-47 at Royal Oak on Feb. 5.
The teams will complete the regular season against each other Feb. 28 at Southfield A&T.
"It was (a big victory)," Marshall said. "I watched the Royal Oak program grow even when I was coaching at Lathrup. They play very hard. Anytime you walk into a gym where there's a hostile crowd, it's going to be a challenge. It was for first place. They were undefeated. We need all the competition we can get to get ready for the state tournament."
Southfield A&T will host Bloomfield Hills tonight, and barring a major upset in the next two weeks the Warriors will win the Red. It's no slight to any of the teams in the division, but Southfield has bigger goals – notably, the Division 1 championship.
"That's a lofty expectation," Marshall said. "We hope to win a state championship. That's our goal. If that isn't (your goal), you have to ask yourself, why are you coaching?
"(But) having won a state title, I know you have to have a lot of things go your way."
This team has experience with three starters returning led by senior Alexis Johnson and junior Cheyenne McEvans. They are both 5-foot-10 and two of the state's top players in their respective classes, and both started on the 2016-17 team that reached a Class A Semifinal before losing to East Kentwood, 55-51.
Johnson, who surpassed 1,000 career points and averages 20 per game, is a four-year varsity player and has signed with Marshall University. McEvans averages 18 points and, although she spends much of her time at the guard position, grabbed 22 rebounds in the victory over Royal Oak.
The third returning starter is sophomore Kayiona Willis, who took over at the point guard spot last season and is averaging eight points per game. The other two starters are Soleil Barnes, a 5-8 senior who averaged 16 points last season while attending Nordonia High in Macedonia, Ohio, near Cleveland, and is contributing 10 per game this winter; and Jasmine Worthy, a 6-3 junior who attended nearby Birmingham Groves last season and is averaging eight points and eight rebounds. Her presence inside has allowed Johnson, a post player her first three seasons, to play on the perimeter or wherever Marshall sees fit.
Few teams can match the versatility, experience and talent of Marshall's starting five. What can't be measured is the commitment of this group. It's not a stretch to make comparisons with the 2005 Southfield-Lathrup team. That team returned all five starters from the 2004 team that reached the Semifinal round before losing a heartbreaker to Lansing Waverly, 50-49.
Waverly, which would go on to defeat Detroit Martin Luther King, 33-32, for the Class A title, trailed Southfield-Lathrup after each of the first three quarters before pulling out the victory. And those 2004 Chargers learned their lessons well as they, too, won a close Semifinal (62-58 over Grandville in overtime) a year later before defeating King, 48-36, for the school's only MHSAA Finals title.
Talent and experience are just two reasons why this season's Warriors are such legitimate contenders. Look at the teams that win state titles. Normally you find an experienced coach on the bench. And that's why this program is so highly respected.
Marshall has coached girls basketball for 27 years, the last 25 as a head coach, the first 22 at Southfield-Lathrup. She's also taught English during this period all within the Southfield school system. When the two high schools merged, decisions had to be made on who would be the head coach of each of the athletic programs. After some debate, Marshall was named head coach at A&T.
Looking back it would appear the school district made the right choice. Above all else, Marshall has provided stability for a situation that could have turned ugly. Coaching a team where many players were rivals the season before had it challenges. There were jealousies and selfish tendencies with which to contend. That 2016-17 season challenged Marshall as a coach, and as a teacher and mentor away from the court.
Most of the players had played for Southfield High the previous season and she, of course, had coached against them. Known as a strict but fair coach, one who allows her players to be creative, Marshall dug deep to find the courage and patience to win her players over.
"They were our rivals," said Johnson – the only remaining player from the pre-merger days – of her new teammates who came over from Southfield-Lathrup. "There was tension at first. … Coach said if we want to win, we had to work together. We connected after the King game."
Showing how difficult that process was and how long it took, that game against King was the Regional Final.
"Nothing was easy," Marshall said. "I took the most prominent leader from Lathrup and the most prominent leader from Southfield to help lead us. By the end of the season the kids all came together. We got to the semis. It was fun."
And Johnson said that 2017 Semifinal loss to East Kentwood continues to provide motivation. And there's an air of confidence that exuberates throughout.
"When we lost to East Kentwood, we were hungry to win a state title," she said. "This team's work ethic is different than any team I've been on. We all just want to win. We're all on the same page."

Tom Markowski is a correspondent for the State Champs! Sports Network and previously directed its web coverage. He also covered primarily high school sports for the The Detroit News from 1984-2014, focusing on the Detroit area and contributing to statewide coverage of football and basketball. Contact him at tmarkowski@statechampsnetwork.com with story ideas for Oakland, Macomb and Wayne counties.
PHOTOS: (Top) Southfield Arts & Technology's Cheyenne McEvans looks to make her move during her team's win over Royal Oak on Feb. 5. (Middle) Warriors coach Michele Marshall talks things over with her players. (Photos courtesy of C&G Newspapers.)