Strong Finish Sends Forest Park to Final
March 13, 2014
By Geoff Kimmerly
Second Half editor
EAST LANSING – Lexi Gusset finally got to smile with about five seconds left in Friday's last Class D Semifinal at the Breslin Center.
Her frustration melted, she yelled "Let's go! One more game," before being enveloped by a similarly relieved group of teammates. 
Crystal Falls Forest Park and this season's Miss Basketball Award winner were eight minutes from an eight-hour drive two days earlier than expected as they trailed Athens with a quarter to play.
But the Trojans showed they are more than just the best player in the state. And that superstar poured it on when needed most to help her team finish a 49-33 comeback over the Indians. 
Gussert played the final 9 minutes and 31 seconds with four fouls – and despite Athens driving to draw the fifth – but managed to stay on the floor to score nine of her game-high 20 points during the fourth quarter.
 "Obviously being a leader, you don't want to be sitting on the bench in the Semifinal game," Gussert said. "But I knew I had be there for my team. That's the most I've sat all year, so I was a little pumped up." 
Top-ranked Forest Park (26-0) will face Mount Pleasant Sacred Heart (21-5) for the championship at 10 a.m. Saturday. Each is seeking its first MHSAA title.
The Trojans advanced to the 2012 Semifinals with Gussert a sophomore and fell to Athens that day 61-48 despite 34 points and 12 rebounds from the eventual Michigan State University recruit. 
Forest Park's rotation has included nine or 10 players most of this season, and they had the experience of beaten Iron Mountain 74-39 midseason without Gussert, who missed because she was ill. Generally that depth has allowed the Trojans to wear opponents down. This time it allowed them to hang on – while also turning up the pressure enough to hold Athens scoreless during the fourth quarter.
"The girls are comfortable with it, and I'm glad we have that experience. We have the best player in the state on our team, but we have a whole lot of other good players (too)," Forest Park coach Jeff Syrjanen said. "I trust my team enough that I have faith in all of them. … I just didn't think they would crack. We don't change what we do; we just don't do it as well without Lexi on the floor with us."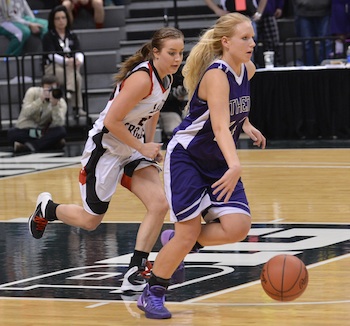 Sophomore guard Maria Stankewicz did the main filling in on the offensive end, finishing with 10 points and five assists. Senior center Kendra Campbell added eight points and freshman guard Abby Nylund had six points and seven rebounds.
Stankewicz also played the role of yeller at Gussert to not foul when Athens got out on a few fast breaks headed her way. 
"It was a lot different because I wasn't used to it. But overall it wasn't just me," Stankewicz said. "I tried to take charge, tried to be a leader when she stepped off. But our posts played tougher and my other guard played tougher. We really were a team together."
The Indians (22-4) did lead 33-32 heading into the final quarter. But in addition to not stopping Gussert's final surge, they also struggled to find the hoop. The scoreless period included five turnovers and 11 missed shots.
This was Athens' third straight trip to Breslin, and that no doubt helped the Indians stay calm when they trailed by 10 just more than six minutes into the game. But they couldn't summon a final run.
"Sometimes during the season we had spells like that, and I think we started pressing it," Athens coach Calvin Quist said. "When you start pressing it, it makes it more difficult for those shots to fall.
"We lost three senior starters from last year, and you don't know what to expect," he added. "Obviously we had high expectations. And these young ladies exceeded those expectations."
Athens was ranked No. 5 entering the District tournament. Senior Audrey Oswalt finished with 15 points and 12 rebounds, and junior guard Allison Fuller added eight points.
She's one of 10, including two starters, who will try to make it four straight trips to finish the season in East Lansing.
"I can't dwell on this season. We had a great season, and I'm proud of my team, but we've got to get ready for next year as soon as possible," Fuller said. "It comes up quick, and the more we prepare the better chance we'll have to get here for the fourth time."
Click for the full box score and video from the press conference.
PHOTOS: (Top) Forest Park's Maria Stankewicz (10) tries to dribble past Athens' Allison Fuller on Friday. (Middle) Athens' Allysha Beal pushes the ball upcourt with Forest Park's Samantha Nylund giving chase.

HIGHLIGHTS: (1) Audrey Oswalt of Athens completes the long pass off the Crystal Falls miss to Allison Fuller late in the first half of the Class D Semifinal. Fuller finished with eight points. (2) Alexis Gussert starts a 17-0 fourth quarter for Forest Park with a jump shot en route to a 20-point performance. The Trojans won 49-33.