Work Molds Lohr Into WSU Wins Leader
August 5, 2020
When Carrie Lohr was spending weekends in her youth chopping wood with her father or helping clear stones from her the fields of her grandfather's farm, she wasn't thinking of how it would help her become a standout athlete or coach. She did think about how she'd rather be swimming in a pool like her friends and classmates.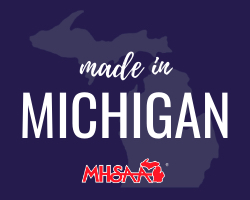 But when the Wayne State women's basketball coach looks back now on her time in Sandusky, it's those moments that stick out as shaping her. 
"I learned the value of hard work," Lohr, formerly Hickson, said. "I learned the value of earning an allowance. I look back and I was expected to work, and I didn't know it any other way. Twenty years ago, when I started coaching, I always understood the value of hard work. I was fortunate I have people who have shown me that. That kind of comes back to me more than a particular sport or a particular game or competition. I find myself looking back on how I learned those things with the things that I did." 
Lohr's hard work helped her become a standout three-sport athlete at Sandusky, an all-conference college basketball player, and now Wayne State's all-time winningest women's basketball coach. 
The 1989 Sandusky graduate is entering her 10th season with the Warriors with a career record of 148-111. She led Wayne State to NCAA regional finals in 2013 and 2014, and the regional semifinal in 2015. The 2012-13 season featured Wayne State's first NCAA Tournament victory and its first regional final appearance. 
"She definitely had those good leadership qualities and the love of the game," said Sandusky girls basketball coach Al DeMott, who coached Lohr in the late 1980s. "And she was a hard worker – nobody is going to out-work her. From Day 1, she wasn't going to let anyone outwork her or get ahead of her. She's just a great person, and I couldn't be prouder." 
Lohr starred as a point guard for DeMott for two seasons, helping Sandusky reach the Class C Quarterfinals in 1987, where it lost to eventual champion Detroit St. Martin dePorres.
"She used to knock in the 3s, too," DeMott said. "She hit some big 3s for us in some big games. She was a gamer. She had a smart basketball IQ."
Lohr played collegiately at St. Clair County Community College (SC4) and the University of Michigan-Dearborn. She was named first-team all-conference, all-region and all-state at SC4, and, unsurprisingly, was a captain at both schools.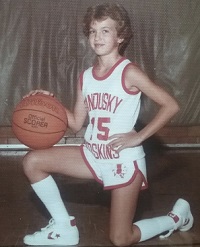 Coaching wasn't something Lohr considered during her playing days, though.
"I always thought, 'I could never do this – I could never be a coach. How would I know what to say?'" she said. "But when the buzzer sounds in your last collegiate game and you're sitting there in the gym and the locker room and reality hit you that it's over, that was life-changing. It meant so much more to me than I even realized."
Lohr started her coaching career in 1994 as the freshman girls basketball coach at Richmond, and she quickly fell in love with the profession. Her journey included stints as the freshman girls coach at Port Huron Northern and assistant jobs at SC4 and Oakland University.
While Lohr had found her passion, she still needed to pay the bills.
"I was living my dream (coaching) and following my dream, but reality was hitting me that I may not be able to continue on this path," Lohr said. "A friend of mine was in medical sales, so I found myself in medical sales for five years. That afforded me to go back into coaching at SC4 as an assistant again, then I got into head coaching."
She took over the Skippers program in 2002, and had a 166-106 record in nine seasons at her alma mater. It was her first time running a program, and she also became a mother two weeks before her first game with the birth of her daughter Sarah. Carrie was pregnant with her son Eli throughout her entire third season as coach. Lohr said her husband Eric was incredibly supportive, which was crucial to making it work.
She also had an A-list of former coaches to lean on when she needed advice. DeMott is second in MHSAA history with 753 career wins. Lohr's former travel coach Fred Shaw is a member of the Michigan High School Coaches Association Hall of Fame. And Dave Mann, who has won four MHSAA championships, coached her at U-M Dearborn.
"I really attribute me being in coaching to all of my coaches," she said. "I always maintained a connection with those individuals. I feel like all three have been a great resource for me. Those times when you're unsure about something – whether it's an on-court situation or an off-court situation, I always felt I had three people I could call and seek advice from. I think that's important to be able to have someone to call and say, 'I don't know what to do in this situation.'"
Having played for multiple Hall of Fame-caliber coaches – including the late Paul Jackson, who coached her at SC4 – is also a good way to build a coaching style.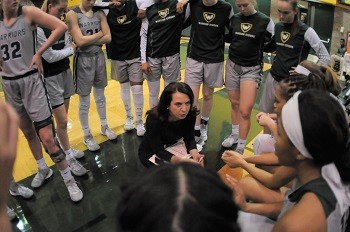 "You learn from other coaches, but you just step out and create your own path," Lohr said. "I learned a little bit of something different from all of them. The common denominator is they're all very positive people, but they're all competitive. They coach very differently."
In the spring of 2011, Lohr was hired at Wayne State, and she has turned the Warriors into perennial GLIAC contenders.
"I was just lucky, I think, knowing what I know now about how many people apply for these jobs," she said. "I feel really fortunate that the athletic director here at Wayne State saw something in me and believed in me. I'm very grateful."
Her kids have grown into athletes themselves at St. Clair High School. Sarah, a senior, plays volleyball and basketball. She could add tennis in the spring, as well, but wasn't able to this past year because of the cancellation of seasons due to the coronavirus. Eli, a junior, plays tennis, basketball and baseball.
"When I'm watching my kids, it's enjoyable to just sit back and watch," Lohr said. "The things I see in my kids is that I think they're good teammates, and I think they work hard, and those things are important to me. To watch them compete is fun, but to see those things that maybe don't show up in a tweet or make a headline, those things are really important."
They're also getting to enjoy the experience of playing multiple sports in high school, something Lohr thinks back on fondly from her days in Sandusky.
"I still remember my volleyball coaches, and I still remember my softball coach," Lohr said. "I had a great experience in being a three-sport athlete. It was demanding, but it's really unfortunate that a lot of young people aren't able to experience that. I think there's a lot of pressure on young people to specialize. I felt like there was a strong culture in Sandusky with all of their sports. To look back on it, it was really a special time for me."
Made in Michigan 2020
July 31: Neitzel Finds Way Back to High School Hoops - Read
July 28: Nichols Lends Winning Past to West's Present - Read
July 17: Miss Tennis Serving Now as 'Hero Coach' - Read
July 9: Joplin Always Has Known Value of Home - Read
June 24: Fracassa's Remarkable Records Still Rule - Read
June 16: Muskegon Grad Casts "Magic" in HBO Series - Read

Paul Costanzo served as a sportswriter at The Port Huron Times Herald from 2006-15, including three years as lead sportswriter, and prior to that as sports editor at the Hillsdale Daily News from 2005-06. He can be reached at paulcostanzo3@gmail.com with story ideas for Genesee, Lapeer, St. Clair, Sanilac, Huron, Tuscola, Saginaw, Bay, Arenac, Midland and Gladwin counties.
PHOTOS: (Top) Carrie Lohr this winter will enter her 10th season coaching the Wayne State University women's basketball program. (Middle) Lohr was a standout at Sandusky High during the 1987 and 1988 seasons. (Below) Lohr huddles with her Wayne State players. (Top and below photos courtesy of WSU sports information; Sandusky photo courtesy of Carrie Lohr.)