Young Bedford Emerges with Quarterfinal Run
March 18, 2019
By Doug Donnelly
Special for Second Half
TEMPERANCE – The timing of girls basketball season in Michigan was about to change, and Temperance-Bedford boys and girls basketball coach Bill Ryan knew he had a difficult choice.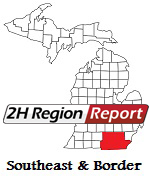 It was about that time that 10 girls walked into his Bedford High School classroom and asked him to remain their basketball coach. It was a slam dunk decision.
"I have no regrets about that," said Ryan, who will coach the Mules in Tuesday's Division 1 Quarterfinal against Wayne Memorial after winning his second Regional championship last week. "None."
Ryan has had a string of success coaching the Bedford girls, including a 25-1 team in 2008-09 and this year's team that turned some heads in southeast Michigan by going 20-5 and reaching the Quarterfinals despite carrying just two seniors on its roster and being led in scoring and rebounding by freshmen.
"I knew we would be okay," said Ryan. "But the Southeastern Conference is so strong. Saline had a real solid team, and Ann Arbor Pioneer is loaded. I knew we would be good, but I didn't know what the wins and losses would look like."
This is Ryan's fourth run into the Quarterfinals. He was an assistant coach on two Bedford girls teams that made consecutive trips to the Class A Quarterfinals in the early 2000s. He was the Bedford boys varsity basketball coach from 2001 to 2007.
He spent three seasons coaching both varsity teams. When the seasons shifted beginning with 2007-08, however, that was no longer possible. That's when the girls came to his classroom and said they wanted him to remain their coach and keep the program rolling.
Ryan, who played basketball at Bedford, is 244-101 as the Mules girls varsity coach. Combined with 72 victories in his seven boys seasons, he now has 316 wins at his alma mater.
"They just said, 'Let's stay together,'" Ryan said. "Several of the girls were sophomores at the time. They were a coach's dream. If I was having an open gym or something all I would have to do is call one girl and they would all be there. It ended up being a good move for me."
Ryan has made all the right moves from the sidelines of this Kicking Mules team. In addition to its tough SEC schedule, Ryan piled onto its slate a handful of high-quality teams from northwest Ohio to help the Mules get ready for not only the conference battles but the MHSAA Tournament. That is paying dividends now as Bedford has won 13 of its past 14 games.
"We had two really good games in the Region to advance," Ryan said. "I think our District got us ready for those games."
Bedford started the season blazing hot, winning its first five games, including two to claim the Southgate Holiday Tournament championship. That's when the Mules hit a rough patch – dropping four of six games, including three SEC Red games. The Jan. 18 loss to Monroe was a turning point, Ryan said.
"We let a 10-point lead evaporate in the fourth quarter," Ryan said. "Monroe is a big rival for us. That didn't sit well with a lot of girls. There were no team meetings or anything like that, but they were aware."
By then Ryan had also turned to 6-foot-2 freshman Sophia Gray and his 5-11 freshmen daughter, Grace Ryan, for more productivity. They responded in a big way. Grace leads the team in scoring at about 9.5 points a game. It's a typical Ryan-coached team, however, where the girls seemingly take turns leading the team in scoring and several average around the 7-10 point mark.
"They could start for us, but I like the way things have worked out," he said. "They come in about the 4-minute mark, sometimes the 2-minute mark, and they give us an immediate spark. Once they learned the nuances of our defense, I had no inhibitions about leaving them out there at key points of the game."
Ryan and Gray both came into the season ready to play.
"They are friends, and they have played together all along," Ryan said. "They have played some AAU and travel ball. They've played a lot of basketball, competitive basketball, against a lot of good competition. When they get to the varsity, they've played against a lot of great players already. They are not in awe of anyone. They were ready for the rigors of varsity basketball."
The team has been balanced all season, but during the tournament run that sharing of the scoring wealth seems to have taken on even greater meaning.
In the Regional Semifinal win over Detroit Cass Tech, 6-1 sophomore Molly Koviak scored 14 points and Ryan 12. In the Regional Final win over Dearborn Heights Crestwood, junior Aubrie Zeunen and Savannah Killinen shared the team lead with 12 points each while junior Madison Norton and Ryan each scored 10 points.
Bedford's two seniors are Selena Sandoval and Sarah Koviak, and both play important roles on the team. Killinen is a talented 5-7 sophomore.
"She has some swag about her that we really like," Ryan said.
After the Regional championship, Killinen didn't seem fazed by the fact the Mules were headed to the elite eight.
"It feels good, especially since we are a really young team," she said. "This is what we've dreamed of – to see it come true is awesome," she said.
The Kicking Mules will get its toughest test to date Tuesday against 23-2 Wayne Memorial, a team loaded with college signees and next-level prospects.
"It's a win-win game for us," Ryan said. "I wanted them to get a deep run into the tournament to get that experience. To win a Regional is just the cherry on top. But I wouldn't put anything past our girls. They don't cower to anyone, and I know they'll be fighting to the end. We wear the underdog role pretty well."

Doug Donnelly has served as a sports and news reporter and city editor over 25 years, writing for the Daily Chief-Union in Upper Sandusky, Ohio from 1992-1995, the Monroe Evening News from 1995-2012 and the Adrian Daily Telegram since 2013. He's also written a book on high school basketball in Monroe County and compiles record books for various schools in southeast Michigan. E-mail him at DougDonnelly@hotmail.com with story ideas for Jackson, Washtenaw, Hillsdale, Lenawee and Monroe counties.
PHOTO: Temperance Bedford girls basketball coach Bill Ryan talks things over with his players during a game this season. (Photo by Vanessa Ray.)