Young Grass Lake Grows Into Contender
March 2, 2019
By Doug Donnelly
Special for Second Half
GRASS LAKE – Some coaches go a whole career without ever knocking off a No. 1-ranked team.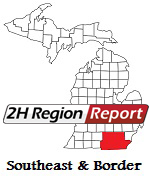 The Grass Lake Warriors and head coach Andrea Cabana have done it twice in a month.
"And, we are just babies," Cabana said of her youthful squad. "I think it really boosts our confidence. It gives us an idea of what we are capable of."
The Warriors, who have been sneaking higher and higher into The Associated Press Division 3 rankings all season, are capable of just about anything with the MHSAA Tournament beginning this week. They have won 16 consecutive games since a December loss to Division 3 No. 1 Michigan Center. Included in that streak is two wins over a solid 14-5 Manchester squad, a rematch win over Michigan Center on Feb. 1 and a 64-53 win over Division 4's No. 1 Adrian Lenawee Christian last week.
"It's exciting," said Cabana. "We are playing very well right now."
On Thursday, the Warriors took care of business quickly, racing out to a 31-2 lead over Addison in a game that would clinch the Cascades Conference outright championship. Grass Lake won 64-36 to put the lid on a 19-1 regular season.
Success is certainly nothing new for Grass Lake. But this season's rise to 19-1 can be considered somewhat of a surprise since the team, coming off an 18-5 season, had just one player returning with a lot of high school basketball experience – sophomore Abrie Cabana. She's surrounded by two freshmen, a fellow sophomore and a junior.
"We're not babies at this time of the year," Coach Cabana said. "We've grown up."
The Warriors have done it with a solid combination of lock-down defense and a high-powered offense. They average 56.4 points a game and allow just 29.6 a contest. The defense has allowed 20 or fewer points in a game seven times this season, and one opponent didn't reach double figures. On the other end of the court, the Warriors have 11 games scoring above 60 points.
Lenawee Christian won the Class D championship a year ago and has been the No. 1-ranked team in Division 4 most of the season. The Cougars lost to Michigan Center to start the season and Grass Lake last week for their only two losses. Head coach Jamie Salenbien said Grass Lake has all of the pieces to make a long tournament run of its own this year.
"They have a high basketball I.Q.," Salenbien said. "They are balanced with kids who can shoot it deep, and they get to the basket. They are well-coached and have a lot of weapons."
Cabana called that win a total team effort.
"Lenawee Christian is a great team," she said. "They have a handful of great players. We knew it was going to take a great effort. We went in real focused, and things went our way in the end."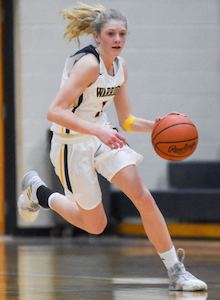 Abrie Cabana, the 5-foot-10 daughter of Coach Cabana, leads the team in scoring and most statistical categories. Although just a sophomore, she verbally committed to play college basketball at Grand Valley State University last fall. She had other offers, including from the Division I level, but chose the Division II Lakers over them all.
"She's probably our vocal leader," Cabana said of her daughter. "She's played a ton of travel ball. She's the most experienced high school player on the team."
Her backcourt running mate, Lexus Bargesser, is only a freshman but already plays at a high level.
"She's almost identical to Abrie," Cabana said. "She's a little smaller, but she's quick and gets to the hole quick. She's a very sound player. We are very strong at the guard position. They are both strong outside the 3-point line and inside. They are hard to handle."
Freshman Gabrielle Lutchka (6-0) is also an imposing figure at both ends of the court for Grass Lake.
"She's been our game changer," Cabana said. "She handles the other team's big player. When she is playing well, we play well."
In the win over Lenawee Christian, Lutchka scored 13 points and grabbed seven rebounds. She also drew the primary responsibility of guarding LCS's Bree Salebien, the reigning AP Class D Player of the Year.
Other Warriors, such as Amber Boomer, Faith Patania and Lauren Pongracz, play big roles as well.
"They do a real nice job of playing to their roles, playing to their strengths," Cabana said.
While young, Cabana said, the girls already have played a lot of basketball.
"A lot of our girls play travel ball," Cabana said. "They are very experienced players. They've played a lot of basketball."
Cabana is from the Jackson area but has lived in the Grass Lake district for about 20 years. She got her start coaching her oldest daughter – now a sophomore on the Spring Arbor University team – when she was in the third grade. The Warriors are 55-13 during her tenure, and the future keeps looking brighter.
"There was an opening in the middle school, and I coached that for three years," Cabana said. "Then there was an opening as the JV head coach and I did that for two years, and this is my third year with the varsity."
Grass Lake will open District play with Lenawee County Athletic Association champion Brooklyn Columbia Central. Looming on the other side of the Napoleon bracket is the likes of Michigan Center and Manchester.
"This time of the year," Cabana said, "nothing is easy."

Doug Donnelly has served as a sports and news reporter and city editor over 25 years, writing for the Daily Chief-Union in Upper Sandusky, Ohio from 1992-1995, the Monroe Evening News from 1995-2012 and the Adrian Daily Telegram since 2013. He's also written a book on high school basketball in Monroe County and compiles record books for various schools in southeast Michigan. E-mail him at DougDonnelly@hotmail.com with story ideas for Jackson, Washtenaw, Hillsdale, Lenawee and Monroe counties.
PHOTOS: (Top) Grass Lake's Abrie Cabana pushes the ball upcourt against Manchester this season. (Middle) Teammate Lexus Bargesser looks for an opening. (Photos courtesy of the Grass Lake girls basketball program.)