1st-Time Individual Champs, Perennial Team Powers Rule UP Girls Finals
October 23, 2021
MARQUETTE — Houghton and Hancock often see each other during the course of a cross country season.
It was a happy ending for the girls teams from both schools as they were crowned champions during the Upper Peninsula Finals here Saturday.
Houghton retained its Division 1 title with 52 points, followed by Marquette with 69, Negaunee 83 and Sault Ste. Marie 99.
Hancock won Division 2 for the third time in four years with 43 points, followed by Ishpeming with 54 and Ironwood 72.
"This was our best performance all year," said Hancock coach Jennifer Smith. "The girls peaked today, which is exactly what they needed to do. We were runners-up by one point to St. Ignace last year and really wanted to take (the title) back. We needed everybody at the top of her game.
"I hope the girls continue to run. I also hope the middle school runners keep running, too."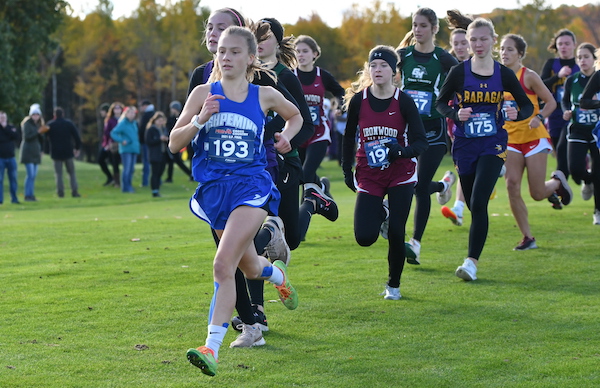 In Division 1, Houghton senior Ingrid Seagren earned her first individual title, covering the 3.1-mile course at Gentz's Homestead Golf Course in Chocolay Township in 20 minutes, 51.7 seconds. She was followed by Sault Ste. Marie junior Cassandra Gallagher (21:05.8) and Houghton junior Claire Filpus (21:11.2).
"This has been my goal for a long time," said Seagren. "There was a lot of pressure on us to win again, and we pushed each other real hard all year. I'm super proud of Paige (Sleeman) and Claire. You always want to peak for this race, but it's really hard."
Houghton senior and 2020 individual champion Paige Sleeman finished eighth this time (21:23.3), marking the fifth straight Finals she placed in the top 10 and was part of a U.P. championship team.
"It's exciting and unbelievable," said Sleeman, who was part of three championship teams at Chassell and now two at Houghton. "I never thought I'd be part of this many U.P. championship teams. I just developed a run for this sport, and the girls I ran with are amazing. Ingrid ran great. I knew it was going to be close race among the top four teams. For me, I just wanted to get the team win."
Houghton coach Traci Welch had similar thoughts.
"They really wanted to give it their all," she said. "Paige battled some illness, and she just went out and did what she needed to do. Claire missed last year (due to COVID), but now she's healthy and very motivated. Our fourth and fifth runners (freshman Kiira Niska and junior Jewel Laux) were so important to the team. Jewel had COVID and came back and did great. All the teams ran hard. It boiled down to who had the best race today."
Ishpeming sophomore Lola Korpi gained her first U.P. title in a season-best 20:04.9 to win Division 2. She was followed by Ironwood freshman Aubrey Smith (21:41.1) and Gogebic (Bessemer) junior Natalie Stone (21:56.8).
"I just gave it my all because it was the last race this year," said Korpi. "I'm a little surprised by the margin of victory. The Ironwood girl is a good runner. We got two more runners at the last minute and we're just so happy about that. I'm so proud of them for coming out of their comfort zone."
Munising, which placed four in the top 10, repeated as Division 3 champion with 31 points, followed by Dollar Bay with 71 and Eben Junction Superior Central with 99.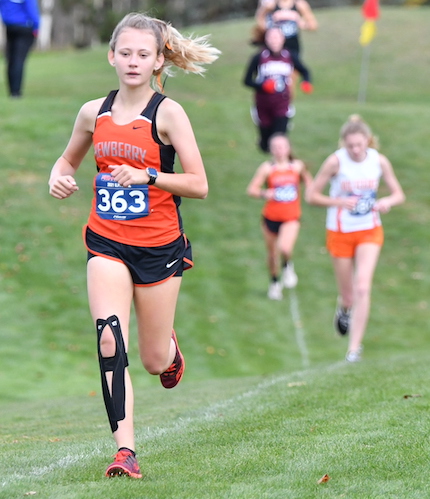 "It's exciting to win it again," said senior Jenna Matson, who placed sixth (22:43.2). "That wasn't one of my better times, although we won as a team which is all that matters. We're a pretty tight group. I was shooting for under 22, but I'm okay with that.
"Our No. 5 runner (freshman Kate Mattson) didn't place, yet we wouldn't have won if it wasn't for her. I felt there was a little more pressure on us this time, but our coach (Mark Kinnunen) kept us together and got what we needed."
Newberry sophomore Kaylen Clark won her first Finals championship at 20:50.4. She was followed by Rock Mid Peninsula senior Landry Koski (21:37.9) and Munising junior Monique Brisson (21:51).
"The course was more challenging than I expected," said Clark. "We had one hill before you turn into the last stretch that was real challenging. I had to go out strong because I knew the Mid Pen girl was a good runner, and she had a great race. This was a good showing for our team."
Koski, who won on this course as a sophomore two years ago, was happy with her runner-up finish.
"I knew coming in the Newberry girl was fast," she said. "She took off real fast. I knew after the first mile I wasn't going to be able to catch her. I didn't know what to expect from her because I hadn't run against her all season."
Brisson said her strategy was to keep up with Koski.
"Landry is a very strong runner," she added. "Kaylen ran a real good race. I was surprised by her time.
"We're all friends. It's friendly competition. I'm real happy for Landry with this being her senior year. I'm so proud of our team. Jenna pushed me real hard all year."
Click for full results: Division 1 | Division 2 | Division 3.
PHOTOS (Top) Houghton's Claire Filpus (91), Ingrid Seagren (95), and Paige Sleeman (97) pull into the lead near the start of the Division 1 race. (Middle) Ishpeming's Lola Korpi sets the pace for the lead pack during the Division 2 Final. (Below) Newberry's Kaylen Clark builds her lead on the way to winning the Division 3 championship. (Photos by Cara Kamps. Click for more from RunMichigan.com.)