1st-Time Winners Rule U.P. Girls Finals
October 18, 2014
HARVEY — The element of surprise always is a possibility in any athletic endeavor.
Gladstone High School sophomore Leigha Woelffer surprised many people including herself Saturday by earning her first Upper Peninsula Division 1 cross country championship at Gentz Homestead Golf Course in Chocolay Township. 
Woelffer covered the 3.1-mile course in 19 minutes, 52 seconds, followed by Marquette sophomore Amber Huebner (19:55), Sault Ste. Marie senior Michaela Rushford (19:59) and teammates Courtney Arbic (20:01) and Mackenzie Kalchik (20:11) on a cloudy, chilly and windy day.
"I wasn't expecting this at all," said Woelffer. "I had a dream (Friday) night that I was going to do well today, only I don't remember (in the dream) if I won or not. I thought Amber was right behind me. In the last half-mile I was almost in shock. It was really a dream of mine to win the U.P. Finals someday. I'm real excited. I think this will give me more motivation to train hard. Everything went right for me today." 
Huebner and teammate Lindsey Rudden missed a flag during the race and were forced to retrace their steps, running an extra 200 meters.
Rudden, who was leading prior to the miscue, scrambled back into the lead. The junior, however, began to hyperventilate after the final turn and was forced to walk into the finish. 
"I feel real bad for Lindsey," said Woelffer. "She's such a good runner. She deserved to win."
Marquette retained its team title with 36 points, followed by Sault Ste. Marie with 42 and Calumet with 97. 
"Sault came out of nowhere," said Huebner. "We were surprised. Lindsey and I had to make up a lot of distance. I just tried to stay positive and not let it effect my run. Leigha ran a great race. I can't wait to compete against her in track (next spring)."
Saturday's title was the 29th overall for Marquette, which placed five among the top 10. Becci McNamee took eighth (20:40), followed by Morgan Leadbetter (20:43) and Shayla Huebner (20:47). 
"Our whole group of girls ran well," said Marquette coach Dale Phillips. "Sault has a very good team. We hadn't seen them this year, but knew they'd be a challenge."
Sault Ste. Marie coach Jim Martin was happy for the Blue Devils. 
"The girls ran their hearts out today," he said. "The weather was absolutely brutal, but they fought through it. We were right there. Marquette has an excellent program and a great tradition. Our girls had great senior leaders this year. Our number seven runner (Alexis Scott) really stepped up and was our fifth runner today. I'm real happy for the girls because they all worked so hard for this."
Division 2 
Ishpeming captured the crown for the first time with 32 points, marking its first U.P. title since 1980 when it was competing in Class C-D. Defending champion Hancock scored 52, followed by Ishpeming Westwood at 55.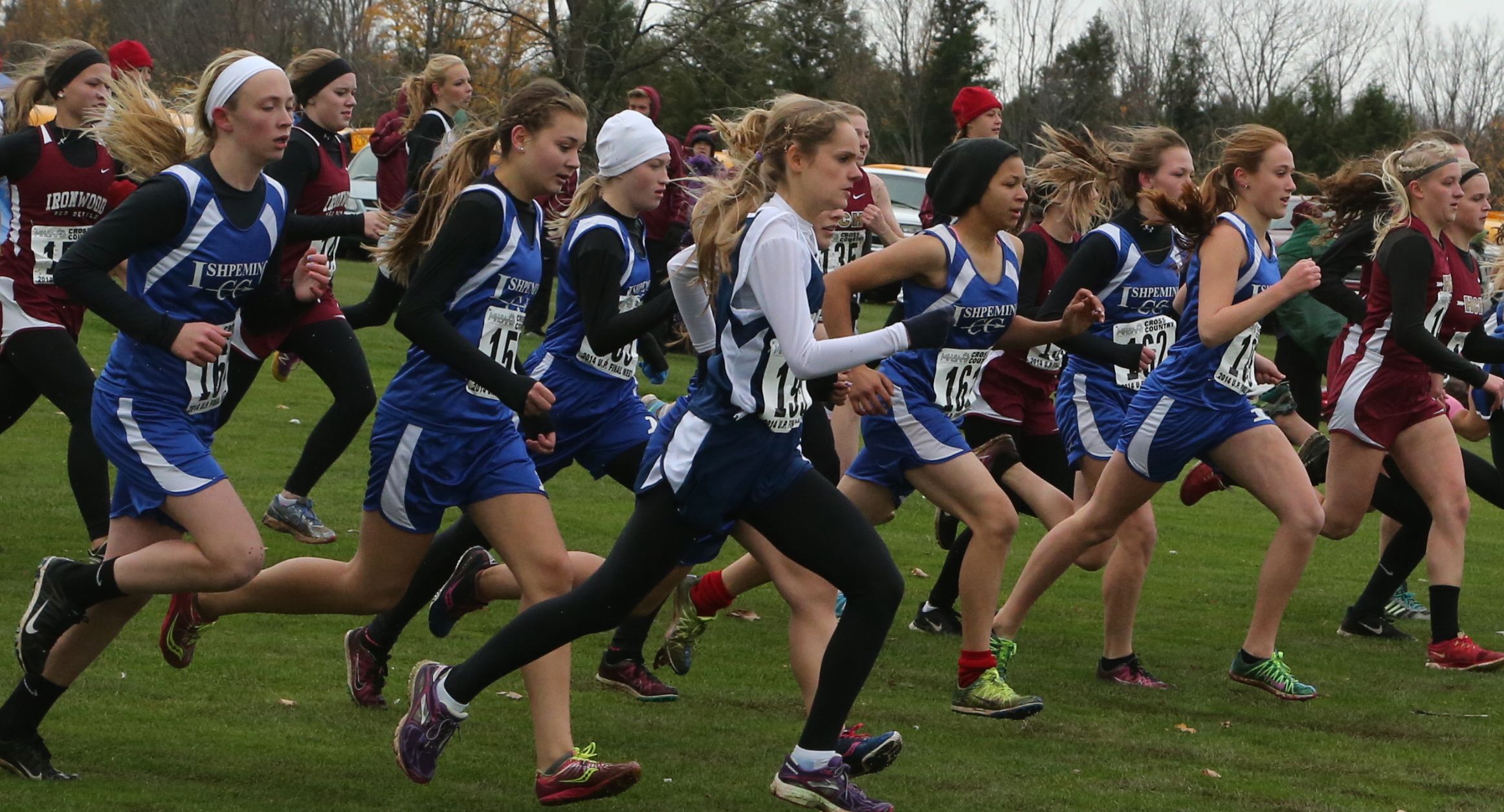 Westwood junior Katie Etelamaki earned her first individual championship in 20:51, followed by Iron River West Iron County senior Tori Harris (21:36), Manistique senior Olivia Holmberg (21:43), Norway junior Kyra Johnson (21:44) and Ishpeming's Khora Swanson (21:53). 
"I definitely didn't think I'd win by that big a margin," said Etelamaki, who also claimed the Mid-Peninsula Conference title the previous week.
"I started to get some separation at mile 2 and tried to stay focused and push myself. I'm really not sure what made the difference in the end, but I think winning the M-PC gave me some confidence for today's race."
Division 3
Chassell earned its first Division 3 crown with 60 points, followed by St. Ignace with 86 and Dollar Bay with 93. 
"This is amazing," said Chassell coach Marco Guidotti. "The kids earned it, that's for sure. We were worried about St. Ignace. We knew they'd be a challenge. Our girls and guys were tough today. We're prepared for any kind of weather. This is why we train in all kinds of conditions."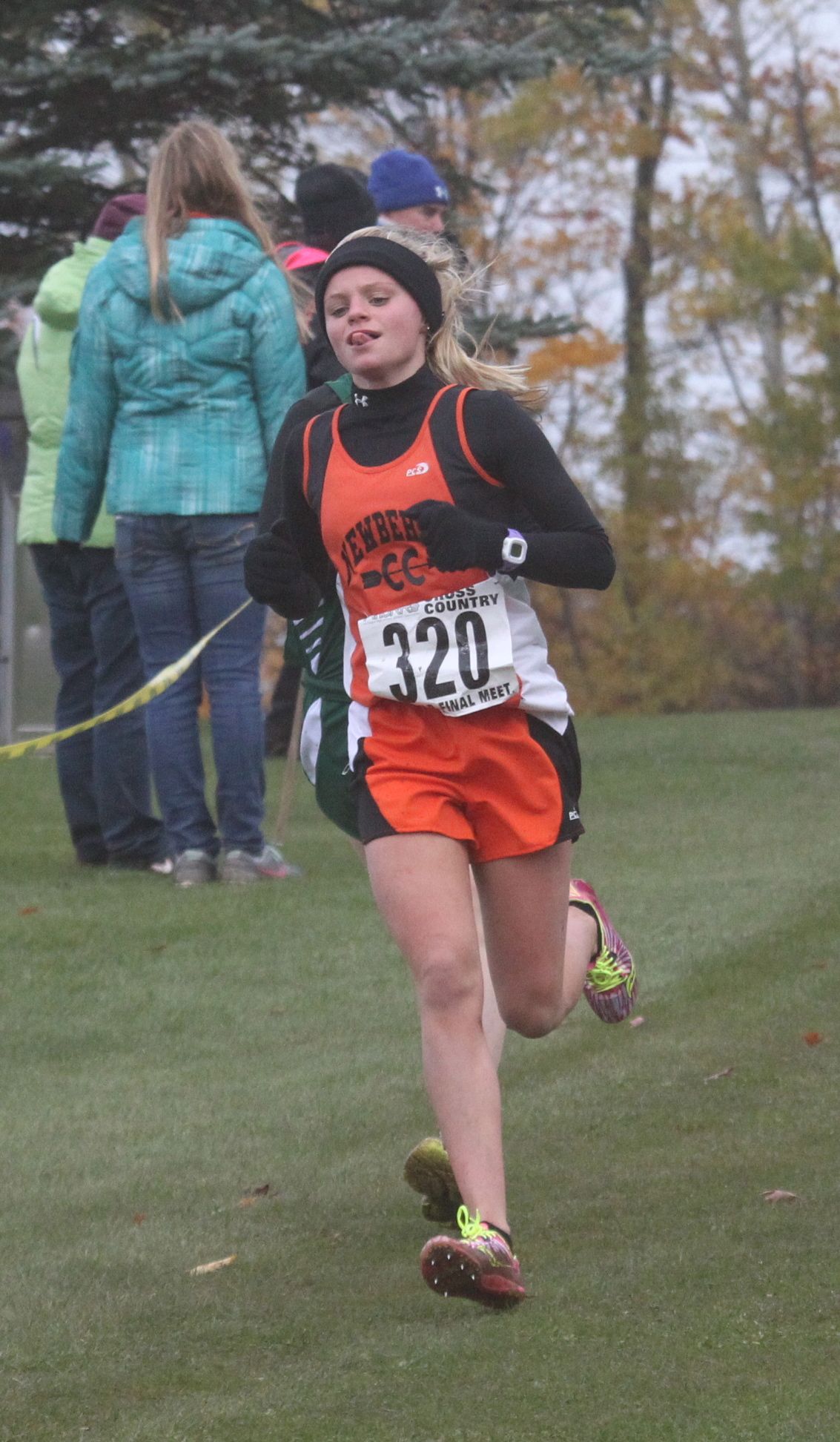 Newberry junior Natalie Beaulieu won for the first time in 20:56, followed by Munising freshman Alyssa Webber (21:10), Cedarville sophomore Emma Bohn (21:16), Brimley's Emily Chartrand (21:37) and Chassell eighth-grader Lela Rautiola (21:42). 
"I wanted to stay with Emma," said Beaulieu, who had been battling leg problems much of this season. "Then at 1 1/2 miles, I felt good and took off. But it was a bit painful, and the mud didn't help. It was kind of a balancing act in the end. I wanted to kick it in, yet I also wanted to play it safe."
This marked Beaulieu's first experience in Division 3 after placing third last year and fourth as a freshman two years ago in Division 2. 
"I really didn't think it was different," she said. "The competition is still there."
PHOTOS: (Top) Gladstone's Leigha Woelffer (36) runs with the front pack on the way to winning the Division 1 championship. (Middle) The Ishpeming girls claimed their first MHSAA title since 1980. (Below) Newberry's Natalie Beaulieu breaks away en route to winning the Division 3 race. (Photo courtesy of RunMichigan.com/Paul Gerard.)