1st-Time Winners Shine at UP Girls Finals
October 21, 2017
MUNISING — Nobody could catch Negaunee sophomore Emily Paupore at Saturday's Upper Peninsula Girls Cross Country Finals.
Paupore ran the day's fastest time, covering the 3.1-mile course at Pictured Rocks Golf Club in 19 minutes, 22.3 seconds on this sunny, warm and breezy day. She was followed in the Division 1 race by Marquette sophomore Ericka Asmus (19:55.9) and Sault Ste. Marie senior Mackenzie Kalchik (20:22).
"I wanted to take off hard, but my first mile was slower than I wanted (5:49.2) and I had a 12:09 after my second mile," said Paupore. "My pacing wasn't good today. Although it feels great to win it. This shows if you work hard, positive things will come out of it. I'll just work hard during the winter (for track in the spring) and summer."
Marquette won the Division 1 team championship for the fourth time in five years with 47 points, followed by defending champion Sault Ste. Marie with 61 and Negaunee with 94.
"We did what we had to do," said Marquette coach Kyle Detmers. "Ericka Asmus did a great job leading the team, and Allison Jette ran her best race of the year. Our second through fifth runners packed together. I couldn't be happier. 
"Hats off to Sault. Jim (Martin, the coach) does a great job with his program. Also, hats off to Mike Leanes for coming out of retirement to help us out. His knowledge of cross country is incredible."
Click for full Division 1 results.
Division 2
St. Ignace earned its first Division 2 championship with 34 points, followed by three-time defending champion Ishpeming at 61 and Westwood with 77.
This marked the first U.P. title in five years for the Saints, the previous coming when they were competing in Division 3.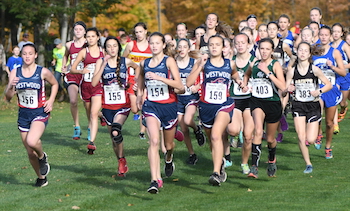 "Our girls have a strong work ethic," said Saints coach Mary Cullen. "They work hard together and never complain. A couple of our girls stepped up today. I set the bar kind of high, and they excelled. We had a very good year. We're hoping this will help our program take off."
Westwood sophomore Tessa Leece won the race in 20:54.2, followed by St. Ignace junior Elizabeth Becker (21:09.7) and freshman Emmalee Hart (21:15.2).
"I think it went real good," said Leece. "It was fun. I just wanted to go out hard and keep pushing. I think the wind helped, especially when it was on our back. I also think it was the perfect temperature for running. It wasn't too hot or cold.
"We did a lot of hard workouts in the sand and on hills, which I think helped our mental toughness. Running with the Negaunee girls (Paupore and Clara Johnson) also helped me a lot. There were plenty of girls who were more experienced then me, which helped me develop some competitive spirit."
Becker said she was happy with her runner-up finish.
"I was really surprised," she added. "I just wanted to run hard. This is a big accomplishment for our team. I came out halfway through the season. Our coached wanted to add a runner, and she felt I could help the team. I wanted to do it for the team and not for myself.
"The girl from Westwood was very good. There was a point I tried to go after her, but she got too far ahead."
Click for full Division 2 results.
Division 3
Chassell won Division 3 for the third time in four years with 40 points, followed by Rock Mid Peninsula with 72, Munising 74 and defending champion Cedarville with 87.
Freshman Daisy Englund became Mid Pen's first MHSAA Finals champion in 21 years in 20:31.3.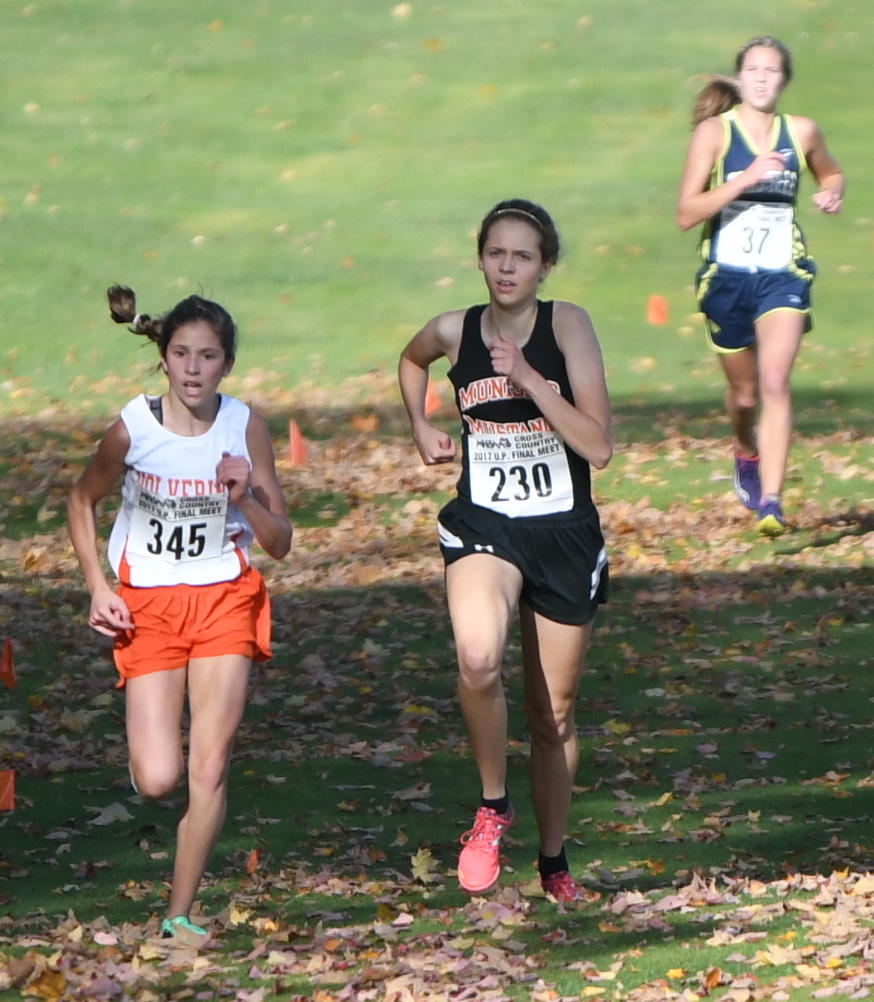 "This feels awesome," said Englund, who also is the first Mid Pen girls runner to be crowned U.P. champion since her mother (the former Faye Peterson) won in 1996. "I didn't know I could do it. My ankle had been sore, but I iced it down (Friday) night and it felt good today.
"As a team, I think we did pretty well."
Munising junior Madeleine Peramaki, who led going into the final turn, placed second (20:37.4), and Chassell junior Lela Rautiola was third (20:42.5).
"I started real hard," Peramaki said. "I just went after it. I'm proud of the way I ran. I didn't give up at all. When she went by me, I had nothing left. There's nothing wrong with being runner-up when you give it everything you have. I'm happy with how much I improved all year. I didn't expect to have as much success as I did. I'm really thankful for the strength God gave me all year."
Rautiola said her goal was to stay with Peramaki.
"We definitely had a fast start," she said. "The Mid Pen girl really surprised me. She never gave up, and I'll give her credit for that. She and Maddy definitely pushed me.
"It was exciting to win as a team. We weren't expecting Cedarville to win it last year. We were ranked No. 1 all year, but it didn't work out for us in the Finals."
Click for full Division 3 results.
PHOTOS: (Top) Negaunee's Emily Paupore (245) ran the day's fastest time and here leads a pack that includes Marquette's Ericka Asmus. (Middle) Division 2 runners rush forward led by Ishpeming Westwood's Tessa Leece (154). (Below) Rock Mid Peninsula's Daisy Englund (345), Munising's Madeleine Peramaki (230) and Chassell's Lela Rautiola (37) push toward the finish line. (Photos by Cara Kamps; click for more at RunMichigan.com.)