Bloomingdale Racers Achieve Historic Goal
November 13, 2018
BLOOMINGDALE — High fives, music and a hallway full of students gave the Bloomingdale cross country teams an enthusiastic sendoff as they departed for the MHSAA Finals at Michigan International Speedway two weeks ago.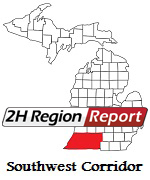 "We left school early on Friday," coach Alan Bobalik said. "All the kids were in the hallway, the band played the fight song.
"We walked through the hallway and kids were high-fiving the team. It was pretty cool."
What was even cooler was that the girls already had carved out a place in the Cardinals' history book.
A week earlier, they became the first team in any sport in school history to win an MHSAA Regional championship.
"At the beginning of our cross country season, we write down our goals as a team and that was our goal," said Nelly Gonzalez, one of two seniors on the team. The other five runners were sophomores.
To add to the celebration, the runners had fun watching their coach navigate Walmart and then eat dinner wearing a red and black wig as their reward for the Regional win at Centreville.
"We spent Friday night (before states) in Coldwater and ate at the Broadway Grill," Bobalik said. "I had to wear the wig when we went out to eat as a team. It was nice, black and red, and went down to my shoulders.
"We stopped for snacks at Walmart and I wore it around the store. We got some interesting looks."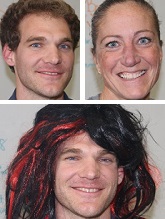 One person was not impressed.
"My daughter (Annabelle, 3½ years old) was confused," he said. "She thought I was a different person, scared or confused and didn't want to look at me."
The girls finished 17th in Division 3 at the Finals while the boys placed 16th.
"I'm sure (the boys) won't let the girls forget that," said Bobalik, in his fourth year as head cross country coach and as an assistant for track & field. (The boys team finished second at its Regional, just two points off the lead.)
Four years ago, Gonzalez would have laughed if someone told her she would not only run cross country but also lead the team at the Finals with a time of 20:28.5.
"I was playing volleyball my freshman year," she said. "I (didn't play) volleyball my sophomore year, and my coaches and especially Liza (Hutchins) pushed me to run. I really did not want to, but I ran.
"I hated it at first because I didn't like the running, but now I really enjoy it."
Gonzalez agreed to join the team to get in shape for basketball and track, where she holds the school record in the 3,200 meters (12:15).
Examples and Inspirations
Bobalik, who ran cross country at Sturgis High School, and assistant coach Tina Bertuca practice with the team.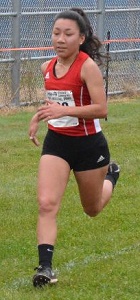 "I try to run with the girls," he said. "Keep up? No comment. They're getting older and faster. I'm getting older and slower.
"Coach Bertuca can keep up."
Bertuca, the girls head track coach, qualified for the 2019 Boston Marathon. She also competed there last April.
Hutchins, the other senior on the team, was inspired by her aunt, Andrea Hutchins.
"My aunt did (cross country) when she was in high school (at Watervliet) and went to college and ran," Hutchins said. "She's been a person I looked up to when I started running."
Hutchins, who also runs the 1,600 and 3,200 in track, said she has one regret.
"My freshman year and my sophomore year I took (cross country) as getting in shape for basketball," she said. "But ever since time has gone on, it's become my best sport that I've ever done and I wish I would have done it in middle school.
"I fell in love with the sport, and now I want to run in college. I have (University of) Michigan-Dearborn on my mind right now."
Gonzalez said she hopes this year's success inspires next year's team.
"My sophomore year we really didn't have a team at all. It was really just me, Liza, Heather (Davis) who already graduated," Gonzalez added.
"Last year, we had a team and the girls were all awesome and we accomplished a lot.""
This year's team overcame a stumbling block at Regionals.
"We had a girl (Kallie Harrison) who was very sick Thursday and Friday who didn't get out of bed, and she came in Saturday and ran really, really tough," Bobalik said. "She hadn't fully recovered before state."
"Everyone stepped up. We knew she was sick. Olaisa Moss ran a great race. She really pushed herself and ran her fastest time of the season. Marta Douglas, Maria Herrera ran well and Aimee Sustaita was a Regional medalist this year after finishing 23rd last year. Everyone stepped up that day to help out their teammate.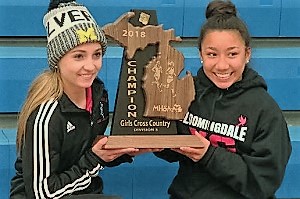 "I knew we had a chance to win, but it didn't just happen. We had to earn it."
Said athletic director Alan Farnquist: ""These girls are an incredibly unique group of athletes. They genuinely get more excited for their teammates than they do for themselves, and I think that's what sets them apart.
"They work hard for each other, and they exemplify what student athletics should be about."
Bobalik said the challenge for next year's team is to keep the success going.
"We have two great seniors who are big shoes to fill, not only running but as teammates, as leaders, as individuals," he said.
"The girls on the team and the guys on the team, are they going to be content just having one year of success, two years of success? Or do the middle school kids coming up want to be a part of something special? Or do the returning girls next year want to continue going?"

Pam Shebest served as a sportswriter at the Kalamazoo Gazette from 1985-2009 after 11 years part-time with the Gazette while teaching French and English at White Pigeon High School. She can be reached at pamkzoo@aol.com with story ideas for Calhoun, Kalamazoo and Van Buren counties.
PHOTOS: (Top) The Bloomingdale girls cross country team, during the Nov. 3 MHSAA Lower Peninsula Finals at Michigan International Speedway. (Top middle) Bloomingdale head coach Alan Bobalik and assistant Tina Bertuca, and then Bobalik in his celebratory wig. (Middle) Nelly Gonzalez powers toward the finish during her team's Regional victory. (Below) Seniors Liza Hutchins and Gonzalez hold the first Regional trophy won by the school in any sport. (Photos courtesy of Bloomingdale's athletic department; head shots by Pam Shebest.)