Concord Senior Rises, Irish Stay on Top
November 4, 2017
Second Half reports
BROOKLYN — When Samantha Saenz of Concord needs training partners or racing advice, she leans upon the school's boys team.
"I don't have many girls on my team, so I train with the boys, so that helps," she said. "They're fast."
So is Saenz.
Moving through the pack for four years, she found herself alone in front throughout the entire race Saturday on her way to the MHSAA Lower Peninsula Division 4 individual championship at Michigan International Speedway.
She became Concord's first female Finals champion since Jenny Franssen won Class D in 1982.
The school has produced nine boys individual titles won by six runners. Saenz knows two of them, 2009 champion Kyle Stacks and three-time winner Jesse Hersha, who was a senior in 2014 when Saenz was a freshman.
"Jesse Hersha gives really good advice," Saenz said. "I learned that pain is temporary and pride is forever. Kyle Stacks also helps with our team."
Saenz ran a solo race up front, posting a time of 18:16.8. She has been all-state all four years, improving from 22nd as a freshman to seventh as a sophomore to third as a junior.
"It feels so good," she said. "I've been working for it for four years. I finally got it. I'm so happy."
Finishing second for the second year in a row was Mount Pleasant Sacred Heart senior Bailley McConnell, who finished in 18:44.1. Teammate Scout Nelson was third in 18:46.6.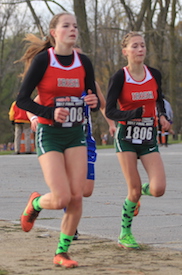 McConnell and Nelson led Sacred Heart to its third straight team championship with a score of 39 points. Ubly was second with 138 and Lansing Christian took third with 141.
There were four McConnell sisters on last year's championship team. Alexis McConnell graduated and junior Cammie McConnell was injured Saturday, so it was just Bailley and sophomore Desiree McConnell representing the family this year at MIS.
"It's pretty sweet," Bailley said. "This year it was a little different, because last year I had my two sisters actually run with me the whole time for most of it, whereas this year I ran with different teammates because I wasn't able to run with my younger sister as much."
Completing the scoring for Sacred Heart were Desiree McConnell (eighth, 19:21.0), Lauren MacDonald (19th, 19:56.3) and Rowan Fitzpatrick (23rd, 20:01.8).
The Irish's score was the 10th-lowest by a girls team champion in any division or classification since the MHSAA began sponsoring a girls meet in 1978. Last year's Sacred Heart team set a Division 4 record that ranks sixth all-time with a score of 34 points.
"It's really nice," Bailley McConnell said. "Working together, we're able to stay pretty consistent, and we try to work with each other to know what we're supposed to do."
Junior Haili Gusa led Ubly to its runner-up finish, placing seventh in 19:15.6. It was Ubly's best team finish, surpassing a fifth-place showing in 2004.
PHOTOS: (Top) Concord's Samantha Saenz pulls away from the field in winning Saturday's Division 4 race. (Middle) Sacred Heart's Scout Nelson, left, and Bailley McConnell led the Irish to a third straight team championship. (Click for more from RunMichigan.com.)