DaDamio, Forsyth Add to Family Fame
November 6, 2020
Second Half reports
BROOKLYN — Two familiar last names battled for the MHSAA Lower Peninsula Division 1 girls cross country individual championship Friday, but in separate races.
In the end, Birmingham Seaholm senior Audrey DaDamio had the fastest time in the two heats that were run in a cross country final that was redesigned to limit the size of races in the year of COVID-19.
DaDamio, who ran the first heat with individual qualifiers and runners from third-place teams at Regionals, crossed the line at Michigan International Speedway in 17:46.07.
She had to wait for the second heat to be run before celebrating her MHSAA championship. In that race, Ann Arbor Pioneer freshman Rachel Forsyth took first place in 17:55.60.
Both girls have older sisters who had second-place finishes at the MHSAA Finals. Rachel DaDamio was runner-up in 2014, and Anne Forsyth was second in 2016.
Audrey DaDamio improved every year at MIS, finishing 62nd as a freshman, 11th as a sophomore and fifth as a junior.
"It's really special," DaDamio said. "I've been dreaming about crossing the line since, honestly, probably middle school, but really freshman year when I was here in the 60s. I was like, 'How do girls run so fast?' To have worked to put myself in this position where I'm contending for a title is something really special. I've had a lot of good role models on the team and in my family to help me believe in myself so I could get there. I'm really thankful to have them."
DaDamio ran pretty much a solo race, leading by six seconds at the mile and 15 seconds at two miles.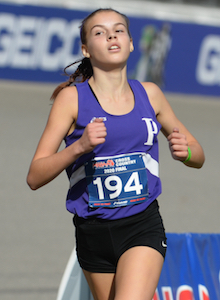 Forsyth wasn't made aware of DaDamio's time before she raced. She had more of a battle on her hands, outkicking Traverse City Central's Julia Flynn (17:59.18) and Plymouth's Lauren Kiley (18:03.92) to win her heat. An exhausted Forsyth slowed up right before the finish line.
Forsyth has a strong support system which includes her older sister.
"She helped me a lot," Forsyth said. "Honestly, me and my sisters feel some pressure, obviously, just coming from a great family. It's not anyone's fault. My dad said it doesn't matter what time you run; just go out there and do your best."
DaDamio expressed gratitude for the opportunity to have an MHSAA championship meet, but missed the opportunity to race the other top runners in the state.
"I'm really excited we have a state meet," DaDamio said. "I know a lot of states don't have that. I'm just grateful to be here. I was kind of thinking about that during the race to kind of give me an extra boost. It's a little upsetting not to be able to race a lot of girls I know from other teams. Some of the girls in the other race, I was excited to work with to push each other."
Forsyth, like her older sister, led Pioneer to a team championship. The Pioneers scored 129 points, with Traverse City Central taking second with 168.
Cookie Baugh was fourth among team runners in 18:10.78, Sarah Forsyth was 20th in 19:22.88, Charlotte Batra was 34th in 19:47.28 and Emily Cooper was 48th in 20:04.36 for Pioneer.
PHOTOS: (Top) Birmingham Seaholm's Audrey DaDamio runs the final stretch of her championship-winning race Friday at MIS. (Middle) Ann Arbor Pioneer's Rachel Forsyth paces the second heat in leading her team to the title. (Click for more from RunMichigan.com.)