Division 1 Winners Lead Speedy Packs
By Bill Khan
Special for Second Half
BROOKLYN — Panic set in, but only momentarily.
With all of the pressure that takes place in an MHSAA Cross Country Final, a runner could easily become unraveled by the unexpected. 
Like a fall, for instance.

Grandville sophomore Madison Troy went to the ground during a gravel section of the Michigan International Speedway course midway through the Lower Peninsula Division 1 meet Saturday. Afterward, she bore scuff marks on her right shoulder, hands and legs from the tumble. 
But she also wore the smile of a champion, having quickly composed herself. She got back in the lead pack, then pulled away from a three-girl race down the final stretch to win in 17:28.2. Close behind were Saline sophomore Jessi Larson (17:30.9) and Farmington senior Maddy Trevisan (17:31.7).
Troy said she was in third or fourth place when she fell. 
"It wasn't too bad," said Troy, Grandville's first individual champion. "I fell all the way through on my back. I quickly got up, because I didn't want to lose my spot. I was nervous at first. I thought I was going to fall behind."
Troy finished 13th in the Final last year in 18:15.8. She had to beat six runners who placed higher than her a year ago. 
"I was hoping to win by my junior or senior year," Troy said. "This year was not unexpected, because I knew if I gave it a lot, I'd be able to."
Some rivalries to watch may have formed Saturday, as three of the top four were sophomores. Traverse City Central 10th-grader Sielle Kearney was fourth in 17:41.2. 
"It's hard to push yourself when you don't have a group to run with, so that was nice," Troy said.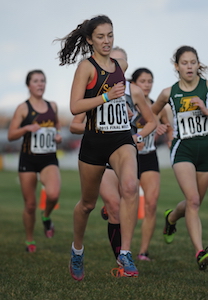 Troy was coming off a personal-best 17:20.5 performance to win the Regional on the fast Portage Central course. Coming within eight seconds of that time was a solid effort on the wind-swept MIS course. 
In the team race, Birmingham Seaholm won for the third time in the last four years, despite graduating two-time champion Audrey Belf (Georgetown) and 2014 runner-up Rachel DaDamio (Notre Dame).
The Maples scored 90 points to beat second-place Brighton by 46. 
Without two stars at the front, Seaholm won with a solid pack. The Maples' top four runners finished 16.7 seconds apart, with all five scorers breaking 19 minutes.
Junior Audrey Ladd was 11th (18:06.3), sophomore Rachel McCardell 16th (18:21.6), senior Mary Sanders 18th (18:21.9), senior Patty Girardot 19th (18:23.0) and sophomore Emily Rooney 53rd (18:54.6). 
Neither of the top two teams had a runner in the top 10, as fifth-ranked Brighton also came away with the runner-up trophy because of a tight pack.
Brighton's five scoring runners finished 22 seconds apart, as the Bulldogs had their best finish since placing second in 1993. Senior Kirsten McGahan was Brighton's first finisher in 28th place (18:32.1), but she was quickly followed by junior Miranda Reynolds (29th, 18:32.3), senior Jenna Sica (18:34.3), sophomore Lauren Parrell (43rd, 18:49.5) and sophomore Lexi Reynolds (51st, 18:54.1). 
Milford, which beat Brighton for the Kensington Lakes Activities Association West championship, was third with 149 points.
The MHSAA Cross Country Finals are sponsored by the Michigan National Guard.
PHOTOS: (Top) Grandville's Madison Troy (1052) stays just ahead of Saline's Jessi Larson (1146) and Farmington's Maddy Trevisan (1031) during the final meters of the Division 1 Final. (Middle) Birmingham Seaholm's Patty Girardot (1005) leads a pack that includes teammates Mary Sanders (1009) and Rachel McCardell (1007), plus Midland Dow's Emily Wall. (Click for more from RunMichigan.com.)