Eagles' Frens, East Grand Rapids Find Fast Gears at Finals Time
November 6, 2021
BROOKLYN — The clock was ticking on Madelyn Frens' hopes of winning an MHSAA cross country championship in her final season at Grand Rapids Christian.
After running a blistering time of 17:56.0 on Aug. 28 at the Pete Moss Invitational at Benzie Central, Frens was sidelined with a stress reaction in her right femur.
Cross country season is short. Any time away from training and racing makes it less likely a runner will be successful come championship time.
But after going nearly four weeks without a race, Frens returned without missing a beat. With five races as a build-up for the MHSAA Lower Peninsula Division 2 Final, Frens pulled away from a five-way battle for the championship to win in 17:52.30.
The time away from running was actually beneficial for Frens.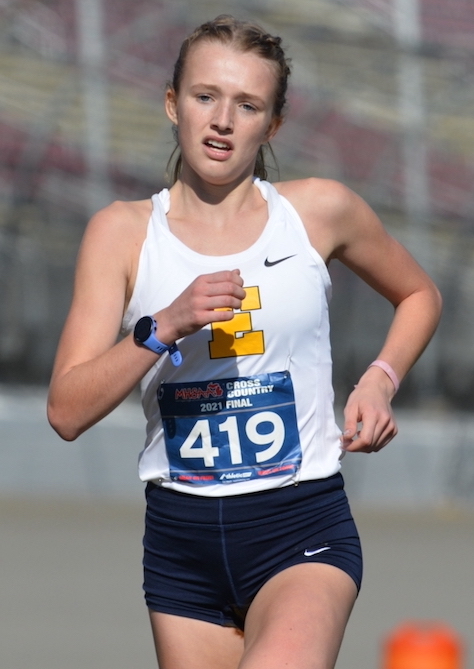 "I was able to have a lot of time just to think about myself and what running actually means to me," she said. "It doesn't define all of who I am."
It was in her second race back, an Ottawa-Kent Conference White jamboree Oct. 6 that she won in 18:11.9, that Frens knew she was still on track to become a Finals champion.
"I was like, 'I've still got this; my team's got this,'" Frens said.
Her team finished second with 99 points behind East Grand Rapids, which had 66.
It was the third MHSAA team championship in four years for East Grand Rapids, which took second last year to Petoskey. Grand Rapids Christian was third last year.
East Grand Rapids put four runners in the top 15, with sophomore Drew Muller placing fifth in 18:23.28, senior Ainsley Workman ninth in 18:55.57, freshman Sadey Seyferth 12th in 18:58.41, sophomore Sophia Lado 15th in 19:05.87 and junior Abigail Petr 52nd in 19:50.93. All seven Pioneers broke 20 minutes.
Following Frens across the line were four sophomores who will likely have more battles just like this in the next two years. Early leader Mary Richmond of Frankenmuth was second in 17:56.01, Meghan Ford of Mason was third in 18:10.81, Natalie VanOtteren of Grand Rapids Christian was fourth in 18:13.46 followed by East Grand Rapids' Muller in 18:23.28. There was a 22-second gap after that before the next wave of runners reached the line.
It was the most competitive race of the day, with five runners within three seconds of one another at the two-mile mark. Frens was fourth at the mile and third at the two mile.
PHOTOS (Top) Grand Rapids Christian's Madelyn Frens pulls away during the final stretch of Saturday's LPD2 championship race. (Middle) Drew Muller leads a group of eventual high-placing East Grand Rapids runners in their team title pursuit. (Click for more from RunMichigan.com.)