Farrell, Milford Finish Incredible Runs
November 5, 2016
Second Half reports
BROOKLYN – When everyone packed up and left Michigan International Speedway last year, cross country gurus inclined to predict the 2016 MHSAA Division 1 girls cross country race had no shortage of candidates for the individual championship.

Of the top 17 finishers, 13 were non-seniors, headlined by two sophomores at the top of the podium.
It's safe to say nobody dug deep enough into the results to pull out Maggie Farrell's name as a leading contender.
Farrell had just completed her second straight middle-of-the-pack showing, taking 97th in 19:29.9 after placing 92nd in 19:28.8 as a sophomore. She certainly had consistency going for her.
But she wanted to accomplish so much more, so she put in the hard work to make her dreams come true.
"I changed my schedule a little bit and worked with a trainer," Farrell said. "My goal this year was top 15; I thought that would be tough."
Her goals were revised as she got into the season and won almost everything in sight. She claimed the ultimate prize Saturday by winning the Division 1 title with a time of 17:25.6.
Ann Arbor Pioneer junior Anne Forsyth was second in 17:35.0. Farrell made a move at the two-mile mark, but could never feel comfortable until she experienced the relief of hitting the finish line.
"I've just got to go," were Farrell's thoughts during the final stretch. "I know the girl behind me wants it as much as I do."
Farrell won 13 of her 14 races this season. The only time she lost was when she took third place at the Portage Invitational on Oct. 8. Forsyth was first in that race, followed by Traverse City Central junior Sielle Kearney. Kearney was seventh in 18:16.5 on Saturday.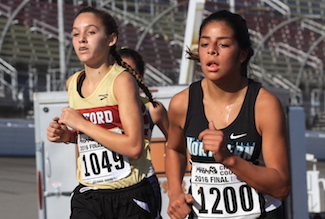 "In that race, I ran the same way," Forsyth said. "I just run from the front. I tried to pull ahead, and I felt good. Today, she kind of did the same thing to me.
"I'm happy. I haven't been running as well in the big meets in the past, so I'm happy I ran well today."
In the team race, Milford pulled off an upset by winning its first MHSAA girls cross country championship. The Mavericks, ranked 10th in the state, scored 150 points to beat Pioneer by 22.
Northville finished in the top eight for the sixth straight year, placing third with 178 points. Top-ranked Birmingham Seaholm, winner of three of the last four MHSAA titles, was fourth with 188.
Senior Mallory Barrett led Milford by placing ninth overall and sixth among team runners in 18:16.5. Sophomore Victoria Heiligenthal was 14th overall and 10th in the team race in 18:26.6.
Also scoring for Milford were junior Nicole Grindling (33rd, 19:21.3), sophomore Natalie Black (43rd, 19:32.1) and junior Regan Lobodzinski (58th, 19:47.5).
Milford's previous best finishes were second-place showings in 1984 and 2000. The Mavericks were third last year.
The MHSAA Cross Country Finals are sponsored by the Michigan National Guard.
PHOTOS: (Top) Battle Creek Lakeview's Maggie Farrell (right) stays just a few paces ahead of Ann Arbor Pioneer's Anne Forsyth. (Middle) Milford's Natalie Black (1049) pushes toward the finish with Grand Rapids Forest Hills Northern's Emily Fredette (1200). (Click to see more from RunMichigan.com.)