Forsyth Sisters Pace Pioneer in Division 1 Championship Sweep
November 6, 2021
BROOKLYN — If there is an expectation to maintain a family legacy, Rachel Forsyth doesn't feel it at home.
"My dad makes it very known there's no pressure put on any of us, but it does feel really good to follow in my sisters' footsteps," Forsyth said.
Forsyth is carving out her own legacy at Pioneer, becoming the first of three talented sisters to win an MHSAA cross country championship after crossing the Lower Peninsula Division 1 finish line first Saturday at Michigan International Speedway in 17:09.32.
Her time was the fastest by a sophomore girl in 26 MHSAA Finals at MIS, breaking the mark of 17:17.5 set by Waterford Mott's Shannon Osika in 2008.
The Forsyth parents, Ian and Jessica, were standout runners for the University of Michigan.
Anne Forsyth was the 2016 Division 1 runner-up and placed fifth at the Foot Locker National Cross Country Championships. Sarah Forsyth, a senior on this year's team, placed eighth in 18:02.86 Saturday for her third all-state finish.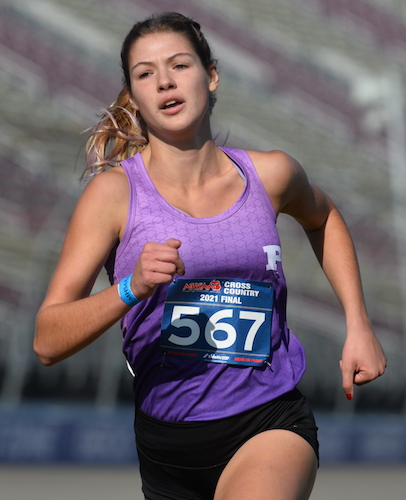 The sisters led Pioneer to a third straight Division 1 team championship by a 68-100 margin over Holland West Ottawa.
Senior Cookie Baugh was 12th in 18:16.55, junior Emily Cooper 35th in 18:44.39 and sophomore Natalie Mello 45th in 18:54.67 to complete the Pioneers' scoring.
"My teammates are really fast," Rachel Forsyth said. "They definitely push me in workouts. We all work together. I love all of them, so it's a nice atmosphere."
It was the second time that Forsyth had crossed the finish line first at MIS, but she places an asterisk on last year's first-place performance.
The MHSAA Finals were split into two sections last year to reduce the size of fields as a COVID-19 precaution. Forsyth won the heat for runners whose teams finished first or second at Regionals, but Birmingham Seaholm senior Audrey DaDamio had the fastest time of the day in the other heat. 
"I like 'won' the race, but there were two," Forsyth said. "I feel accomplished right now."
Forsyth ran fearlessly, going to the lead right away to provide a target for some strong runners. Forsyth reached the mile mark in 5:27.9, with Arianne Olson of Holland West Ottawa (5:28.1) and Julia Flynn of Traverse City Central (5:29.6) the only runners within 10 seconds.
By the two-mile mark, which Forsyth hit in 11:00.3, she had an 8.6-second lead over Olson and a 12.1-second cushion over Flynn.
Flynn finished second in 17:20.49, while Olson was third in 17:36.81. The top seven runners broke 18 minutes.
"It's really special," Forsyth said. "I watched my sisters run here. It's just so exciting to be doing it myself."
PHOTOS (Top) Ann Arbor Pioneer's Rachel Forsyth pulls away during the closing stretch of Saturday's Division 1 race at MIS. (Middle) Sarah Forsythe makes her final sprint to finish second for Pioneer. (Click for more from RunMichigan.com.)