Ithaca, Bullough Claim 1st Titles in D3
November 1, 2014
By Bill Khan
Special for Second Half

BROOKLYN — Holly Bullough of Traverse City St. Francis had raced Amber Way of Charlevoix numerous times, but never with as much at stake.
Bullough closed a gap of about 75 yards and used one final surge in the last 10 yards to beat Way to the finish line and win the MHSAA Lower Peninsula Division 3 cross country individual championship on Saturday at Michigan International Speedway.
Bullough's time of 17:51.3 put her a scant 0.2 seconds ahead of Way.
Bullough and Way were in separate divisions last year, Bullough finishing third in Division 4 and Way taking a close second in Division 3. They were in the same regional this year, with Way winning in 17:51.61 and Bullough taking second in 17:54.16.
"I love it when Amber's there, because she pushes me so much," said Bullough, a junior. "She helps me a lot."
Bullough's late push caught Way by surprise. When the two met up shortly after the finish, Way said, "Where did you come from?"
With a strong wind going through her ears and the focus of trying to reach the finish line, Way never heard Bullough coming.
"I didn't see her," said Way, a senior. "I was kind of a little stupid there. I eased up at the end; that's where she got me. I heard people screaming and thought maybe there's someone behind me. I couldn't hear anyone. I know I didn't want to look back."
Way also took second in a close race last year, finishing second to two-time champion Gina Patterson of Macomb Lutheran North by 1.5 seconds. Patterson placed fifth in 18:29.6 on Saturday.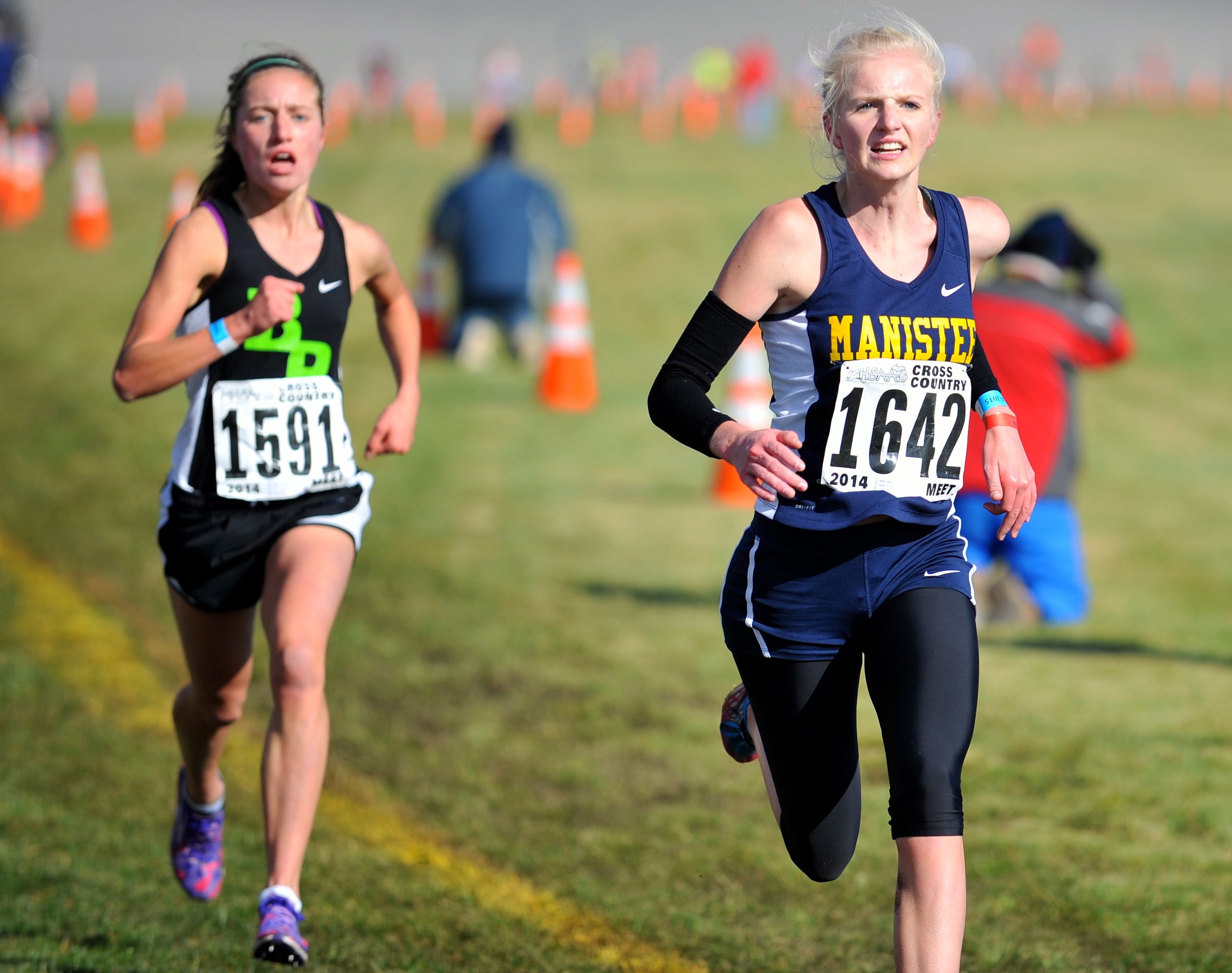 It was the final state meet for a strong group of runners who have been near the top of the Division 3 ranks for the past four years.
Way has finished in the top nine the last four years. Manistee's Annie Fuller, who was third in 18:15.7, has been in the top 11 all four years. Ida's Ashley Sorge, who took sixth in 18:52.7, had made the top eight all four years. Fourth-place Allison Vroon of Holland Black River has made the top five the last three years.
Returning all seven runners from a team that placed 10th in last year's MHSAA final, Ithaca won its first title with 147 points, beating defending-champion Shepherd by 11.
Ithaca was running in only its third MHSAA final, qualifying for the first time in 2005.

The Yellowjackets won with a strong pack. Sophomore Courtney Allen led the way by placing 12th in 19:06.9, sophomore Amelia Freestone was 33rd in 19:56.0, and the final three scoring runners were within 11.9 seconds of each other. Hannah Thayer (20:17.0), Blaire Showers (20:23.0) and Alyssa Mankey (20:28.9) completed the scoring.
Ithaca will be favored to repeat, with Thayer being the lone senior on the team. Shepherd's No. 1 and No. 4 runners are seniors. Shepherd had three finishers cross before Ithaca, but its fourth and fifth runners didn't cross until Ithaca had five runners home.
PHOTOS: (Top) Traverse City St. Francis' Holly Bullough (left) follows just behind Charlevoix's Amber Way before moving ahead down the stretch to claim the LP Division 3 championship. (Middle) Manistee's Annie Fuller (right) and Holland Black River's Allison Vroon sprint the final meters on the way to finishing third and fourth, respectively. (Click to see more from RunMichigan.com.)