Mid Pen Champs: Like Mom, Like Daughter
October 31, 2017
By Dennis Grall
Special for Second Half
ESCANABA – Daisy Englund had a couple of very reachable goals when she began this fall's Upper Peninsula cross country championship race.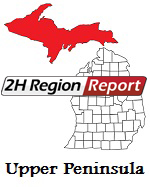 The Rock Mid Peninsula freshman wanted to finish ahead of her running partner and teammate Landry Koski and get into the top 15 placers to earn all-state laurels.
Not only did she reach those goals, she also joined her mother as a U.P. champion.
Englund won the Division 3 girls championship Oct. 21 at Pictured Rocks Golf Course near Munising, finishing in a season-best 20 minutes, 31.3 seconds. Koski, an eighth-grader at Mid Pen, finished fifth in 20:55.1 as they helped the Wolverines claim runner-up team honors at the Finals. 
Chassell took the team trophy for the third time in the past four years, with 40 points. Mid Pen edged Munising 72-74 for second place.
Daisy's mother, the former Faye Peterson, won U.P. Class D titles in 1994, 1995 and 1996. Her 1995 team won the Upper Peninsula championship. Faye's best time of 19:59 came as a freshman at the U.P. Finals at Presque Isle in Marquette. 
That title team was coached by Duane Englund, whose son Ken is married to Faye. Daisy's sister, Kennedy, a sophomore, finished 33rd overall at Munising two weeks ago.
Daisy Englund came from behind to claim the title, edging Munising junior Madeleine Peramaki by 6.1 seconds. Chassell junior Lela Rautiola, the 2016 champion, was third.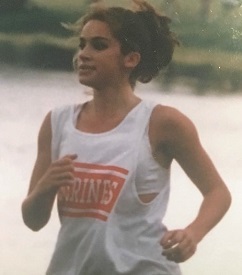 "I really didn't think I would win because Peramaki beat me every single meet (this season)," said Englund, who also finished seventh as an eighth grader in 2016. (Eighth graders are allowed to compete on high school teams for schools with fewer than 100 students).
Englund trailed Peramaki by a couple of seconds coming out of the final turn, then used a strong finishing kick up a gradual hill and into a stiff breeze. With about 800 yards left, Englund trailed Peramaki by about 15 yards. She trailed by perhaps 30 seconds in the earlier stages of the race, trying to set a pace that would allow her to have enough kick at the end.
"If I kicked too fast, I knew I could lose it," Englund said of biding her time down the stretch. After striding into the lead with about 40 yards remaining in the 3.1-mile race, she said, "I got scared. I knew I had to stride out and keep my head down. When my foot crossed the finish line, I knew I had her. "
The victory didn't sink in until "people started congratulating me. I thought I actually did it. It was really a big thrill."
She said getting the victory and the team runner-up finish "are both kind of cool. The team really wanted it."
Faye Englund was an intense spectator, with her own running experiences helping her understand what was happening in the stretch run. "There was a little bit of adrenalin, a lot of screaming and hugging," she said during an interview at Mid Pen High School. "Knowing all the hard work and effort she put out, it makes me realize what an accomplishment I did. It makes me feel prouder, and I didn't have to run.
"I don't think I realized how much of an achievement it was. It is completely thrilling that Daisy was able to follow in my footsteps."
Daisy said she had a game plan for the race of trying to keep close to the leaders. "I was just running, I wasn't thinking. I was tired, but the faster I ran I didn't get so tired," she recalled during that recent interview with her parents at Mid Pen.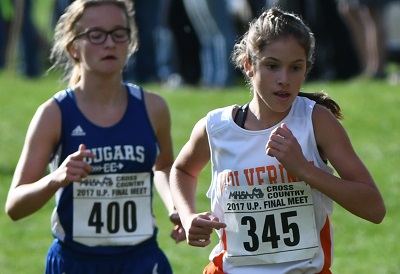 She had been nursing a sprained ankle prior to the Finals. "I didn't think about it, but when I had to sprint at the end I noticed it more," she said.
Faye Englund remembers her parents encouraging her to participate in athletics.
"They were my biggest cheerleaders. Many nights I didn't want to go for a run; all those fears would come back. But without fears, you never take the chance," she said.
The Englund sisters lift weights and run frequently, with speed workouts part of the plan.
"We are there helping those kids do everything they want to do. We are their biggest cheerleaders, but we tell them if they do something they have to finish it out," Faye said of the support she and Ken provide.
Daisy and Kennedy also play basketball and run track for the Wolverines, and there is a definite sibling rivalry. "We are always competitive. It helps us because we can push each other, and we strive to win," said Daisy. "We can look up to (our parents) and say we can do the same things they did."
Ken Englund added: "They don't let any grass grow under their feet. When they do something, they do it all out."

Denny Grall retired in 2012 after 39 years at the Escanaba Daily Press and four at the Green Bay Press-Gazette, plus 15 months for WLST radio in Escanaba; he served as the Daily Press sports editor from 1970-80 and again from 1984-2012. Grall was inducted into the Upper Peninsula Sports Hall of Fame in 2002 and serves as its executive secretary. E-mail him at sportsdenesky@gmail.com with story ideas for the Upper Peninsula.
PHOTOS: (Top) Daisy Englund, left, followed her mother Faye as a U.P. champion earlier this month. (Middle) Faye Peterson won three straight Finals titles for Rock Mid Peninsula from 1994-96. (Below) Englund (345) kept pace with the pack early before breaking out with the leaders Oct 21. (Top photo by Dennis Grall, middle courtesy of the Englund family and below photo by Cara Kamps.)