Munising Goes from No Team to Best
October 25, 2020
MUNISING — Hattie Cota was the lone runner on the Munising girls cross country team last year.
She became part of an Upper Peninsula championship team here Saturday as the Mustangs earned the Division 3 title with 54 points.
"We're just so happy," said Cota, who was individual runner-up on this partly sunny and chilly afternoon at Pictured Rocks Golf & Country Club. "I'm not used to being on a team, especially a good team."
This marked the first title in seven years for the Mustangs, who were followed by three-time reigning champion Chassell with 73 points and Stephenson with 106.
"I'm just so excited," said Munising coach Mark Kinnunen. "I thought it'd be many, many years before I'd have a championship team. We came in blind, not knowing who'd come out on top. We didn't really know what to expect from Chassell. We told the girls to 'run like you want to win.' The only reason why we had a full team is because Hattie went out and recruited some girls."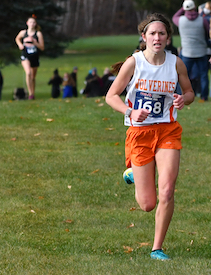 Rock Mid Peninsula senior Daisy Englund won the individual title for the first time since her freshman year by covering the 3.1-mile course in 21 minutes, 16.4 seconds. Cota, who led much of the third mile, was clocked at 21:27. They were followed by Ewen-Trout Creek senior Elise Besonen (21:41).
"That was so scary," said Englund, who ran a 6:17 split for her first mile. "I could hear Hattie after the second mile, and I kind of lost my focus for a little while. I knew everybody was going to be targeting me today and told myself I had to hang on. I finished strong, but I don't know where that came from. I didn't feel strong the whole race. I was cruising for sure in the first mile. This was my last high school cross country race. I just wanted to win so bad."
Englund was trailing until the last turn when she used a strong surge to regain the lead.
"I was behind a bunch of girls." said Cota. "I didn't think I'd be able to catch her. Daisy ran a great race herself. Once she started pulling away (after the last turn), I knew I couldn't catch her. I just didn't have enough left."
Mid Pen junior and last year's champion Landry Koski took fourth this time at 21:46.7, and Stephenson senior Kylee Kuntze was fifth (21:47.5).
"This was one of my better races," said Koski. "I actually felt pretty strong until the last mile. This was also the last race of the year. I had to leave it all on the course.
"I'm just so happy for Daisy. I'm also happy with the weather. This was better than I was expecting. The course was a little wet, but I just went through the puddles. I was going to get wet anyway."
PHOTOS: (Top) Munising's Monique Brisson (143) and Hattie Cota (144) run in the Upper Peninsula Division 3 Final held at Pictured Rocks Golf Course in Munising. (Middle) Rock Mid Peninsula's Daisy Englund approaches the finish line on the way to winning the individual title. (Photos by Cara Kamps.)