Ottawa Hills Strides into Title Contention
November 12, 2020
By Dean Holzwarth
Special for Second Half
GRAND RAPIDS – The Ottawa Hills girls cross country team was hoping for a lofty finish at last Friday's MHSAA Lower Peninsula Division 1 Finals.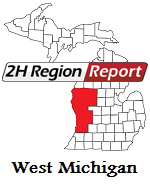 The Bengals, however, suffered a bump in the road.
Ottawa Hills recorded a program-best 10th-place finish at Michigan International Speedway, but was hampered by a late arrival to the race due to an unfortunate situation.
"Things went a little sideways for us on the way there," Bengals coach Dan Ebright said. "On I-96, right before the Lowell exit, there was a humongous accident and they were stuck in traffic for over an hour.
"Instead of arriving an hour and 45 minutes prior to the meet, they arrived 40 minutes prior to the meet and we had to scramble like crazy to get them to the starting line on time."
The accident shut down the highway, and Ebright said the team was forced to sit in the car for nearly three hours.
It made their preparation for the biggest race of the season chaotic and hurried.
"We warmed up in the parking lot, and their warm-up run was to jog through the field to quickly change their spikes and get on the starting line," Ebright said. "That's how rushed it was, and the warm-up was not an ideal warm-up for us."
The delay affected several of the Bengals' runners, including senior Madison Ebright.
Ebright, coach Dan's daughter and an all-stater last year with a 12th-place finish, ended up taking 50th (19:26.54) and was bothered by cramping two miles in.
"We got there late, and it was kind of stressful," Madison Ebright said. "And then my stomach didn't feel well and I thought I might be in trouble. I was going good through two miles, but then I cramped up and it was hard to breathe so it was a tough finish.
"It was disappointing, but once I thought about it, it was a great season leading up to that point and I was consistent all year."
Ebright ran a personal-best time at the Pre-Regional, which Ottawa Hills won, and helped lead the team to a school-best runner-up finish at Regionals. The Bengals finished runner-up to top-ranked Traverse City Central.
"While our 10th-place finish was our best finish as a team, we really didn't run like we had the three meets prior simply for the fact that we didn't get the chance to warm up properly," Dan Ebright said. "And my daughter had cramps getting out of the car and could not work it out in the short time we had to warm up."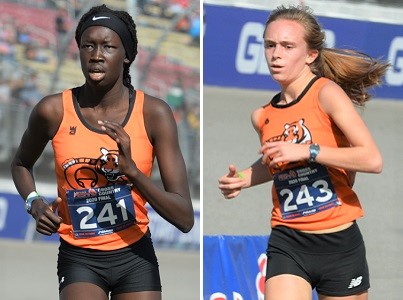 The Bengals' top-10 Finals finish was led by freshman Selma Anderson, who garnered all-state honors crossing the line 27th individually. She clocked a time of 19:00.59.
Junior Adit Dau, who battled through a knee injury most of the season, was 37th (19:16.42), while senior Naomi Dykstra was 89th (20:02.54).
The remainder of the team included senior Ella Posthumus, sophomore Kira Smith and freshman Campbell Hudson. 
"Selma had a PR and was all-state and Adit had a solid race for us coming back from injury," Dan Ebright said. "We really looked at the results and felt like we could've finished as high as sixth if everything had gone like the prior weeks at the conference meet, Pre-Regionals and Regionals.
"Sometimes that stuff happens and there was nothing we could really do about it. We were excited because we thought it might be worse than that." 
It was the full team's second appearance at the Finals in the last three years, as Ottawa Hills took 23rd in 2018 in its first trip ever and also won the school's first conference crown that same year.
Last season, the Bengals didn't have a full team.
Ebright, Dau and Dykstra competed as individuals at the Finals.
"We had three girls lined up, and they didn't run," Dan Ebright said. "If they would've run, we would've had a good chance of winning the state finals. If the season goes perfectly smoothly those three girls make all-state, but sometimes things don't go perfectly. You take the good with the bad."
The success of the program has been a work in progress. The groundwork was laid years ago with the implementation of an elementary program in 2010.
Ebright took over the program at Ottawa Hills after previously coaching at Creston High School before it closed.
"It was something that started way back when, and it's been building since that point," Dan Ebright said. "It hasn't been an overnight thing, and it's something we've worked very hard at and developed our runners. We lost a few good ones along the way who didn't care to run, but it was the kids showing up every day and not only during the season, but the offseason, too. Putting in the miles to get ready."
The improvement and dedication of a solid core helped the Bengals become competitive on a statewide level.
"We felt like we had a real talented bunch come through, and this year's team was the most talented group we've had," Dan Ebright said. 
Madison Ebright, who will run at Grand Valley State next season, was thrilled with her high school experience.
"It's been a lot of fun, and we had a great coach who knows what he's doing," she said. "Great friendships were made with the girls on the team, and we did a lot of team building. It's the most important part of my life, and the girls I did it with made it fun."

Dean Holzwarth has covered primarily high school sports for Grand Rapids-based WOOD-TV for four years after serving at the Grand Rapids Press and MLive for 16 years along with shorter stints at the Ionia Sentinel and WZZM. Contact him at dream100@comcast.net with story ideas for Allegan, Kent and Ottawa counties. 
PHOTOS: (Top) Selma Anderson (240) leads the way for Ottawa Hills at Friday's Lower Peninsula Division 1 Finals at MIS. (Middle) Adit Dau (241) and Madison Ebright (243) crossed next for the Bengals with top-50 finishes to contribute to the team overall 10th place. (Click for more from RunMichigan.com.)