Performance: Rockford's Ericka VanderLende
October 12, 2018
Ericka VanderLende
Rockford senior – Cross County
After spending Saturday morning taking the SAT, the reigning Lower Peninsula Division 1 champion ran the second-fastest time of the day at the prestigious Portage Invitational, besting the field by 45 seconds with a 17:33 to earn the Michigan Army National Guard "Performance of the Week." Her 16:55.9 at the Allendale Invitational on Sept. 29 is the fastest girls time in the state this season, especially impressive since earlier this fall she missed a month between meets with a knee injury.
VanderLende's is an incredible story of finding a niche. She had never run farther than a mile at a time before high school, and only joined cross country at the cajoling of her parents. She finished 81st at the LPD1 Final her first season and 99th as a sophomore in 2016, although her personal record (PR) that fall was more than a minute faster than her best time as a freshman. She cut another full minute off her PR as a junior, when she won every race she ran but two – and claimed the MHSAA title by nearly 14 seconds at 17:16.8, the eighth-fastest time in Finals history. She's won all five races she's run this fall, and the victory at Portage ended a progression that saw her come in 75th as a freshman, 11th as a sophomore and third as a junior before taking first last weekend.

Rockford as a team finished fifth against a Portage Division 1 field that included seven of the top 11-placing teams from last year's MHSAA Final. The Rams took third at Michigan International Speedway last season, but graduated three of their top four from that team – although VanderLende again gives them an accomplished and experienced pace-setter at the top. She led the Rockford girls track & field team to a second-place Finals finish in the spring, winning the 1,600 in a PR 4:45.17 and taking second in the 3,200, where her PR is 10:05.01. She is undecided on where and what she'll study, but VanderLende would like to run collegiately and carries a 4.04 grade-point average. 
Coach Ben Watson said: "Ericka has really bought into and understands what it takes to be a great distance runner. Being good at distance running takes a consistent and patient approach to improving with a lot of attention to details, and this is why Ericka has really excelled.  She sets lofty, long-term goals and puts herself to the task of doing what it takes to achieve those far-off dreams each and every day. She does what we call 'all the little things' that over time lead up to great outcomes. She is incredibly motivated to do her very best and matches that with a fierce competitive spirit during competition, where she wants to do her very best!"
Performance Point: "Going into the race, I wasn't expecting to run super fast because I'd taken the SAT right before that, so I wasn't really mentally prepared for the race," VanderLende said of the Portage win. "I was just going to go with however I felt that day. On the SAT, I tried to not think about the race, and on the race I tried to forget that I even took the SAT. I would've liked to have run a little faster, but I knew it wasn't really that important to get a fast time that day. I was just happy that I could run that race, because earlier in the year I had to take some time off for an injury and I didn't really know when I would be back. I was just happy that I could get a good time and build off of it. … I'm happy with my times (this season). I obviously would've liked to have run a little bit faster based on my goals I set earlier in the year. But how I was able to come back from taking time off, I'm pretty happy with how I've been able to handle it."
Comeback trail: "My goals were to take a lot of time off of my PR like I've been able to do the last couple of years – probably not a full minute like I've done in the past, but I would've liked to be under 17 so I was happy I was able to do that a couple of weeks ago. I'm not running every day of the week yet. I'm still building up, and I would like to run well at the state meet, and still building through that my goal is to run fast at the Foot Locker Midwest Regional and then hopefully move on to nationals after that as well."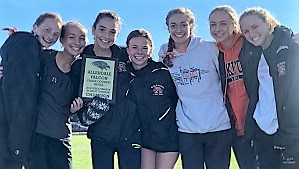 Getting on the right track: "I didn't really want to do cross country in the first place, but my parents thought I'd be good at it, so they wanted me to try it. I gave it a shot. I always enjoyed running when I was younger, but not like to the extent where I wanted to do it for fun every day. (Now) I never really want to go a day without it. … At first I really didn't like it. I was pretty slow. I think everyone on the team was faster than me. I didn't really try that much. Then the first meet (in 2015) I was the top freshman on our team, and I wasn't supposed to be. That motivated me to start trying throughout the year."
Trust the process: "I don't think anyone ever expected me to be good at running or any sport in general, so a lot of people are surprised. It kind've surprised me, because I wasn't very good to start, so to get to this level, it just seems unreal. … Rockford's program is good at having all of their runners improve gradually. The runners before that have run pretty fast here consistently dropped a lot of time too. So just knowing if they could drop a lot of time, I could do that too – but I didn't think I'd drop as much time as I have."
Be the example: "Last year we definitely graduated a lot of our top runners. It was fun being ranked number one in the state going into the state meet. Our goal is to win conference this year, and I think we can do that. And obviously place well at state, but we're not really sure what we're capable of yet – we're a pretty young team. It will be interesting to see how it plays out. … (I) just let the girls know you can do more than you think you can."
- Geoff Kimmerly, Second Half editor
Every week during the 2018-19 school year, Second Half and the Michigan Army National Guard will recognize a "Performance of the Week" from among the MHSAA's 750 member high schools.
The Michigan Army National Guard provides trained and ready forces in support of the National Military Strategy, and responds as needed to state, local, and regional emergencies to ensure peace, order, and public safety. The Guard adds value to our communities through continuous interaction. National Guard soldiers are part of the local community. Guardsmen typically train one weekend per month and two weeks in the summer. This training maintains readiness when needed, be it either to defend our nation's freedom or protect lives and property of Michigan citizens during a local natural disaster. 
Past 2018-19 honorees
October 4: Kobe Clark, Schoolcraft football - Read
September 27: Jonathan Kliewer, Grand Rapids Forest Hills Northern soccer - Read
September 20: Kiera Lasky, Bronson volleyball - Read
September 13: Judy Rector, Hanover-Horton cross country - Read
PHOTOS: (Top) Rockford's Ericka VanderLende leads the pack during the Division 1 race at Saturday's Portage Invitational. (Middle) VanderLende, third from left, with her teammates after their Allendale Invitational win. (Photos courtesy of the Rockford girls cross country program.)