Preview: Champs Favored to Reign Again
October 21, 2016
By Geoff Kimmerly
Second Half editor
The Upper Peninsula's dominant girls cross country programs will be looking to add to those legacies Saturday at Gladstone's Beauchamp Cross Country Course.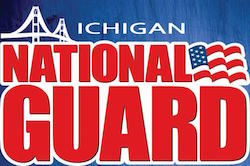 Marquette is seeking its fourth straight title in Division 1, while Ishpeming in Division 2 and Chassell in Division 3 have both won two straight MHSAA Finals championships.
Races begin Saturday with the Division 1 boys at 11 a.m. and finish with the Division 3 girls at 2 p.m. Check back Saturday evening for coverage of all six Upper Peninsula Finals, and see below for more teams and individuals to watch. The MHSAA Cross Country Finals are sponsored by the Michigan National Guard.
DIVISION 1
Reigning champion: Marquette
2015 runner-up: Sault Ste. Marie
2016 top three: 1. Marquette, 2. Sault Ste. Marie, 3. Menominee.
The Redettes graduated some serious firepower after winning their third straight championship last season, including individual winner Lindsey Rudden and fifth-place Holly Blowers. But seniors Becci McNamee (seventh last season) and Amber Huebner (nine) are back to anchor a team that total brings to this weekend four who finished among the top 21 in 2015 plus standout freshmen Erica Asmus and Reegin Katzenberger. Asmus finished first at the Great Northern Conference championship race, followed by Huebner and McNamee. Sault Ste. Marie's top five from last season's Final should lead the strongest challenge – junior Mackenzie Kalchik, who finished fourth last year, plus sophomore Megan Arbic (sixth), senior Courtney Arbic (eighth), junior Rebekka Ranta (15th) and senior Josie Roos (16th). The Blue Devils also have a pair of standout freshmen in Nicky Kucharczyk and Shelby Eavou.
Individuals: A trio of contenders join the other six mentioned above who finished among the top 15 last season. Negaunee junior Clara Johnson is the reigning Division 1 runner-up after finishing only six seconds behind Rudden in 2015. Gladstone's Leigha Woelffer was 10th last season – but won Division 1 in 2014 – and Kingsford's Peyton Johnson was 12th in 2015. Johnson, a sophomore, finished fourth behind the three Marquette placers at the GNC final two weeks ago, and Woelffer, a senior, was sixth. Manistique sophomore Ashley McDonald was eighth in Division 2 last season.
DIVISION 2
Reigning champion: Ishpeming
2015 runner-up: Hancock
2016 top three: 1. Ishpeming, 2. Munising, 3. Hancock.
The Hematites are significant favorites with six of their top seven – who all placed 22nd or better – back this weekend. They're led by reigning individual champion and senior Khora Swanson, followed by junior Mariah Bertucci (third), junior Kayla Kaukola (sixth), sophomore Brooke Johnson (ninth), junior Chloe Sjoholm (17th) and junior Katie Loman (22nd). Munising was last season's Division 3 runner-up and could challenge with five of their top seven back including juniors Alyssa Webber (third in D3), sophomore Madeline Peramaki (sixth) and junior Sami Coyne (19th). Hancock was second to Ishpeming last year in Division 2 and brings back top-20 finishers Allyson Fenton (19th) and Greta Berg (20th), both juniors.
Individuals: Joining the Ishpeming crew are four others who finished among the top 15 last season – Gogebic junior Melissa Wanink (fourth) and senior Lily Wieringa (14th), St. Ignace senior Callie Kammers (10th) and Ironwood senior Corissa Mattson (15th). Also, Newberry senior Maysa Sitar was 15th in Division 3. Swanson won last season's race by 19 seconds, but Wanink was only a second behind Bertucci for third place. Munising's Webber ran an impressive 20:02 at the Holly Invitational in September to beat that mostly downstate field by eight seconds.
DIVISION 3
Reigning champion: Chassell
2015 runner-up: Munising
2016 top three: 1. Chassell, 2. Cedarville, 3 Stephenson.
Top-ranked Chassell won't have to worry about Munising this season after finishing only two points better to win last year's title, but has another experienced contender to watch. Sophomore Lela Rautiola is coming off a seventh-place finish at least season's Final and has been in the mix among the Upper Peninsula's best, regardless of division. Jenna Pietila (21st) and Briah Maki (27th) also are back as sophomores after running in the team's top five. Cedarville senior Emma Bohn was fourth last season and leads a team bringing back all seven runners, including also 14th-place senior Leila Schlosser, after finishing third in 2015. Stephenson is looking to move up from sixth last season while returning four of its top six.
Individuals: Bohn is the highest returning placer, and in addition to her teammate Schlosser and the Chassell leaders will also have to watch for Brimley juniors Lauren Halvorsen and Hannah Lyons. They finished fifth and ninth, respectively, at the 2015 Final.
PHOTO: Ishpeming's Khora Swanson (right) receives her championship medal last season from a member of the Michigan National Guard.