Rams' Star, Clarkston Finish Fall as D1 Elite
November 3, 2018
Second Half reports
BROOKLYN — When Ericka VanderLende came out for cross country as a freshman in 2015, there was nothing that indicated Rockford was getting another one of Michigan's all-time great runners.
She had never run cross country before, and it showed. In her first high school race, she placed 68th in the Portage Central Early Bird with a time of 22:32.0.
"I liked running before high school, but I never ran over a mile before high school," she said. "When I started, I didn't really like it. I was the slowest on the team. I just gradually worked my way up my freshman year."
VanderLende was a quality runner by the end of ninth grade and through her sophomore year, making Rockford's top seven and placing 99th and 81st, respectively, at her first two MHSAA Finals.
Everything changed once she hit her junior year.
VanderLende came out of nowhere to win the MHSAA Lower Peninsula Division 1 championship and place 25th in the Foot Locker national meet in 2017. On Saturday, she joined Nikki Bohnsack (2001-02) as the only two-time champions in the rich history of the Rockford girls program, completely dominating a field of the state's best runners to win in 17:08.4 in muddy conditions at Michigan International Speedway.
She showed what she's capable of on a dry course one week earlier, winning the Regional meet in 16:43.3.
"It's a little unexpected," VanderLende said. "My parents just thought I'd be good at running, I guess. I gave it a shot."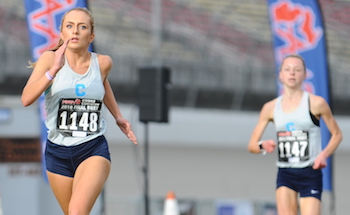 Despite the conditions, VanderLende's was the sixth-fastest girls time since MIS began hosting the MHSAA Finals in 1996. She is one of only two girls who have two times in the top eight, the other being former Foot Locker national champion Megan Goethals of Rochester. VanderLende won last year in 17:16.8.
She already had begun to separate herself from the pack 700 meters into the race, a point at which at least one or two other runners will go out harder than is prudent and try sticking with the pre-race favorite.
"I was a little nervous that I took it out too hard, that I'd kind of fall back," VanderLende said. "I felt good most of the time, so it was good."
The race for second was much more intriguing, with a large group racing together well behind VanderLende at the two-mile mark. Kyla Christopher-Moody of West Bloomfield emerged from that group to place second in 17:58.6, just 1.2 seconds ahead of Ann Arbor Pioneer's Zofia Dudek. Just 3.3 seconds separated second through fifth place.
Clarkston didn't have a runner in that group, but the Wolves had the tightest pack of runners in a meet that was up for grabs when No. 1-ranked Northville had a rough day, placing eighth. Clarkston scored 134 points, beating Pioneer by 18.
Clarkston's five scoring runners finished within 59 seconds of each other. Junior Mia Patria was 15th in 18:13.3, senior Grace Nolan was 16th in 18:15.8, senior Elizabeth Dalrymple was 40th in 18:58.1, senior Mallory Ferguson was 59th in 19:11.9 and sophomore Mattie Drennan was 60th in 19:12.3.
It was Clarkston's first MHSAA championship in girls cross country since winning three in a row from 2003-05.
PHOTOS: (Top) Rockford's Ericka VanderLende approaches the finish line on the way to repeating as Division 1 champion Saturday. (Middle) Clarkston's Mia Patria (1148) pushes through the final stretch just ahead of teammate Grace Nolan as they took the top two places for the team champion. (Click for more from RunMichigan.com.)