Repeat Champ Paces Hart's 1st Title Run
November 4, 2017
Second Half reports
BROOKLYN — The arrival of four girls from the same family at Hart High School resulted in a day the Pirates have never experienced in any sport.
With four Ackley girls finishing in the team's top four spots, Hart won the MHSAA Lower Peninsula Division 3 cross country championship Saturday at Michigan International Speedway.
It was the first MHSAA championship for Hart, its best finish being a second-place showing by the girls track & field team at the 1987 Class C meet. The 1985 wrestling team was third in Class C. Three Hart teams in bracketed sports reached the MHSAA Semifinals.
Until recently, girls cross country seemed like an unlikely program to deliver Hart its first title. Hart had never qualified for the MHSAA Finals in the sport until 2011. The Pirates have been to the Finals six times in the last seven years, the best finish being fifth in 2014.
Hart scored 55 points to win by 69 over Benzonia Benzie Central. Grandville Calvin Christian was third with 137 points.
"My dad (Calvin) started a middle school team," said Hart junior Adelyn Ackley, who repeated as individual champion with a time of 17:49.4. "He got a lot of kids to go out. Pretty soon, they started going out in high school. He would write them running charts and how many miles they should run in the summer. Kids hooked on to it and are running pretty well now."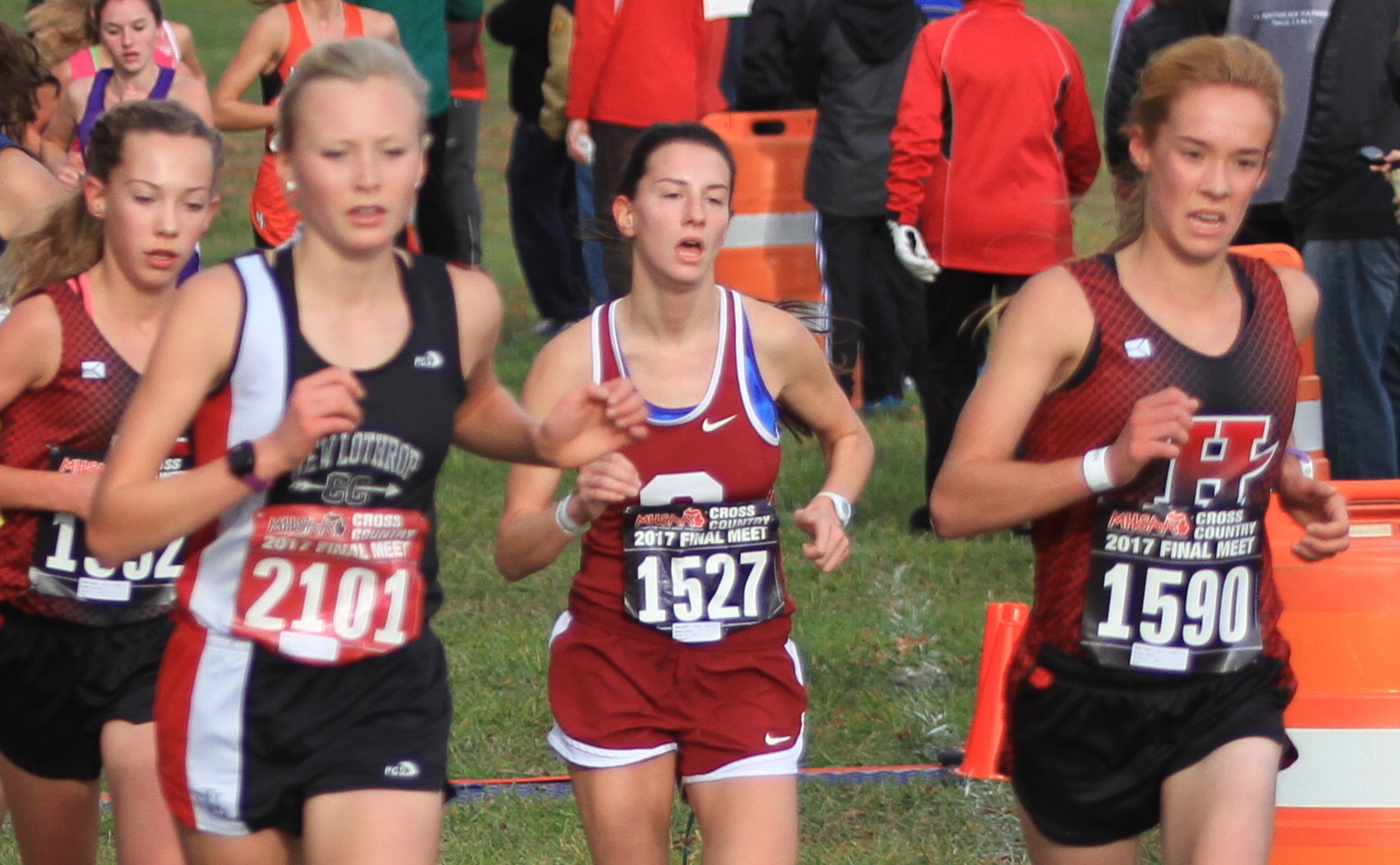 Freshman Savannah Ackley took sixth in 18:51.3, senior Alayna Ackley was seventh in 18:52.0 and Lynae Ackley was 20th in 19:23.7. Lynae is the first cousin of the other three Ackleys, who are sisters.
Sophomore Brenna Aerts was 37th in 19:51.7 to complete Hart's scoring.
"We train every day over the summer and through the winter together," Adelyn Ackley said. "It's fun. We like to push each other."
There was nobody to push Ackley as she repeated as individual champion.
She was 24.8 seconds ahead of Shepherd junior Amber Gall, who made the top five for the third time.
It was quite a contrast from last year when Ackley won a sprint to the finish with Lansing Catholic's Olivia Theis by 0.7 seconds in 17:40.6.
"I kind of wish I had somebody closer to me, so they could push me," Ackley said. "I was looking to beat my time from last year. I couldn't quite push myself hard enough. I had a girl with me last year. I went out pretty hard so I could get out of the crowd. It felt pretty easy at first. The second mile was definitely the hardest."
Gall was third in 2015 and fifth in 2016.
"I decided coming in to just run my own race," Gall said. "I thought that would be the smartest. Usually, I started really fast. I have a condition called hypoglycemia. My sugar runs at a certain level, then it just drops. It's hard when I start out super fast, because I waste the sugar immediately. Pacing myself at the start was necessary. I don't usually wear a Garmin, but I did just because I had to watch my time."
PHOTOS: (Top) Hart's Adelyn Ackley (1589) begins to break away from the pack during Saturday's Division 3 Final. (Middle) Alayna Ackley (1590) leads another pack around a curve in helping her team to its first MHSAA championship in any sport. (Click for more from RunMichigan.com.)