Scott, Pilgrims Finish Championship Chase
November 7, 2020
By Jason Schmitt
Special for Second Half
BROOKLYN – After all the uncertainty of this past fall season, one thing is for sure.
Makenna Scott will be cuddled up with her puppy Milo tonight, gazing fondly at her cross country championship medal.
And who knows, she might even be eating a piece of ice cream cake. 
"My parents told me last year that if I got top five I could get my dream puppy, so I got my Bernese Mountain Dog after getting fourth," said Scott, a junior from Maple City Glen Lake High School. "And this year, they were like, 'What do you want?' I told them a state championship, I don't need anything else — but maybe an ice-cream cake would be nice."
Scott earned it after besting the field at Saturday's MHSAA Lower Peninsula Division 4 Girls Cross Country Finals. She moved into the lead down the final stretch and finished in a winning time of 19:30.2.
"As a freshman, I never thought this would be possible," Scott said. "I've worked my butt off this season. I just can't believe I did it."
She said all the sacrifices she's made have paid off. All of her emotions came out after learning she had won the championship.
"The dedication, having to give up time with my friends to make sure I can run. All the times I've said, 'No, I can't have a sleepover tonight.' At the time I wondered, is it all going to be worth it in the end," Scott said. "Just looking back at it, you really have to want it if you're going to win a state championship."
Lansing Christian's Madison Volz, a senior, was the race leader through the first two miles. But as she neared the three-mile mark, her legs gave out on her. She gutted it out and finished 12th overall, earning all-state honors. Her efforts helped the Pilgrims capture the Division 4 team championship with a score of 93 points.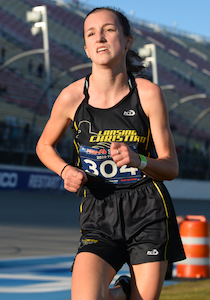 "She said she wasn't going to finish the race, but she knew it mattered for the team score, so she just got up and walked it in, which was actually the difference," her coach, Jonathan Watson said. "If she doesn't finish, we don't win."
Sophomore Ashlyn Kephart led Lansing Christian with a sixth-place finish. Senior Natalie Tebben was ninth overall, followed by Volz. Also scoring for the Pilgrims were freshman Hope Tebben and junior Mia Judd.
"We had a goal at the beginning of the season," Watkins said. "We knew we were in it and had a shot. Our girls worked really hard this year — with this as their goal — and so to get there I know is a relief for them. 
"It was a fun day to watch them run their race and go after it."
Kalamazoo Christian was runner-up, finishing with 142 points. Sophomores Aubrey Herder and Hope Zichterman led the way, finishing 18th and 21st overall. 
Beal City was third behind strong finishes from junior Rachal Weber (fourth) and sophomores Tailor Onstott (13th) and Kaylee Locke (14th). Mount Pleasant Sacred Heart was fourth, and Hillsdale Academy rounded out the top five.
Individually, Webberville senior Sara Spalding finished runner-up in a time of 19:44.53. She ran in the first of two division races. Ubly's Maze Gusa was third, while Weber and Buckley's Aiden Harrand rounded out the top five.
PHOTOS: (Top) Maple City Glen Lake's Makenna Scott pushes toward the Division 4 individual title Saturday. (Middle) Ashlyn Kephart crosses first for team champion Lansing Christian, coming in sixth overall. (Click for more from RunMichigan.com.)