St Ignace Girls Take Back Top Spot
October 25, 2020
The St. Ignace girls won for the first time in three years, squeezing past two-time reigning champion Hancock 53-54.
The Saints had finished runners-up to Hancock the last two seasons, finishing 22 points back in 2019 and 36 in 2018. 
St. Ignace's five runners all crossed among the top 16 individuals. Hancock crossed three of the top eight.
Third-place Ironwood had 73 points. Ironwood junior Aundrea Stengard gained top individual honors at 23:28.1, followed by Ishpeming freshman Lola Korpi (23:42.9), Hancock sophomore Maylie Kilpela (25:10.5), St. Ignace freshman Wisteria Brady (25:13.7) and Hancock junior Sierrah Driscoll (25:25.8).
"I just wanted to stay with her and then maybe get a lead at the end, which is kind've what I did," Stengard said of running with Korpi. "For the first two miles I ran with her, and then the third mile I managed to get a little lead. 
"Some spots were slippery, so I struggled a little with that. But otherwise it went pretty well."
She added that running in the snow definitely made for a more difficult race, and the times showed it. But sun or snow, the opportunity to compete was worth it.
"It was just so different from normal years, with all the corona(virus) stuff and everything, and the snow, it was just really different," Stengard said. "But I'm glad we got to have a season overall."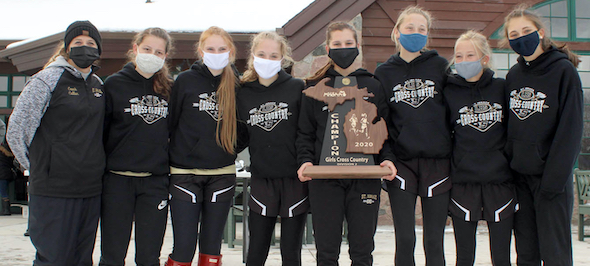 PHOTOS: Ironwood's Aundrea Stengard takes the final paces of her championship-winning race Saturday at George Young Recreational Complex. (Below) St. Ignace claimed its first Finals championship since 2017. (Photos by Theresa Proudfit.)