St. Johns' Smith Finishes Final Pursuit
By Bill Khan
Special for Second Half 
BROOKLYN — Karrigan Smith of St. Johns had been closing the gap on Kenzie Weiler of Cedar Springs the past three years.
Smith finally caught her and passed her Saturday to win the MHSAA Lower Peninsula Division 2 cross country championship at Michigan International Speedway.
Smith won a kick to the finish to edge Weiler by 2.5 seconds, posting a time of 18:11.0. Weiler, the defending champion, took second for the third time in her career in 18:13.5.
"Kenzie is a really great competitor," Smith said. "I wasn't confident I would win until I crossed the pads at the end. I can't even describe it. It's so unreal right now. I know this state title means so much to me, my team and my community. They've been behind me the whole time through this whole process. I can't think of a better way to end my senior season." 
It was a process that began Smith's freshman year when she placed seventh in the MHSAA Final in 18:23.0, 48.9 seconds behind second-place Weiler.
Smith dropped to 17th place in 18:30.0 the following year, but cut the margin between her and Weiler to 40.9 seconds.
The big jump came last year when Smith took third in 18:04.0, just 8.9 seconds behind Weiler. 
Smith came to MIS on Saturday believing it could be her day.
"I definitely trained my mind to think that," Smith said. "Running is such a mental sport. You have to believe what you can truly do. Today it happened for me. You really have to believe it." 
Smith ran second behind Weiler for most of the race, using her rival to block some of the heavy wind.
"Going into the race and seeing the conditions, I knew I was going to need some help from the lead pack to get me through the race," Smith said. 
Morgan Posthuma of Grand Rapids Forest Hills Northern was third in 18:24.4.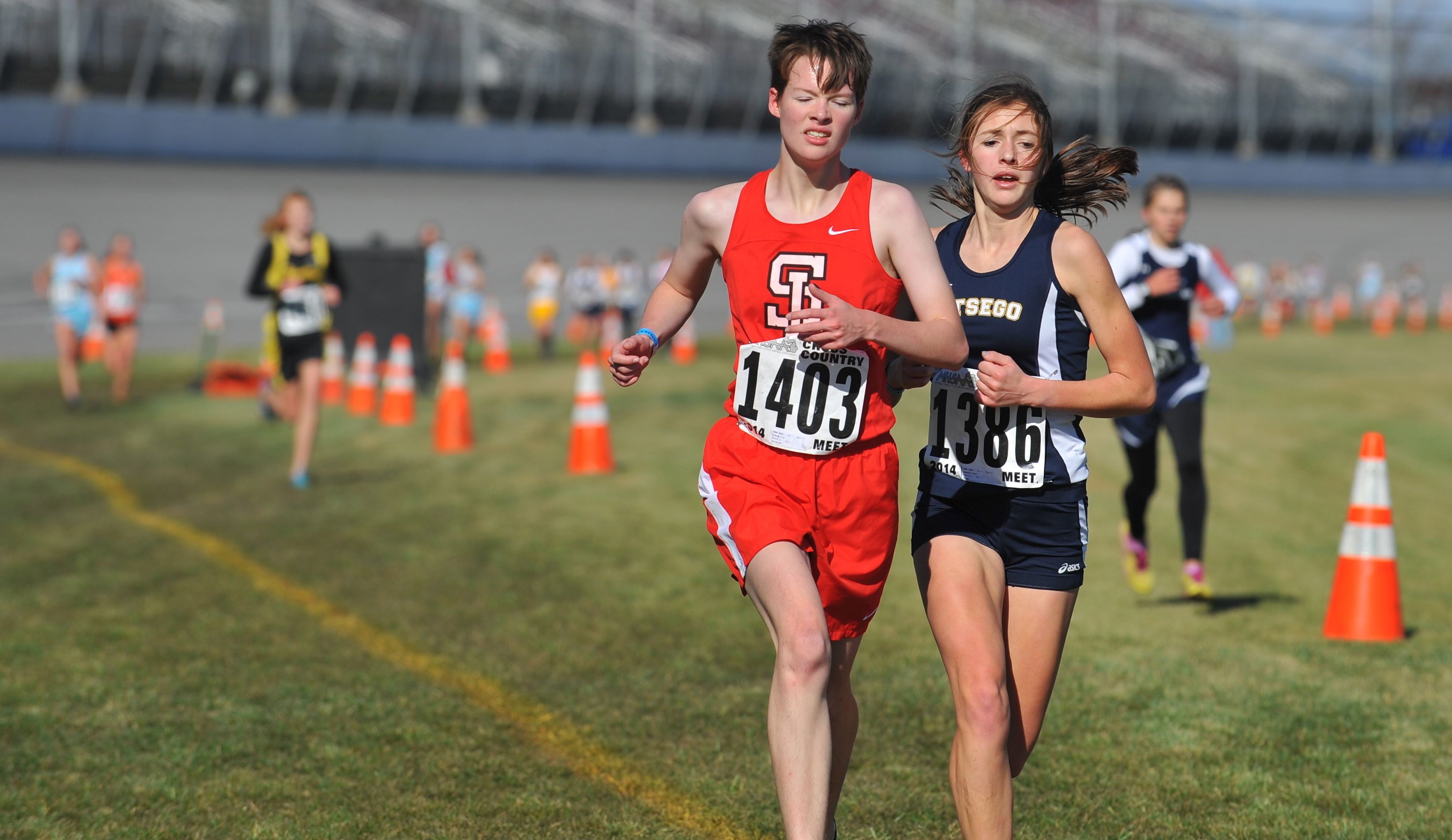 Grand Rapids Christian added to its dynasty status, winning its fifth championship in the last 10 years by outscoring runner-up Otsego by an 87-145 margin. The Eagles have finished in the top five the last 13 years. 
Christian's only graduation loss from 2013 was its No. 7 runner. Although the top six returned, three newcomers cracked the lineup Saturday. The Eagles had three runners in the top 10 among team runners, with Claire Brouwer taking sixth (18:52.6), Lindsey Fox ninth (18:59.1) and Rachel Warners 10th (19:00.8). Completing the scoring were Michelle Koetje (26th, 19:27.0) and Megan Schenkel (36th, 19:39.6).
Otsego's Megan Aalberts was third among team runners in 18:34.5, but her team's No. 2 runner didn't cross until 27th place. Second place is the best finish in school history, eclipsing last year's third-place showing.
PHOTOS: (Top) St. Johns' Karrigan Smith holds off Cedar Springs' Kenzie Weiler during the final stretch of Saturday's Division 2 race. (Below) Otsego's Megan Aalberts works to stay ahead of Spring Lake's Erin O'Keefe as they race for fourth place; Aalberts held on to help her team to its best Finals finish. (Click to see more from RunMichigan.com.)