Stellar Debut, 4-Peat Kick Off Girls Finals
November 3, 2018
Second Half reports
BROOKLYN — Other states have reputations for producing great athletes in other sports, but Michigan is known for cranking out elite high school cross country runners.
The latest running phenom to come out of the state is freshman Abby VanderKooi of Muskegon Western Michigan Christian.
VanderKooi could turn out to be the best female runner to come out of Michigan if she's able to continue progressing on an already incredible ninth-grade season.
VanderKooi ran the fifth-fastest time ever by a freshman girl at Michigan International Speedway, winning the MHSAA Division 4 individual title in 17:47.3 on Saturday.
It was a solo coronation for one of the top freshmen in the nation. She won by 1 minute, 15.6 seconds over Madison Volz of Lansing Christian, the largest margin of victory ever in a girls MHSAA final meet. It edged out the 1:15.5 difference between Rochester's Megan Goethals, who went on to win the Foot Locker national championship that year, and Hartland's Avery Evenson in the 2009 Division 1 meet.
VanderKooi is the first freshman in United States history to break 17 minutes three times. She did it in her second high school meet and posted her personal best of 16:57.3 in the Greater Muskegon Athletic Association meet Oct. 12 at University Park Golf Course in Muskegon.
The muddy conditions at MIS made it difficult to chase personal records Saturday, but her time still is second all-time in Division 4. Breckenridge's Kristen Olling won her fourth MHSAA title in 2013 in 17:44.9.
The incredible part is VanderKooi is in only her second year of competitive running. She began running for fun as an 8-year-old, but didn't begin racing until eighth grade.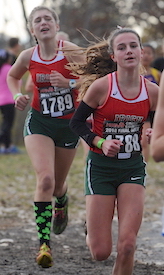 "I knew I had a good chance to win it, but in my whole life I never thought I'd get to this point," VanderKooi said.
It was her first race at MIS, but not her first trip to the site of the Cross Country Finals. Her brother, Nick, was a four-time all-stater at Fremont Providence Christian, running the Division 4 meet from 2009-12.
"My brother, Nick, is graduated now and on to college," she said. "I've been coming here since he was a freshman in high school, so I've been coming here since I was very little. It was more fun watching it, because you're not as nervous."
VanderKooi's performance helped Western Michigan Christian place third with 199 points, the best finish in school history.
In the end, Division 4 continued to be the domain of Mount Pleasant Sacred Heart.
The Irish won their fourth straight team championship, holding off a strong Saugatuck squad by a 69-82 margin.
Desiree McConnell was sixth in 19:44.7, Scout Nelson was eighth in 19:50.1, Lauren MacDonald was 10th in 19:50.7, Cammie McConnell was 18th in 20:13.3 and Hannah Wilkinson was 55th in 21:26.5 for Sacred Heart.
Nelson and MacDonald ran at MIS for all four championships.
PHOTOS: (Top) Muskegon Western Michigan Christian freshman Abby VanderKooi charges through the finish of her first MHSAA Finals championship run. (Middle) Mount Pleasant Sacred Heart's Desiree McConnell (1789) and Lauren MacDonald push through a straightaway in helping the Irish to another team title. (Click for more from RunMichigan.com.)