Troy, Rockford Leader Make Title Jumps
November 4, 2017
Second Half reports
BROOKLYN — Finally, a pleasant memory at Michigan International Speedway for Rockford junior Ericka VanderLende.
Her first two trips around the cross country course at MIS were OK, but weren't indications of the greatness that awaited her.
VanderLende was pretty much a middle-of-the-pack finisher, placing 81st in the MHSAA Lower Peninsula Division 1 Final in 19:13.1 as a freshman and 99th in 19:57.1 as a sophomore.
"It's a lot different than all the other courses," VanderLende said. "It's a lot more intimidating going into it."
Everything — both mentally and physically — came together for VanderLende on Saturday in her latest trip to Brooklyn.
After splitting two regular-season meetings with Traverse City Central senior Sielle Kearney, it was all VanderLende as she cruised to victory in 17:16.8. Kearney was second in 17:30.2.
"It's been a really good season," VanderLende said. "I stayed a lot more consistent with my races. Last year, I was kind of all over the place."
VanderLende won eight of her 10 races this year.
She was fourth behind two Division 2 runners and a Division 3 runner in the Spartan Invitational, with Kearney taking fifth and Waterford Mott's Rylee Robinson placing sixth. That turned out to be the finish order for the top Division 1 runners Saturday, with Robinson taking third behind VanderLende and Kearney in 17:34.8.
At the Portage Invitational, Kearney took first and VanderLende was third.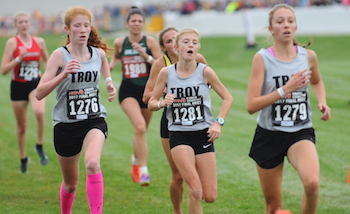 VanderLende and Kearney ran together until about the midway mark of the 3.1-mile race Saturday.
"I just let her get away, and she was going really strong," Kearney said. "She had an awesome race. It was really cool to be in the same race and have that kind of competition."
VanderLende's victory led Rockford to a third-place finish with 153 points.
Troy won its first MHSAA championship since capturing Class A in 1993, edging Northville by a 127-132 score. Troy hadn't made the top five since taking third in 2000, while Northville and Rockford are perennial title contenders.
Northville has six straight top-five finishes, while Rockford has been a top-10 finisher 21 times in the last 22 years.
While Troy didn't have a runner break 18 minutes like Northville and Rockford, the Colts had their five scoring runners in the top 32 in the team race, with their second through fifth runners separated by only 3.7 seconds.
Senior Megan Worrel was 10th among team runners in 18:07.8, senior Hannah Palomino was 26th in 18:42.5, freshman Paige Anderson was 29th in 18:44.5, senior Meghan Monaghan was 30th in 18:44.8 and junior Katie Scoles was 32nd in 18:46.2.
PHOTOS: (Top) Rockford's Ericka VanderLende (1240) and Traverse City Central's Sielle Kearney quickly moved to the front of the pack Saturday. (Middle) Troy's Paige Anderson (1276), Meghan Monaghan (1279) and Katie Scoles (1281) all placed between 41st and 44th to help the Colts to the team title. (Click for more from RunMichigan.com.)