Ubly Ace Striding for More after Breakout Sophomore Season
August 18, 2021
Maze Gusa's Athletic.net cross country profile looks like it belongs to two different runners.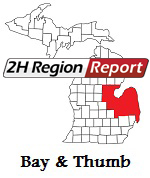 During her freshman season at Ubly, a stress fracture caused Gusa to get off to a slow start. While she improved steadily throughout the fall, her season ended at the Regional, one place away from qualifying for the Lower Peninsula Division 4 Final. 
Her best finish that year was 12th at the Greater Thumb Conference league meet, and she broke 22 minutes just once, running 21:32.6 in the Regional. 
As a sophomore, that all changed. Gusa burst onto the scene, winning 11 of 15 events she competed in, and never finishing outside the top three – including at the Division 4 Final, where she finished third. 
"Maze, she was not the runner she was last year her freshman year," Ubly coach Garrett Jurges said. "Her freshman year she had a little bit of an injury, so she had a later start to the season, and she was dual-sporting, playing volleyball. She came back over the summer, and she put some serious training in and miles in." 
Gusa hopes to build on that with another strong performance as a junior, as she'll lead an Ubly lineup which returns six of its top seven runners after placing sixth at the Division 4 meet as a team. She's set a new goal for herself – lowering her current personal best of 19:38.7 down to 18:30 – and while she's aware and ready for it, she knows there will be some added pressure this season as she won't be allowed to come out of nowhere again. 
"I feel like last season, every time I grew it would be like, 'Look at her, she's getting so much faster,'" Gusa said. "Now, all of the sudden, there's all these expectations. If I'm not where I was last year, it's like I'm not doing what I should be." 
While the expectations are going to be different, it's not as though Gusa isn't somewhat used to them. Simply carrying her last name at a cross country meet in the Thumb comes with a certain amount of expectation. 
Maze is the third of four Gusas to come through Jurges' program, following her sisters Haili (2019 graduate) and Josie (2021 graduate). Younger brother Utah is entering his sophomore season after qualifying for the Division 4 Final as Ubly's No. 1 runner a year ago. 
Haili was a four-time all-state finisher and sits third on Ubly's all-time fastest times list. Josie had three all-state finishes and is eighth all-time at the school. Maze is currently fifth on the all-time list, and her goal of 18:30 doesn't come out of nowhere, as that matches the school record set in 2004 by Jackie Rivard. 
"It's not super often (we discuss competition within the family), but it's really fun when we do talk about it," Maze Gusa said. "My brother is just crazy because he's gotten so fast, so he's the hardest to compare. Haili is saying that, 'It's OK if you beat my time, but you're going to have to earn it.' When I passed Josie, she was happy that I had worked for it. They're all very supportive, so it really helps to push me." 
The disappointment of Regionals her freshman season pushed Maze as much as anything a year ago. She said she ran more than 500 miles in the spring and summer leading up to her sophomore year, transforming from a solid runner to one of Division 4's best. 
"It was really a big motivation for me – I was just always thinking about that one spot," she said. "The biggest difference I actually had, and it was really a blessing in disguise, was COVID-19. It took out my track season, so I had all that extra free time. Instead of sitting around, I got out and ran. I started building a base for myself – running more miles, faster miles. On my 16th birthday, I ran 16 miles. It was a really intense summer." 
It paid off with a Regional title and the third-place finish at the Finals, something she was able to share with Utah and Josie, who were also competing there. 
"It was really awesome, because she really wanted to do good," Utah said. "It was super hot, and I didn't know if she would be one of those people that it would slow them down a lot. She was crushed the year before." 
Maze played soccer at Ubly this past spring, which cut down her offseason miles. She said she was still able to get in about 250, but trying to squeeze them into a shorter timeframe did result in a hip injury, one she's nearly fully recovered from now.  
She does hope, though, that increased competition and being able to run again in bigger meets this season will help push her to reach her goals.  
"I'm a very competitive person," she said. "Whether it's a board game or a race." 
Jurges agreed. 
"She's a competitor and a hard worker," he said. "She's one of those that when push comes to shove, at the end of the race, this girl is not going to beat me. She will pull everything out of her guts and sprint her down." 

Paul Costanzo served as a sportswriter at The Port Huron Times Herald from 2006-15, including three years as lead sportswriter, and prior to that as sports editor at the Hillsdale Daily News from 2005-06. He can be reached at paulcostanzo3@gmail.com with story ideas for Genesee, Lapeer, St. Clair, Sanilac, Huron, Tuscola, Saginaw, Bay, Arenac, Midland and Gladwin counties.
PHOTO: Ubly's Maze Gusa (369) races toward the finish line during last season's Division 4 girls team championship race at Michigan International Speedway. (Click for more from RunMichigan.com.)