Upper Peninsula's Speediest Contenders Becoming Fast Friends As Well
September 23, 2021
CALUMET — They're becoming close friends off the trails, but they're fierce competitors on the cross country course.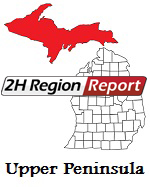 Houghton senior Ingrid Seagren and Ishpeming sophomore Lola Korpi have emerged as the Upper Peninsula's top two runners at this point in the season.
Seagren has won 2-of-3 meetings this year, but it was Korpi's turn to win Monday at the Calumet Invitational.
Korpi covered the hilly 3.1-mile course in 21 minutes, 18.3 seconds at the Swedetown Trails on a hot, sunny and breezy day. Seagren was clocked at 21:39.3.
"I think it all depends on who's feeling better on that day and the course," said Korpi. "Ingrid is a very good downhill runner, and I wanted to make sure I pushed myself on those. I think the uphills worked to my advantage, and I was glad to see that last one before the finish.
"There was a pack of us for a while. It was pretty hot out there and I couldn't feel the wind in the woods."
Seagren won the Queen City Invitational (Aug. 27) and Dale Phillips Invite (Sept. 3), both at Presque Isle Park in Marquette. Korpi was runner-up both times.
"She's definitely good competition, and I enjoy running against her," said Seagren. "It's hard to take her on the uphills. I didn't feel the best today (Monday). I've had kind of a cold, but did the best I could. Lola ran a great race. I'm happy for her. It just wasn't my day. That was a tough course and the heat was a factor for everybody. I didn't feel the breeze, although I think it helped. There were quite (a few) of us up there (near the front) in the beginning."
They were followed by Gogebic (Bessemer) junior Natalie Stone (22:08.8), and Negaunee junior Endla Harris (22:12.7) and freshman Marlee Plaxco (22:30.55).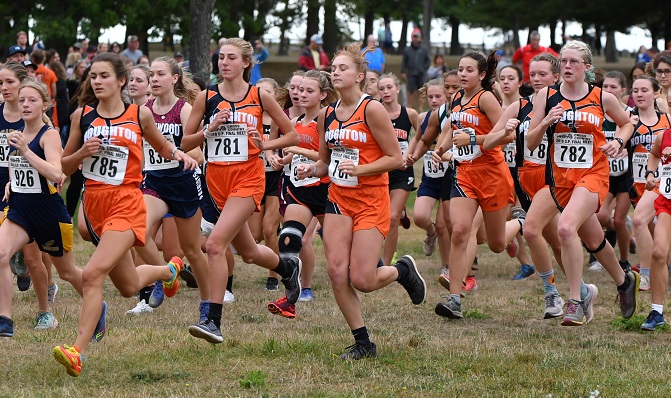 "I was pleased with my time because it's a harder course," said Korpi. "Ingrid and I are becoming good friends, and I think I'm getting closer with her and other girls. I've been dealing with some calf issues, but it seems to be getting better."
Korpi and Seagren will meet at least four more times this season, but won't be running in the same race at the Upper Peninsula Finals.
Ishpeming is entered in Division 2, and Houghton will try to repeat in Division 1.
"I'm expecting a tough race in the D1 Finals," said Seagren. "I think we just need to keep pushing each other in practice. We would like to do it again. Paige (Sleeman) and I are seniors this year. We're a real close team."
The U.P. Finals take place Oct. 23 at Gentz's Golf Course in Chocolay Township (near Marquette).
Sleeman is reigning U.P. Division 1 champion, and Seagren placed third at Gentz's a year ago. Sleeman, who was feeling under the weather, didn't run at Calumet on Monday.
Korpi was Division 2 runner-up to Ironwood's Aundrea Stengard on a snowy course at the George Young Golf Course at Gaastra (near Crystal Falls) last year.

John Vrancic has covered high school sports in the Upper Peninsula since joining the Escanaba Daily Press staff in 1985. He is known most prominently across the peninsula for his extensive coverage of cross country and track & field that frequently appears in newspapers from the Wisconsin border to Lake Huron. He received the James Trethewey Award for Distinguished Service in 2015 from the Upper Peninsula Sportswriters and Sportscasters Association.
PHOTOS: (Top) Ishpeming's Lola Korpi (823) and Houghton's Ingrid Seagren (785) lead the Queen City Invitational. (Middle) Seagren and Paige Sleeman (787) race through the opening stretch with their teammates at the start of the Queen City race. (Photos by Cara Kamps.)