VanderKooi, Hart Extend Title Streaks
November 7, 2020
By Jason Schmitt
Special for Second Half
BROOKLYN – Muskegon Western Michigan Christian's Abby VanderKooi did so well Saturday at the MHSAA Lower Peninsula Girls Cross Country Finals that she can't wait for next year to get here.
The junior won the Division 4 championship as both a freshman and sophomore. This year, her team was bumped up to Division 3. The team did not qualify for the Finals. But VanderKooi did, and she shined on the state's biggest stage.
"My motivation was to break the course record (for Division 3)," VanderKooi said. "That was my goal. Hopefully, next year we move back to D4 because I want to break that record too."
Her time of 17:12.47 bettered the previous-best Division 3 time by more than 30 seconds. And she did it running in the first of two races of the session. All teams that finished third at their Regional, as well as all individual qualifiers, ran first. All Regional champions and runners-up competed in the second race. They were split to help limit the number of competitors in each race.
VanderKooi led her race from start to finish, and her split times would have had her leading the second race at each of the three mile marks, and of course the finish. She crossed the finish line 1:31 ahead of her nearest competitor, Allison Chmielewski of Roscommon (18:43.76), who finished sixth overall.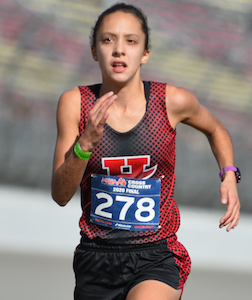 "I ran my best. I ran my hardest, and that's all I could do," said VanderKooi, who if given the opportunity will look to make amends for her less-than-stellar performances in her previous two Division 4 races. "I ran very poorly the last two years at states. I ran an 18:11 last year, which for me is not good. My iron was low, and we didn't know it. The year before, that course was ridiculously awful."
She was extremely happy with Saturday's performance.
"I'm very happy with that (time)," she said. "I broke the record. I just got this new watch, and it told me that my predicted 5K time was like a 17:22, and I was like, 'I'd love to run that time.'"
Hart captured its fourth straight Division 3 team championship, finishing three runners among the top five and four in the top 10 while piecing together a team score of 59. Freshman Alyson Enns was second overall in a time of 18:05.97. Senior Savannah Ackley was third, junior Audrianna Enns fifth and senior Lynae Ackley 10th overall. Junior Lauren Vanderlaan rounded out the team's scoring.
"It never gets old, but you never know until the day comes," Hart head coach Terry Tatro said. "We just take things one day at a time and hope that you have your best race of the season here. The girls ran pretty well today. As a coach, I always think they can do better, but winning a state championship, they ran as good as I could expect them to."
Ithaca, led by junior Lani Bloom's fourth-place finish (18:32.26), placed second as a team with 114 points. Senior Grace Weburg finished 23rd overall for the Yellowjackets.
Grandville Calvin Christian was third overall (121 points), followed by St. Louis (195) and Benzie Central (217) among the top five.
PHOTOS: (Top) Western Michigan Christian's Abby VanderKooi closes in Saturday on her third MHSAA Finals championship. (Middle) Hart freshman Audrianna Enns approaches the finish line leading for the eventual team champ. (Click for more from RunMichigan.com.)