4 Years of Work Paying Off as Senior-Led Linden Heads to Finals
October 13, 2021
Ask any member of the Linden girls golf team if she thought three years ago that the current level of success the team is enjoying was possible, and they quickly say no.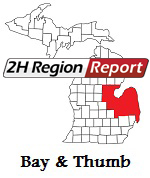 It's tough to blame them. In 2018, the varsity team was made up of five freshmen and two sophomores, and the Eagles were struggling to be competitive, shooting a 467 in the Regional and coming in 10th out of 10 teams.
But that didn't stop them from buying all the way in, and now the Eagles – led by those five freshmen who are now seniors – are headed to the Lower Peninsula Division 2 Finals with all of their season goals already accomplished.
"I would tell them then, 'Three years from now, if you keep working, maybe you might have a chance to do something,'" Linden coach Jon Hamilton said. "I was talking to their parents about this, but how many kids will keep going when you tell them that if they work for something for three years, that maybe you'll accomplish something? They did."
Linden placed third in this year's Region 10 tournament, shooting a 364 to qualify for the Finals, which will be played Friday and Saturday at Bedford Valley in Battle Creek. All four scorers for the Eagles – Ella LaMothe, Cate Draper, Kaitlyn Straub and Emma Lurvey – are seniors, as is Brooke Goll, who was the No. 5 on that day. All five were on the team in 2018.
"During freshman year, I wouldn't have seen myself going to states," LaMothe said. "I would have seen us as a team being a lot better, and maybe having a chance in the Metro League and the Regionals. But it's taken a lot of hard work – four years of practicing every day in the fall and on our own during the summer. It's been a lot of fun."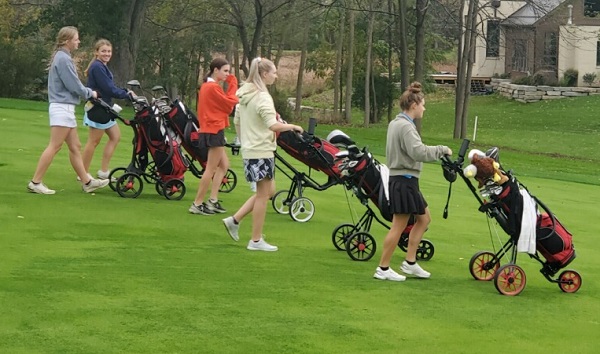 It's the first time in the nine years Hamilton has been coaching that he will take a team to the Finals, and that wasn't the only first for the program under his guidance this season.
The Eagles won the Flint Metro League title, edging rivals Fenton and Goodrich in the league tournament. They also earned a head-to-head victory against Fenton.
After that win, Hamilton dug into his archives to pull out the scores from the 2018 showdown between the programs. Back then, Fenton won 179-257. This year, Fenton was again at 179, but Linden shot a school-record 165.
"After beating Fenton it was like, 'Wow, we're actually at the top of our league at the moment,'" Straub said. "It just feels amazing that we were able, as a team, to get better. It wasn't just one singular girl getting better, it was all five of us from the beginning of freshman year to now getting better."
LaMothe, Straub and Draper – who missed most of her freshman year with an eye injury – had played some golf before they joined the varsity squad. Lurvey said she had been on a course "a few times" but that freshman year was truly when she started. Goll was basically brand new.
"I was friends with the girls, so I figured why not try?" she said. "I had some kids clubs that I used to use to just hit some whiffle balls in my hard. I had to get a new set and everything, because those were really small."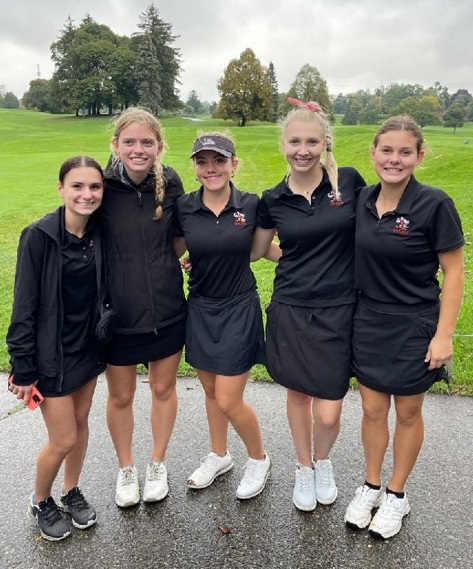 While they've made up the majority of the scoring for Linden during each of the past four years, they haven't been completely alone. Hanna Baldwin and Cassie Most were the sophomores on that 2018 team, and Emma Most has contributed this season.
But the core has been the Class of 2022, which believed enough in itself, even when times were tough, to work toward bigger goals.
"I think that it's super amazing," Lurvey said. "We all didn't really expect this at all, and this year we really just kicked it in. It's a big accomplishment for all of us."
The season isn't over, of course, with the trip to Bedford Valley still to come. But while there are some admitted nerves heading into the biggest tournament of their careers, the Eagles are rolling into Battle Creek without any pressure as they've already accomplished all they had set out to do this season – and much more than anyone believed they were capable of just a few years ago.
"I'd say it's probably icing on the cake," Draper said. "We want to go in and compete, shoot a low score and place. But we're going to go and have fun and work together as a team. I don't really feel pressure to be the best in the state in our division. I think we're just going in to have fun."

Paul Costanzo served as a sportswriter at The Port Huron Times Herald from 2006-15, including three years as lead sportswriter, and prior to that as sports editor at the Hillsdale Daily News from 2005-06. He can be reached at paulcostanzo3@gmail.com with story ideas for Genesee, Lapeer, St. Clair, Sanilac, Huron, Tuscola, Saginaw, Bay, Arenac, Midland and Gladwin counties.
PHOTOS (Top) Linden's Ella LaMothe, Emma Lurvey and Kaitlyn Straub convene during the Flint Metro League Tournament, won by the Eagles. (Middle) The team's five seniors, including also Cate Draper and Brooke Goll, have played varsity together since they were freshmen in 2018. (Below) The five seniors stand together during one last Regional, from left: Lurvey, Draper, Straub, Goll and LaMothe. (Photos courtesy of the Linden girls golf program.)