DeTour Girls Deliver 1st Title since 1999
June 1, 2017
GLADSTONE — Most, if not all DeTour High School girls weren't around the last time a team from their school was crowned Upper Peninsula golf champion.
It was 1999, and the Raiders were competing in Class D at the time. Ontonagon was runner-up that year.
On Thursday, the Raiders ended their title drought by taking the Division 3 crown for the first time with 403 strokes. They were followed by reigning champion Cedarville with 406 and Ontonagon at 433.
"I had a feeling it would be between us and Cedarville," said DeTour coach Ken Wilkie. "I think our depth was a factor, plus we have four seniors. It's very important to have that senior leadership and experience. The girls knew what to expect. Hopefully, this will draw some interest from our younger girls."
Cedarville freshman Lily Freel earned the medalist honor with an 82 at Irish Oaks Golf Course. She was followed by DeTour seniors Madison Wilkie and Kaalin Crawford at 85 and 86, respectively.
"In the beginning, it was definitely a struggle," said Freel, who shot 98 in last year's Finals at Escanaba Country Club. "It took me a couple holes to settle down. I wasn't too nervous, but I could still feel the pressure. I could tell I was a little tense, then I was able to convince myself to relax. I had some bad shots, but was able to recover from them. Last year was good for me because I learned from playing with the other girls. I put a lot of time into my game last summer and had a better idea what to expect."
Freel, who works at the Les Cheneaux Club in Cedarville, is no stranger to golf.
"I think it's great," she said. "I'm around it all the time. I live within a block of the club. I ride my golf cart there all the time."
Wilkie, consistently in the title hunt throughout her high school career, came in as reigning champion. She tied for first as a freshman in 2014, then was runner-up as a sophomore.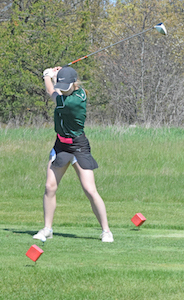 "Everything started good," said Wilkie, who will continue her golf career at Lake Superior State University. "My play on the front nine was as solid as I've had, then things kind of fell apart on the back nine. I couldn't read the greens for some reason. If you missed the hole, the ball rolled a little further. I had a hard time adjusting. I had three bad holes in a role at one time. My putting was better on the front nine. The first hole is always hard. Everybody tends to be a little nervous. Lily played awesome. I'm proud of her."
Crawford's putting, however, improved on the back nine.
"I became a little more comfortable on the course," said Crawford, who will play basketball at Alpena Community College in 2017-18. "This is the best I've done in competition. Everything just came together. It was a real nice day for golf. It wasn't too hot or too cold. There also wasn't much wind."
Cedarville coach Rob Freel said he was pleased with the Trojans' performance.
"I was hoping our girls would come out on top, but they played real well today," he added. "We're excited about Lily's potential. She has worked hard on her game."
PHOTOS: (Top) DeTour's Kaalin Crawford gets ready to hit a tee shot during Thursday's U.P. Division 3 Golf Finals at Gladstone's Irish Oaks Golf Course. Watching Crawford hit are Ontonagon's Samantha Lutz, left, and Engadine's Lauren Dennis. (Middle) Cedarville's Lily Freel hits a tee shot Thursday; she shot 82 to win the medalist honor. (Photos by Mike Mattson.)