Montague Repeats to 'End Era,' Greenhills Freshman Begins Another in Finals Debut
EAST LANSING – The Lower Peninsula Division 4 Girls Golf Finals this weekend at Michigan State University's Forest Akers East featured competitions within the competition. Head-to-head battles came to a head on Saturday.
While Montague went down to the wire in edging Lansing Catholic and repeating as team champion, Ann Arbor Greenhills freshman Mia Melendez outdueled Michigan Center senior Kamryn Shannon for the individual title in a showdown that came down to the final hole.
Montague and Lansing Catholic both shot 675 over the two-day event, but the Wildcats held the upper hand by virtue of the fifth-score tie-breaker. Jackson Lumen Christi finished third (701), followed by Adrian Lenawee Christian in fourth (706) and Remus Chippewa Hills fifth (722).
The Wildcats, who ran away with the title last year in defeating runner-up Lansing Catholic by 27 shots, featured five players under 90 each of the two days this weekend.
"I can't believe that," Montague coach Phil Kerr said. "I'm so proud of them. I'm not surprised, but still under these conditions, you've got to show up and compete and these girls did."
Shannon held a two-shot lead over Melendez following a 2-under 70 on Friday, but Melendez made several clutch putts Saturday to make her move during what amounted to a head-to-head match. Melendez chipped in for par on their final hole to wrestle away the medalist honor, while Shannon settled for bogey.
Melendez shot 71 on Saturday for a two-day total of 143, one shot better than Shannon's 144. The newly-crowned champ called the round "intense."
"There was a lot of, like, moments where I knew that I had to make a putt and then she had to make a putt, too, so we were just going back and forth," Melendez said. "It was a lot, and both of us had to make a lot of big runs going next to each other.
"This particularly means a lot because it's the state championships, and it's always been my goal to win something like this because everybody's going to see it and it's a pretty big deal."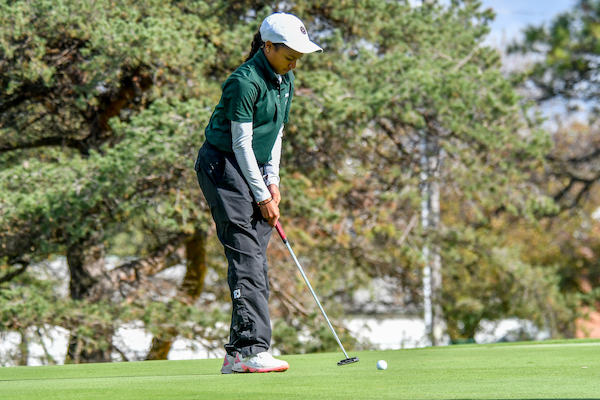 Lansing Catholic's Amanda Meiling finished third at 159, followed by teammate Sailor Somerville, Lenawee Christian's Lauren Swiggum and South Haven's Sydney Barnes all tied for fourth (164).
Montague seniors Orianna Bylsma and Gabby Moreau, who were key contributors on last year's title team, led the Wildcats with top-10 finishes: Bylsma in seventh (165) and Moreau 10th (168).
Traverse City St. Francis' Grace Slocum placed eighth (166) and Brooklyn Columbia Central's Logan Bentley ninth (167).
"I'm so proud of the seniors – it's definitely the end of an era. Ori and Gabby have been through all of it," Kerr said. "(Their) freshman year, we were nobody. Sophomore year, it was the biggest deal that we made state and then got fourth. They won state (last year), they backed it up (this year).
"Ori shot 79 today, Gabby shot 80 yesterday – a PR by four strokes, at state. They're just warriors. It didn't matter what they did all year, it didn't matter what they did last week, I knew when we showed up that those two were going to perform."
Six years ago, Montague did not even have a girls golf team. Before last year, the school had never won a Finals title in a girls sport.
Now, the Wildcats have two championships in as many years in girls golf.
"I didn't even play golf five years ago. I hadn't even touched a golf club in my life five years ago today," Moreau said. "And if you would have told me, 'You're going to win a state championship,' I would have said, 'I don't play football.'
"I couldn't have even imagined this. This is so surreal."
PHOTOS (Top) Montague's Orianna Bylsma follows her approach shot Saturday at Forest Akers East. (Middle) Ann Arbor Greenhills' Mia Melendez lines up a putt during the second round. (Click for more from High School Sports Scene.)