New Division, Same Mustangs Success
October 21, 2017
By Keith Dunlap
Special for Second Half
EAST LANSING – Macomb Lutheran North girls golf coach Lori Gill admitted the news came as a surprise.
Once the season commenced, Gill found out from Bloomfield Hills Cranbrook Kingswood coach Mark Moyer that Lutheran North would be competing in Division 3 this year.
It was a significant revelation, given Lutheran North won the state title in Lower Peninsula Division 4 last season.  
"I got blindsided with it," Gill said. "I had my top three players from last year, and they were strong. I thought we might be able to squeak into the top three."
Lutheran North did better than that, squeaking into the "top one" by winning the Division 3 title Saturday at Michigan State's Forest Akers West.
The Mustangs shot a two-day total of 697, three shots better than the 700 produced by runner-up Grand Rapids South Christian.
Three-time reigning champion Spring Lake was third with a 709, Cranbrook was fourth at 718 and Flint Powers Catholic rounded out the top five with a final score of 749.
Lutheran North entered the day one shot ahead of South Christian and three ahead of Cranbrook after Friday's first round, but it became a battle between Lutheran North and South Christian as the final day progressed.
Lutheran North ended up shooting a 341 on Saturday thanks in large part to senior Serena Nguyen, who ended her high school career finishing as the runner-up individually with a two-day score of 152 (78-74).
Junior Kaity Rittner added a 163 (84-79) and senior Grace Farquhar a 163 (90-83) to flank Nguyen for Lutheran North.
"I told the girls that they had to play their very, very best and couldn't falter today, and they didn't," Gill said. "Yesterday, I think the nerves spoke to them a lot."
So, now that Lutheran North moved up and won it all in Division 3, will the Mustangs go up to Division 2 next year?
"No," Gill said with a laugh. "I think we are happy here or below."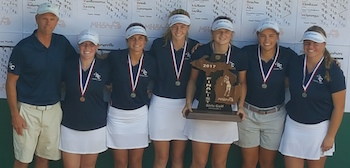 South Christian was led by junior Natalie Samdal, who had a two-day total of 158 (80-78).
"We thought we had a shot at top three, so we definitely reached our goal," Grand Rapids South Christian coach Ben Cook said. "We are very excited. A 343 (on Saturday) is a very good score for us."
Also producing a good score once again was Pontiac Notre Dame Prep junior Danielle Staskowski.
After winning the individual Division 3 title in a playoff last year as a sophomore, Staskowski successfully repeated by playing brilliant golf on a difficult Forest Akers West course.
Staskowski shot identical even-par scores of 72 both Friday and Saturday to finish with a total of 144, a healthy eight shots ahead of Nguyen.
"My putter was really strong," Staskowski said. "I made a lot of putts overall this weekend.
"I was just really focusing on hitting fairways and the center of greens, and I know my putter would really help me out."
Even better for Notre Dame Prep is that Staskowski has one more year left and a chance to become the fourth Lower Peninsula player to win three individual Finals championships.
"The girl I beat last year in the playoff (Spring Lake's Anna Kramer), she had won states the year before," Staskowski said. "It was in my mind that you still have to play hard because anyone can come up."
PHOTOS: (Top) Macomb Lutheran North stands with an MHSAA championship trophy for the second season in a row. (Middle) Grand Rapids South Christian finished runner-up Saturday. (Click to see more from HighSchoolSportsScene.com.)