Rochester Ends 'Incredible Run' on Top
November 15, 2016
By Geoff Kimmerly
Second Half editor
Four seasons ago, the Rochester girls golf team missed the MHSAA Finals – a rarity for a program that has won three of the last 10 Lower Peninsula Division 1 championships and finished runner-up twice.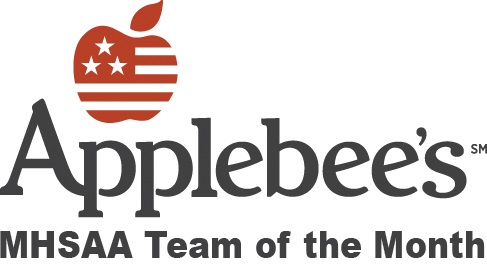 Three seasons ago, Rochester missed the Finals again, by two strokes – and with only four golfers in the lineup.  
But 2015 was a special fall. Much to coach Jeff Haney's surprise, the Falcons – with those same four regulars anchoring the lineup – not only made the Final but came within a stroke of winning the Division 1 championship before finishing second to Traverse City West on a fifth-score tie-breaker.
And all of that set up a championship run that culminated in a 21-stroke victory at this season's Final at Michigan State University's Forest Akers East, a pleasing end to a wild ride.
"Their freshman year they missed going to the state finals as a team by four strokes. Sophomore year the missed out by two strokes," Haney said. "To go from missing out on the state finals to then going to the state finals and being within a stroke of winning, to then follow it up by winning it, it's been quite a journey. To me, that's what I'll remember this team by – the incredible run."
An incredible finish to that incredible run made Rochester the clear-cut choice as Applebee's statewide Team of the Month for October.
The Falcons won resoundingly at Forest Akers East after shooting what's believed to be an MHSAA girls golf tournament record 289 to win their Regional on Oct. 5 at Twin Lakes in Oakland Township.
The run was fueled by balanced contributions from all five regulars. 
In the Division 1 Final, the Falcons followed two who were among the individual top 10 finishers. Senior Brooke Busse was fifth at 148, five strokes back of the lead, and senior Veronica Haque carded an eighth-place 150. However, freshman Savannah Haque (158), senior Erika Yang (163) and junior Keri Yang (166) all also finished among the top 32. 
At times through the season, the fourth and fifth players in the lineup shot the second or third-best scores at tournaments, something "definitely different in terms of depth, definitely different in that they all prepared so much, played so much and worked so much to get to this point," said Haney, who took over the program in 2006. Four of the top five missed at least one tournament this fall, and Rochester still won a number of those events.
He noted that his isn't the type of program that generally is able to count on adding tournament-experienced newcomers every fall. When the current seniors entered high school, Haney said he knew about Veronica Haque as a likely contributor, and that Busse had played some. But sisters Erika and Keri Yang were volleyball players when they decided to play golf instead.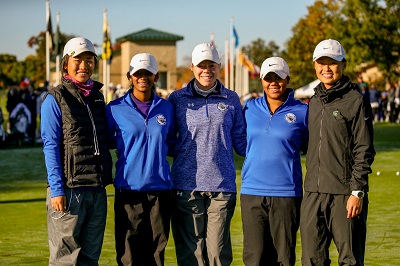 Savannah Haque – Veronica's sister – gave the Falcons another strong player this fall, and combined with her four teammates allowed Haney to focus his coaching differently. 
In the past, he spent more time coaching his golfers on aiming points, club selection and things experienced golfers might already know entering high school. But this fall he was able to focus on the Falcons' mental games. And mental prowess was a strength of this team – Rochester made academic all-state with a grade-point average of 3.748, which ranked 11th in Division 1, and Erika Yang received individual academic all-state honorable mention.
As one might expect, on-course accolades abounded as well. Busse was named after the season to the Michigan Interscholastic Golf Coaches Association all-state Super Team, while Veronica Haque made the first team and Savannah Haque and Erika Yang earned honorable mentions.
"If we didn't win, it seemed like the year was going to be a failure, and it's hard to play like that," Haney said. "And the other thing for which I give the girls credit, they played the whole season with everybody telling (them they were) the best team, and it was a lot of pressure. I felt it, and I'm sure the girls felt it, and to me (winning) was as much a relief as I was excited."
Past Teams of the Month, 2016-17
September: Breckenridge football - Report
PHOTOS: (Top) Brooke Busse watches a drive during this season's Division 1 Final at Forest Akers East. (Middle) The Falcons line-up during the second day of the Final, from left: Keri Yang, Savannah Haque, Brooke Busse, Veronica Haque and Erika Yang. (Click to see more from HighSchoolSportsScene.com.)