East Grand Rapids Begins New Reign
June 8, 2019
By Perry A. Farrell
Special for Second Half
NOVI – Less than a minute into Saturday's Division 2 Girls Lacrosse Final at Novi High School, East Grand Rapids began to assert its dominance against Bloomfield Hills Marian.
And playing a flawless, turnover-free first half, the Pioneers piled up 18 goals on the way to a resounding 22-7 victory to clinch their sixth championship in eight years.
The Pioneers (24-2) had won five straight titles before losing to Bloomfield Hills Cranbrook Kingswood in the 2017 championship game and not making the Finals last season.
EGR's high-powered offense scored at least 20 goals in each of its six tournament games this spring.
"We had five really strong seniors, and we had five freshmen come in,'' said coach Rich Axtell. "It's a real mixture of age and youth. Last year, we had pretty much the same lineup, but some freshmen have come up and really made a difference.''
Seniors Mary Schumar (six goals) and Audrey Whiteside (five) led the first-half onslaught as EGR built a 14-goal lead. Both finished with seven goals and were taken out of the game with more than five minutes to play.
"We wanted it so much this year for the seniors,'' said Whiteside. "I was a freshman when we won it (2016). Mary and I have worked well together. They put me on attack so I could work with Mary so we could get more points. I love working with her. We work together on the draw, and it just came together so well this year.''
Said Axtell: "Audrey and Mary are once-in-a-decade type of players. Between the two of them, they have 350 points this season. They had an amazing year.''
The Pioneers wasted little time scoring, as Whiteside found the net the first time 50 seconds into the game for a 1-0 lead. Thirteen seconds later, Schumar scored to make it 2-0. Whiteside quickly scored her second goal and the Pioneers were rolling, up three goals with Marian failing to put together an offensive rush. Schumar followed suit, scoring 38 seconds later to put the Mustangs in a 4-0 hole.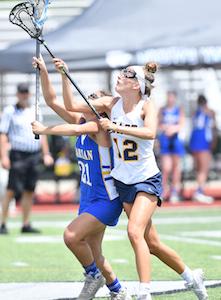 Mia Hannawa finally got the Mustangs on the board with her first goal to trim the deficit to three. Maura Mustion scored for Marian (20-2) to stem the tide and get the Mustangs back into the game at 4-2.
EGR got a goal from Caroline Grin with 19:22 left in the first half to go ahead 5-2. Josie Mehney scored seconds later as the Pioneers extended their lead. Whiteside scored her third of the game to make it 7-2. Schumar scored her third on a penalty power-play shot to make it 8-2 while Marian was a player short.
Sophie Forstner made it 9-2 for the eventual winners with a power-play goal, and Marian coach Sherry Elliott was forced to call a timeout with her team reeling. Schumar scored her fourth, and the rout was on as the Pioneers surged ahead 10-2. Schumar's fifth goal made it 11-2 with 15:04 still left in the first half.
Coco Chinonis finally ended the Pioneers' scoring run with a goal to make it 11-3.
Anna Knuble, Whiteside and Lizzie Lundeen scored the next three goals for EGR as they took a 14-3 lead, and Whiteside tacked on her fifth as the Pioneers never let up in taking a 15-3 lead.
Schumar's sixth increased it to 16-3 as the Mustangs had no answer for the East Grand Rapids fast-paced offense.
"We wanted it so much this year because we have five seniors,'' said Schumar. "We needed this. In the first half I think our defense was unbeatable. We have one of the fastest defenders in Olivia Grogan. Anna Knuble is really good. She's just a junior, and she's going to have a big senior year.''
Lundeen scored her second goal and Paige Leistra got on the board as the 18-3 lead produced a running clock.
Marian finally challenged EGR goalie Lily Kate Rogers, but the senior came up with three saves. Schumar tacked on her seventh goal to make it 21-5 as time and Marian's hopes were running out.
"We lose five seniors, but we have lots of talent coming back,'' said Marian coach Sherry Elliott. "I see big things for us, and I see some young ones coming up.''
PHOTOS: (Top) East Grand Rapids' Audrey Whiteside (24) fires a shot at the Marian net Saturday. (Middle) Mary Schumar (12) and Marian's Coco Chinonis battle for position.