Houghton-Hancock Wins Close D2 Race
By James Cook
Special for Second Half
BELLAIRE — Pontiac Notre Dame Prep thought it had won the program's first MHSAA skiing championship since 2006.
Instead, Houghton-Hancock roared back to take its second crown in program history and first since 2010.
The Fighting Irish led by four after the morning's slalom event. Even after the afternoon session ended, Notre Dame skiers thought they had won the title.
But when the final results were announced, Houghton-Hancock let out a yell that may have carried all the way to the Upper Peninsula's Keweenaw Peninsula.
"The girls performed awesome," Houghton coach Brian Henderson said. "Everyone stood. Everybody did their job."
Henderson has coached the team for 17 years, leading Houghton-Hancock to the 2010 title and a half dozen runner-up finishes.
Houghton trailed after the morning session, and had the weaker of its two disciplines coming up in the afternoon.
Allyson Fenton and Katherine Jarvis responded by placing fifth and sixth in giant slalom as only Grand Rapids Forest Hills Central had more than one top-10 placer.
The Rangers had GS champ Courtney McAlindon and seventh-place Kayley Reynolds.
Houghton's Miren Unciti and Lydia Salmi placed 24th and 30th to give Houghton-Hancock enough points to make up the ground on Notre Dame.
"Sometimes you have to know when to take your foot off the gas, and that's what we did today," Henderson said. "I'm very proud of this bunch. It's been a long, great day."
Meghan Kozole played a big role in Notre Dame Prep going into the afternoon with that lead. She placed second in slalom from the fourth flight, with her sister Katelyn taking third.
"My first run I thought was really, really bad," Meghan Kozole said. "So I came down and was kind of shocked. I came down the pitch and had my eyes closed."
The Fighting Irish will have to wait to again target the elusive team title.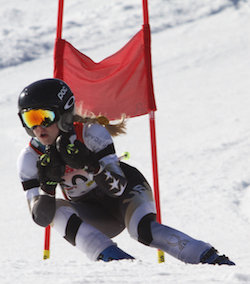 Houghton-Hancock (84) and Notre Dame Prep (88) were followed by Harbor Springs (107), Bloomfield Hills Cranbrook Kingswood (124), Petoskey (144), Forest Hills Central (190), East Grand Rapids (204), Cadillac (210) and Mount Pleasant (251).
"We had a good mentality coming in," Kozole said. "We won the Regional by a pretty decent amount, so we came in pretty confident."
Gaylord sophomore Reagan Olli was the meet's star. Skiing as an individual qualifier and out of the third flight, she led the GS after the first run but finished second overall as she was overtaken by one of her frequent training partners, McAlindon, who posted the fastest girls run of the day.
Olli posted the day's third-fastest girls slalom run (31.67 seconds) to start her pursuit in that event. Times were much slower the second time around, and her second-best time of 34.85 seconds was enough to hold off Kozole by 0.2 seconds.
"I tried to ski them clean and like I did in training," said Olli, who was sixth in both disciplines last year as a freshman. "As technically sound as possible, and then the speed will come."
The rest of the giant slalom top 10 included Caledonia's Emily Petrosky (third), Grand Rapids Northview's Megan Paasche (eighth), Harbor Springs' Frannie Kelbel (ninth) and Katelyn Kozole for Notre Dame.
Harbor Springs' Maddy Fuhrman took fourth in slalom, followed by Petoskey's Loren Kircher, Kelbel in eighth, Cranbrook Kingswood's Annabel Geissbuhle ninth and Paasche 10th.
Houghton-Hancock had finished second twice since its last title, so breaking through this time was sweet for Henderson and his squad.
"I can't say enough about our seniors and their leadership," Henderson said. "The rest of the gals have just followed their lead.
"It's so nice to see this come together. It's been a great group. They've had the desire all season. They knew what it took."
PHOTOS: (Top) Gaylord's Reagan Olli surges by a gate during one of her runs Monday. (Middle) Petoskey's Loren Kircher speeds through a turn. (Photos by James Cook.)