Marquette Girls Again Champs in D1
MARQUETTE — The Marquette girls ski team won its first MHSAA team championship since 2009, pulling away in a close race Monday at familiar Marquette Mountain.
The Redettes scored 84 points to win the Division 1 championship and were followed by Bloomfield Hills Marian with 101 and Traverse City Central with 103. Central has finished runner-up the last two seasons.
Marquette sophomore Sadah Scheidt gained top honors in girls slalom with a time of 1:25.11, followed by senior teammate Hanna Johnson (1:29.88), Marian's Olivia Weymouth (1:30.36) and Marquette's Natalie Robinia (1:30.75).
"It was real windy at the top, but you had to have direction coming down," said Scheidt, who will leave for Vail, Colo., on March 9 to compete in the Junior Olympics. "You needed to move forward at the top and bottom and just give it your all. Our team did super well. We really didn't expect to do this well."
Marquette coach Marty Paulsen said it was arguably his team's strongest performance of the season. The Redettes took third in their Regional, but now own nine MHSAA championships.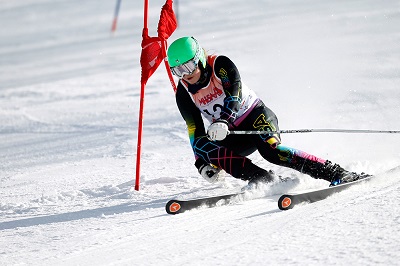 "We know where the rolls and bumps are," Scheidt said of competing on a local slope. "It's real special to win it all here. Being from here and winning here is a great feeling."
North Farmington/Harrison sophomore Amalie Perez finished first in the giant slalom in a time of 1:02.66. She was followed by South Lyon's Anna Geyer (1:03.21), Weymouth (1:03.77) and Robinia (1:04.1).
Perez was the leader in both rounds of giant slalom, recording a 33.82 on her first run, followed by a 28.84 in the second.
"This was a real good experience," said Perez, an exchange student from France. "I'm usually better in slalom, but I fell today. I just tried to relax and do my best in giant slalom and not worry about the wind.
"Coming to the United States has been a great experience. I've had a chance to meet new people and make new friends."
PHOTOS: (Top) Marquette's Sarah Scheidt skis the slalom course at Marquette Mountain on the way to a first-place finish. (Middle) North Farmington/Harrison's Amalie Perez completes the giant slalom course; she finished first in that event. (Click for more from HighSchoolSportsScene.com.)