Notre Dame Prep Finishes Title Climb
By Keith Dunlap
Special for Second Half
BOYNE FALLS – Christmas shopping wasn't the motivation for Pontiac Notre Dame Prep ski coach Craig McLeod to go on Amazon back when the ski season got going in December. 
Instead, he visited the popular internet shopping site to order some motivation for his team, in the form of plastic rings that glow different colors when you turn the top.
"Our cheerleading team has won the state championship five years in a row," McLeod said. "They have these really cool Super Bowl type of rings. I said, 'We've got to get a ring. The ring is the thing.' That's been our motto all season."
Pretty soon, the Notre Dame Prep girls ski team will have to be fitted for much more expensive rings after what it accomplished at Boyne Mountain on Monday
For the first time since winning the 2006 Class B-C-D title, the Notre Dame Prep girls captured an MHSAA Finals ski title, topping the Division 2 field with a meet-best 64 points, well ahead of the 102 accumulated by runner-up Petoskey. 
The favorite going in, Notre Dame Prep's supreme depth was on display, with three girls finishing among the top 15 in both the slalom and giant slalom.
KC Kennedy led the way for Notre Dame Prep with a pair of top-five finishes, taking third in the slalom with a time of 1:07.70 and fifth in the giant slalom in 1:16.10.
Meghan Kozole was sixth in the slalom (1:09.52) and seventh in the giant slalom (1:16.46), Delaney Flavin was 15th in the slalom and Natalie Uhazie 15th in the giant slalom.
It was a vindicating day for the Fighting Irish, who finished as runners-up to Grand Rapids Forest Hills Central in 2017 and Houghton/Hancock in 2018.
This time, it was the championship trophy they took home.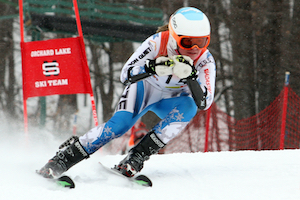 "The harder you work, the luckier you get," McLeod said. "I would say we worked pretty hard, and some luck fell in our favor. Everything came together."
The individual star of the meet was Bloomfield Hills Marian senior Olivia Weymouth, who won both the giant slalom and slalom titles. 
Weymouth started her day by overcoming what's been a personal nemesis, the slalom, winning that event in a time of 1:04.88.
Crossing the finish line itself represented a major mental barrier that was overcome, given Weymouth fell at the last two Finals in the slalom, doing so last year on the same Boyne course when Marian competed at the 2018 Division 1 Finals. 
"The slalom, I've been working on it because it's been my weakest event in the past," Weymouth said. "I had a lot of nerves coming into it. But I finished, and it was exciting. But I had to keep my nerves level even because I knew there was GS to come. I didn't want to bring too much excitement there."
Weymouth stayed steady and calm in the giant slalom, winning that event in a time of 1:13.84, barely ahead of Kaylee Richardson of Rochester Adams, who was second at 1:13.92. 
Richardson also was fourth in the slalom with a time of 1:07.98. 
Megan Pasche of Grand Rapids Northview finished second in the slalom with a time of 1:07.35.
PHOTOS: (Top) The Pontiac Notre Dame Prep girls ski team celebrates its first Finals title in the sport since 2006. (Middle) Marian's Olivia Weymouth races toward the championship in the giant slalom. (Top photo courtesy of Notre Dame Prep's athletic department; middle photo by James Cook. For more from Monday's Finals, see Sports in Motion.)