Redettes Repeat, Set Stage for More
By James Cook
Special for Second Half
HARBOR SPRINGS – Two down.
How many more to go?
Marquette went back-to-back with Division 1 girls skiing titles Monday at Nub's Nob in Harbor Springs, and the Redettes' young roster could add to that total in the near future.
"We won't be losing anybody, so I really hope we will," said junior Sadah Scheidt, who won the slalom crown for the second straight season. "We didn't know if we were going to win this year or last year. (When they announce it), your heart jumps out of your chest."
Marquette won the championship with a roster devoid of a single senior.
"They'll be back next year, looking to repeat for sure," first-year coach Dan Menze said.
The Redettes have two juniors, and the rest of the squad is freshmen and sophomores.
Menze said there was some pressure to keep the Marquette boys championship streak going – which he did – but the stress was just as heavy on the girls side, if not more.
"There was definitely more pressure on the girls team," Menze said. "We weren't quite as deep. They really came out and skied awesome. We had some bobbles, but most teams did today. We just had less."
Menze took over for Marty Paulsen after guiding the Great Lakes Ski Academy.
"The main things were administrative on my behalf," Menze said. "The coaching aspect, I feel I've done well throughout. I've had a great mentor (in Wendy Maas) to help me all along the way."
Scheidt led a Marquette effort that witnessed the Redettes emerge with four first-team all-staters.
But when all was said and done, the girls didn't copy Marquette's boys team by showing up for the outdoors awards ceremony in shorts.
"We have a little bit more dignity than that," Scheidt joked. "We face-palmed. We were like, 'Oh, no.' Typical senior boys."
Scheidt claimed her second slalom title by more than 2.5 seconds over the two combined runs. She had the best time in each run, and her second shaved three hundredths of second off the first.
"I definitely prefer slalom over GS," said Scheidt, who was 23rd in GS.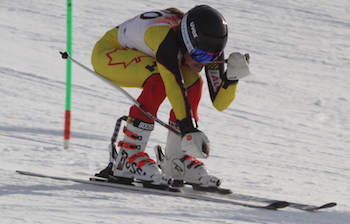 Ainsley Kirk earned all-state honors with a fourth-place slalom and third in GS. Jacey Johnson was ninth in slalom and 16th in GS, while Natalie Robinia was 17th in GS.
Marquette claimed the Division 1 girls championship with 73 points to Traverse City Central's 95. Traverse City West was not far behind in third with 98, moving up a place from last season's finish.
"A strong third," West head coach Ed Johnson said. "It was close. They won the slalom and went into the GS feeling pretty strong, but Central ended up edging us. It was fun to see the two Traverse City teams battling it out that close. That was exciting."
"We were hoping to finish in the top 3," Traverse City Central senior Maggie Dutmers said. "We didn't really know, because the top three teams have been very close in past competitions. We were hoping for a trophy. We were hoping for the first, but very, very happy with second."
The Trojans finished runner-up for the seventh time in the last nine years.
Dutmers finish fourth in GS and sixth in slalom to earn first-team all-state honors in both disciplines.
Fenton's Zoe Weinberg, skiing as an individual qualifier, won the giant slalom championship to end her prep career with a championship effort.
Weinberg trailed Bloomfield Hills Marian sophomore Olivia Weymouth after the first GS run by nearly a tenth of a second, but trimmed 1.36 seconds off her second run to pass Weymouth, who ended up second.
"Winning was something I just wanted to do," Weinberg said. "My second run was one of my best runs of the season. It was intense, waiting to see."
Weinberg had hoped to do better in the morning's slalom session, but made up for it in the afternoon.
"I was excited GS came through," Weinberg said. "It's a good way to go out."
Weinberg finishes her high school skiing career with seven first-team all-state finishes.
She earned all-state all four years in giant slalom and three more times in slalom, capturing a championship in each.
Weinberg won the slalom title as a sophomore and was runner-up last year. She had a runner-up GS finish as a sophomore and third last season, adding a sixth-place GS medal as a freshman.
"It's a good number," Weinberg said. "It was really exciting to go out that way."
PHOTOS: (Top) Marquette's Ainsley Kirk juts past a gate during the Division 1 Finals on Monday at Nub's Nob. (Middle) Fenton's Zoe Weinberg caps an impressive career with another strong set of races. (Photos by James Cook.)