TC Central Finishes Final Runs Fastest to Clinch Title
February 22, 2021
HARBOR SPRINGS — Sarah Beattie's senior sendoff had style.
The only senior on Traverse City Central's girls skiing roster helped the Trojans claim their first Division 1 championship in eight years Monday.
"We will miss her a lot," said junior Elle Craven, who earned all-state in both slalom and giant slalom, much like Beattie. "She's a lot of fun to be around, and she's a good skier."
Beattie placed fifth in each discipline, while Craven took runner-up honors in slalom and third in GS to help guide the Trojans to the girls program's 12th MHSAA Finals title, and fifth since Central and West split in 1997.
The title also brought things full circle for Trojans head coach Amy Kudary, who now has state crowns as both a skier and coach. Kudary won a Finals title as an athlete at Traverse City Central in 1989 under coaches Donald Dunsmore and Jerry Stanek.
"This is fan-tas-tic," Kudary said, drawing the word out as long as possible. "I have to say I think it's even more exciting winning as a coach than as an athlete, being able to share it with all these girls."
Central edged Marquette by four points, 56 to 60. Clarkston (117) took third, with Grand Rapids Forest Hills Northern/Eastern fourth (151).
Marquette certainly didn't make matters easy. The Trojans and Redettes were tied after the morning slalom. With Craven (second), Beattie (fifth) and Maddy Cox (11th) in the top dozen, Marquette countered with Anna Grzelak (third), Ada Bernard (sixth) and Ella Jones (10th).
"After the first round (of) the GS, we had a good feeling," Beattie said. "That was super cool, because we were ahead at that point, but we still had one more and all of our times were so close on the first run that the second one really did matter a lot, so that was super cool that we pulled it off."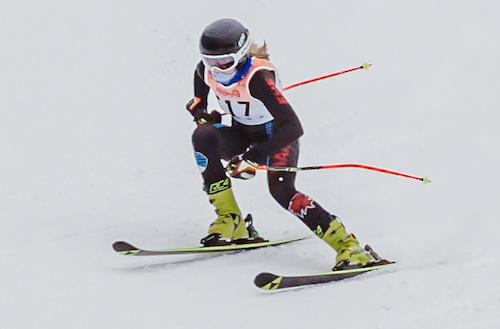 TC Central hadn't won a Finals title since 2013, edging out Walled Lake Central that year. Marquette's girls had claimed the last five crowns and 13 since 1992.
The Finals featured many differences from previous years to combat spreading COVID-19, with team tents set up far away from the finish lines, teams not allowed to go into the lodge for more than using the restroom and ordering food from the cafeteria. No leader boards, which typically gather large crowds in close proximity, were present. The award ceremonies were held outside.
"It felt weird all day, didn't feel like states, but it was a fun day," Beattie said. "The weather was good, so that always makes it better. We knew that we were capable of it, so I'm glad to see it finally paid off. I think just the fact of not being able to be together as a team like the night before – that's always super fun because we go to dinner and do a bunch of fun stuff. We didn't get to do that this year."
Lily Kuberski was Central's fourth skier in both events, taking 17th in slalom and 20th in GS.
"I knew that we were a strong team (in) GS and I knew that if anything, we'd be able to make up points there," Beattie said. "So, I think I mean, I just thought of it as good competition, honestly. And it pushed me harder for sure."
Sarra Guggemos of Okemos won the girls slalom by 19 hundredths of a second over Craven, whose second run was 0.20 faster.
"It's been such an achievement," Craven said. "We've been working forward for this for so long, it's been such a great time getting to achieve it with everyone. We knew we were capable of it. It's just a matter of executing it and Marquette's a great team, so we knew it was going to be tough. We just wanted to go out and show how we knew we can ski and support everyone."
Holly Grzelak of Forest Hills Northern/Eastern won the GS title by almost two seconds over Rochester Adams' Katie Fodale, with Craven third, followed by Birmingham United's Marie Morris, Beattie, TC West's Lila Warren, Cox, Guggemos and the Marquette pair of Anna Grzelak and Ella Jones to round out the top 10. Lexi Hammerstrom and Maddy Stern added 11th- and 12th-place finishes for the Redettes.
Anna Grzelak took third in slalom behind Guggemos and Craven, with Warren fourth, Beattie fifth and Bernard, Forest Hills' Jayce O'Neill, Milford's Maddie Melody, Clarkston's Courtney Bailey and Jones rounding out the top 10.
"These girls skied fantastic today," Kudary said of her team. "They deserve this, for sure. … Not to take anything away from Marquette. They put up a great fight and made us really work hard until the very end. It really made all six girls really count today.
"This year these girls really have worked hard as a team. They've cheered for each other as a team, they've trained as a team, they've competed as a team. In a sport where you perform individually, they really delivered as a team today. And that's why we're holding the trophy. That makes me so proud."
PHOTOS: (Top) Traverse City Central celebrates its first Finals championship since 2013 on Monday at Nub's Nob. (Middle) Forest Hills Northern/Eastern's Holly Grzelak won the giant slalom at the Division 1 Finals. (Click for more from Sports in Motion.)