This Time, Troy Takes Champion's Trophy
By Geoff Kimmerly
Second Half editor
WILLIAMSTON – Alison Holland might have worried a bit after Grandville's Sydney Blitchok scored a little more than 14 minutes into Saturday's Division 1 Final at Williamston.
Holland, Troy's senior goalkeeper, would even admit to that – given that Troy was making its third straight MHSAA championship game appearance and was shut out in their last two.
But that anxiety faded almost immediately. This team was "gutsy," Holland said, and she knew her teammates would get chances to even the score.
The Colts were able to make good on two – and beat Grandville 2-1 to claim their first MHSAA title since 2003.
"Twice we didn't win it, so we were all just so motivated this year," Holland said. "We wanted to go out on a good note, and we're going to have this forever with each other. It's just a great time right now."
Troy had fallen to Okemos 2-0 in last season's Final and 1-0 to Novi in 2010.
But those became fading memories Saturday when senior Madison Hirsch evened the score 18:25 into the first half and senior Kayla Porter put Troy ahead 13:31 into the second.
Porter's goal led to an uproarious celebration near the Colts bench, mostly in response to previous teasing by coach Brian Zawislak – who had told his players they didn't celebrate goals like they should because they weren't getting the entire team involved.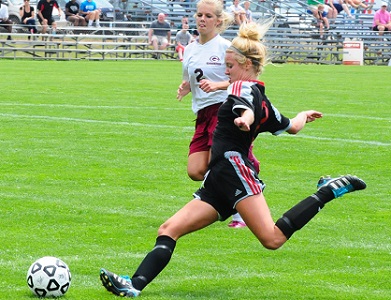 "When you're held scoreless the last two (Finals), you have those demons in you," Zawislak said. "When Hirsch hits the back of the net, everyone's spirits just lifted."
Porter's goal run likely included a little unloading of frustration after battling a physical Grandville defense for nearly three quarters of the game.
Once Hirsch put in the team's first goal, Porter wanted to add the next.
"I had a lot of energy out there, and I wanted to score," she said. "It was really running through my mind. So when I got the ball down there, I just ran, and I just shot it."
Troy finished this season 15-6-3 after opening 3-6-2. Grandville finished 14-8-1. Both teams were unranked entering the postseason and neither finished among the top two in their respective leagues.
But both beat top-10 teams on the way to Williamston and obviously found their peak performance when it counted most.
"I just told them nobody imagined at the beginning of the year that we'd be anywhere close to here," Grandville coach Lewis Robinson said. "It gives them the experience of being here and helps us a lot for next year. And (I) guarantee we'll be back in and around this time of year next year and the year after as well. With 13 underclassmen on the team, the future is very bright."
PHOTOS: (Top) Troy players celebrate the team's go-head goal during the second half of Saturday's Division 2 Final. (Middle) Colts senior Kayla Porter finishes a run with a shot that would give her team the 2-1 lead. (Click to see more from Hockey Weekly Action Photos.)