Undefeated, Motivated Linden Answers
May 4, 2016
By Bill Khan
Special for Second Half
LINDEN — All they could do was watch from afar and torture themselves with one nagging question: What if?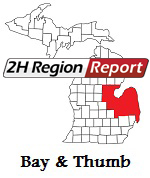 What if, Linden's girls' soccer players wondered, they had gotten past neighboring rival Fenton in the District championship game last season?
What if the Linden team that beat the Tigers by a 5-0 score 10 days earlier had shown up that day, instead of the one that lost, 3-1, with postseason survival at stake?
Would that have been Linden, not Fenton, playing for the MHSAA Division 2 championship on the final day of the season at Michigan State University?
Nobody knows for sure if Linden would've marched all the way to the final like Fenton did had the Eagles won that District championship game. Still, it didn't stop the players from wondering if the opportunity of a lifetime eluded them.
"We were all mad at ourselves," junior midfielder Alia Frederick said. "That's awesome they got that far. We want to get that far, because that would be amazing. I couldn't imagine playing in the state finals. That would be a once-in-a-lifetime thing. That feeling that it could've been us haunts us and pushes us. To lose to them in the (District) Finals, I give props to them for making it that far, but it could've been us; that's what's pushing us."
One year later, Linden may get the opportunity to experience an MHSAA championship game.
The Eagles, who were 15-4 last season, are 13-0-1 and ranked No. 4 in Division 2 by the Michigan High School Soccer Coaches Association. Linden has never been beyond the Regional phase of the MHSAA tournament, peaking with Regional Finals appearances in 1998 and 2011.
"You know what?" Linden coach Kevin Fiebernitz said. "I'd be satisfied being at 10 or out of the rankings and fly under the radar. We just don't talk about it. I don't ever bring it up with the kids. That's just the opinion of somebody else. The bottom line is you've got to come to play; the other teams don't really care. It puts a bull's-eye on your back, and you've got to come to play."
The Eagles have earned their high ranking, not only because they were competitive with Division 2 finalist Fenton last season, but because they've taken down some of the top programs in the state this spring.
Linden has been overshadowed over the years by Grand Blanc and Flint Powers Catholic, the two heavyweights in Genesee County. Both teams boast state rankings this season, making it even more impressive that the Eagles were able to beat both, winning 2-0 at Powers on April 12 and 2-0 over Grand Blanc on April 23 at the Saginaw Heritage Showcase.
Grand Blanc, a Division 1 finalist last season, is ranked No. 5. Powers is the top-ranked team in Division 3. Linden also owns a 2-1 victory over Fenton, which was ranked No. 15 last week before dropping from the Division 2 poll.
Another impressive result for the Eagles was a 0-0 tie in the Heritage Showcase against Troy Athens, the No. 12 team in Division 1.
The Eagles came away from Heritage with a 2-0-1 record against large Division 1 schools, outperforming the expectations of their nervous coach.
"At the time, I didn't know it was a Division 1 showcase," Fiebernitz said. "We're a small Division 2 school. We're probably one of the smaller teams in our division. We got thrown in less than a week before it happened, because they had an opening. They called Cathy (North, Linden's athletic director) and they filled it.
"Then when I saw the schedule, I thought, 'Oh, I don't know if this is a good idea.' The girls proved me wrong. They went up there and just rocked it."
The Eagles have been rocking it all season, staying undefeated by allowing only four goals in 14 games. They have posted seven consecutive shutouts, with senior Bridget Adams and junior Madison Paige splitting the goalkeeping duties. Paige has a 0.17 goals against average, while Adams has a 0.50 GAA.
"Did we see this start coming?" Adams said. "Honestly, not really, considering that tournament we went into was all D1 teams. The fact we came out with no losses was amazing. We only lost four people from last year. I expected to have a really good season, like we did last year. We're off to a really good start; hopefully, we finish the same way."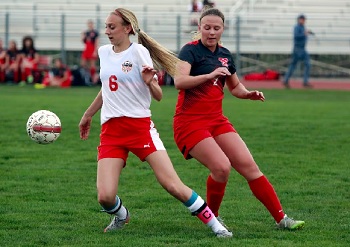 Like any team, health could play a major role in Linden's ultimate success this season.
The team's leading scorer, junior forward Maddie Zayan, stepped in a hole during a game against Holly on April 25 and suffered a severe ankle sprain. She isn't expected to return until late May, right around District time. Zayan has 16 goals and 13 assists in 13 games.
"So, basically, we've had to shift some things around," Fiebernitz said. "Other folks are going to have to step up and play a role now."
If Linden can duplicate Fenton's postseason run, it would be a historic achievement for the school. Linden has never reached an MHSAA championship game in a girls sport, with the 1981 volleyball and 2013 softball teams reaching the Semifinals. The 2004 baseball team is the only Linden team to play in a championship game. In a sport with a meet format, the 2008 boys cross country team won the school's only MHSAA championship.
Frederick has already competed on a team that broke new ground for Linden, leading the girls cross country team to fourth place in the MHSAA Lower Peninsula Division 2 meet in the fall. That surpassed the 2011 fifth-place finish in golf as the best finish in a meet format by a girls team at Linden.
Frederick was third individually with a time of 18:30.6, having set the school record of 18:10 three weeks earlier in the Portage Invitational. She has verbally committed to attend Eastern Michigan University on a soccer scholarship, and is unsure whether or not she'll run cross country in the fall.
"I kind of want to play volleyball," Frederick said. "I want to get the most out of my high school experience, because I don't want to do anything but play soccer when I'm out of high school."
To that end, Frederick doubles up in the spring as a member of the track and field team. She isn't a distance runner, however. Frederick qualified for the MHSAA LP Division 2 meet in both hurdles events last season, placing 10th in the 300-meter hurdles in 47.14 seconds and 21st in the 100 hurdles in 16.77.
"I didn't do as good as I wanted to, but hopefully I'll do better this year," Frederick said. "Soccer's definitely my main sport, but I like hurdles, so I do that."
With Zayan on the mend, Linden's leading active scorer is senior Katie Wilkowski with 10 goals and six assists in 14 games. Frederick has nine goals and five assists. Freshman Audrey Steiert has four goals and seven assists.
This is a team that also will be a force next season, with its core comprised of nine juniors.
"I think six of us are on the same club team," Zayan said. "We've played indoor together since we were in middle school. We're so close off the field, that on the field it just clicks."
If Linden is going to take off on a long tournament run, it will likely run into its arch rival, a team with the experience of playing in an MHSAA title game. What's more, a potential District matchup against Fenton will take place on the Tigers' home field.
Fiebernitz expects Fenton to be an even tougher challenge in late May than the Tigers were when they lost that 2-1 match to Linden on March 30.
"Matt (Sullivan, Fenton's coach) runs his team different," Fiebernitz said. "He subs a lot, gets a lot of kids actively playing. Then, at the end, they'll try to run you to death."

Bill Khan served as a sportswriter at The Flint Journal from 1981-2011 and currently contributes to the State Champs! Sports Network. He can be reached at billkhan35@gmail.com with story ideas for Genesee, Lapeer, St. Clair, Sanilac, Huron, Tuscola, Saginaw, Bay, Arenac, Midland and Gladwin counties.
PHOTOS: (Top) Alia Frederick (6) and Teresa Walterhouse (5) move the ball upfield for the Linden girls soccer team. (Middle) Frederick works to create space while a defender looks to gain possession. (Photos courtesy of the Linden athletic department.)