Added Inspiration Boosts EGR to Title 23
November 23, 2019
By Keith Dunlap
Special for Second Half
ROCHESTER – This one was for the coach. 
The East Grand Rapids girls swimming & diving team drove across the state this weekend to Oakland University to attempt to repeat as Lower Peninsula Division 3 champion without a key figure: legendary head coach Butch Briggs. 
Briggs, who had led East Grand Rapids to 22 MHSAA Finals titles, is still recovering from surgery performed last week and wasn't present for this year's meet. 
But Briggs no doubt had a smile on his face after his girls entered the meet as underdogs but once again left as champions.
Despite entering ranked No. 3 in LPD3, East Grand Rapids won its fourth straight title (the 2017 title was in Division 2) and 23rd overall, this time with 317 points.
Bloomfield Hills Cranbrook Kingswood was runner-up with 306 points, while Bloomfield Hills Marian was third at 245. 
East Grand Rapids assistant coach Chris Ingram didn't want to get into specifics about Briggs' surgery, but was obviously thrilled with how his girls rallied around the situation.
"We knew it would be a tight meet," Ingram said. "The kids, they just swam well. A great group of kids to work with. We don't talk much about other teams. We can only take care of what we can take care of. We swam lights out."
The East Grand Rapids team of sophomore Sophie Williams, junior Claire Witting, junior Emma Israels and sophomore Barbara Bart won the 200-yard medley relay in a time of 1:45.04, and sophomore Greta Milnes won the 100 freestyle to comprise the first-place finishes for East Grand Rapids. 
The Pioneers had three second-place finishes, two of which came in the 200 and 400 freestyle relays, and a third-place finish as well.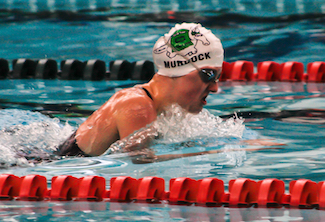 "They're champions," Cranbrook head coach Chris Bailey said of East Grand Rapids. "A shoutout to their coach, who is in the hospital now. No doubt, those girls swam inspired for him. He's a great guy, and I've learned a lot from him. They're rock stars."
The individual standouts of the meet were Cranbrook junior Justine Murdock and Battle Creek Harper Creek senior Alysa Wager.
Wager won the 100 butterfly in a time of 54.88 and the 100 breaststroke in a time of 1:04.50. 
Murdock won the 200 individual medley in 2:05.62 and set an LPD3 Finals record with a first-place time of 54.53 in the 100 backstroke. 
Murdock repeated as backstroke champion and improved on a fifth-place finish at last year's meet in the individual medley.
"I was a little bit sick last year at the state meet, so that kind of made my state meet harder to manage," Murdock said. "I'm a little healthier now, and I was ready to do this for my team. I definitely was hungry, and I'm really excited for sure."
Other individual winners were Cranbrook junior Gwenyth Woodbury in the 200 freestyle (1:49.07), Hamilton junior Hannah Fathman in the 50 freestyle (23.95), Adrian senior Anabelle Hurley-Rosen in diving (459.15) and Plainwell sophomore Riley Nugent in the 500 freestyle (5:01.39).
Cranbrook won the 200 and 400 relay events with times of 1:36.20, and 3:27.93, respectively.
PHOTOS: (Top) East Grand Rapids' Greta Milnes swims to the championship in the 100 freestyle Saturday at Oakland University. (Middle) Cranbrook's Justine Murdock swims to the win in the 200 IM, one of her two Finals victories. (Click for more from HighSchoolSportsScene.com.)